Rated

1

out of

5
by
SammyB
from
Very Boring
There is hardly any weight training there as in Squats, Bench Press etc.
Date published: 2018-12-27
Rated

5

out of

5
by
Antranik
from
Very informative and effective workout program
I bought this a month ago and so happy I did. The course is very informative and the workouts effective. I feel stronger and look better. Due to the workouts, my lower back pain is gone.
Date published: 2018-09-26
Rated

3

out of

5
by
ams1
from
Workouts great; health tips not
The workout descriptions and demonstrations themselves are very helpful and well presented, though beginners will need to start very slowly, doing many fewer reps to start, and resting much longer between exercises than the demonstrators. As a physician and medical lecturer myself, I can say that the lectures on relevance to medical diseases and health are at best superficial and at worst misleading.
Date published: 2018-09-04
Rated

5

out of

5
by
Bill 36
from
Teaching an old Dog New Tricks
I have been working with weights since 1955 and this is the my first view in to the technical side of the process. Great supplement to my regular work out
Date published: 2018-04-25
Rated

5

out of

5
by
tmartin726
from
Corrected a lot of my mistakes!
This course was well worth the money and time I spent watching it. He also corrected several misconceptions and mistakes I was doing in my own personal training.
Date published: 2017-09-01
Rated

5

out of

5
by
arcb42633
from
essential of strength training
I like they layout of the course. The instructor was easily understood and explained in detail.
Date published: 2017-06-16
Rated

5

out of

5
by
Pat54
from
I love the courses
Good presentation, good topics, and knowledgeable instructors.
Date published: 2017-06-01
Rated

2

out of

5
by
Freddie D
from
Essentials of Strength Training
Did cover what I excepted, very little about strength training. It was more about overall conditioning
Date published: 2017-03-26
Rated

3

out of

5
by
montauk96
from
Good information with clunky controls
I appreciate the background information but don't much care if strength training was done in Egypt thousands of years ago. Dean Hodgkin is very good at presenting and the health background and benefits are motivating. The warm-up, work-out, cool-down format is great along with a decent choice of weights, but the DVD controls are a pain. There is no chapter list to allow skipping the intro materials so each time I want to have Dean lead me through the workout, I have to skip through many segments, ugh!
Date published: 2017-02-21
Rated

5

out of

5
by
angel5
from
Essentials of Strength Training
Having type 2 diabetes the weight seemed to add on and on. With this coarse I learned how important it is to strength train along with regular exercise. I not only feel better but I look better with this course. Lucky me, I had to buy new clothes.
Date published: 2016-11-26
Rated

3

out of

5
by
JimF63
from
Not for seniors
The instructor is engaging and knowledgeable, although the first lectures may be somewhat overladen with latin names for parts of the body, very few of which I will remember. My main point of this review, however, is to say that I think the exercises are ill-suited for seniors. They are much too difficult, and not easily modified. I have been doing strength exercises using weight machines at a local gym and had hoped that this course might offer additional or alternative exercises that would work the body in ways that machines don't. In fact the course does offer such exercises, but not at a level that's accessible to me or, in my opinion, to most people who have reached Medicare age.
Date published: 2016-11-15
Rated

4

out of

5
by
Learner1900
from
Good basics
This is a well presented set of basic information and exercises for improving your health and strength.
Date published: 2016-11-09
Rated

5

out of

5
by
Chicocharlie
from
All my comments are very positive. What I found somewhat strange was that the course leader pronounced strength as strenth. A bit east London perhaps?
Date published: 2016-07-27
Rated

4

out of

5
by
Reader
from
A Very Good Course
The reviews I have seen that criticize the course say (in essence) that it's not for beginners or that it moves too fast and older people won't be able to keep up with it. I don't understand either complaint. I've been exercising (on and off) for decades now, and this is exactly the kind of course I wish I'd had as a beginner. Indeed, the information on how muscles work, and how to exercise them, is valuable to anyone, at any level, who does not already understand the information. The exercise demonstrations do maintain an energetic pace (which we should gradually aim for). But why criticize that? Watch them to see how the exercises are supposed to be done, then pause the DVD while you do an exercise, then resume and move to the next exercise. There is no reason anyone must try to keep up with the DVD's tempo. This course presents good scientific information and many good exercises, and does so without wasting time. I recommend it. (I give it 4 rather than 5 stars because some of the course is used to address warming up and stretching--which are important subjects, and well presented, but which I probably won't do, though I no doubt SHOULD.) Finally, the question has been asked about necessary exercise equipment. From what I saw, there isn't much that is necessary--though certainly some sort of hand-held weight is necessary (eventually, at least). And as you get stronger you might need or want to add more weights (dumbbells, etc.)
Date published: 2016-06-29
Rated

4

out of

5
by
rocket
from
Good on how muscle benefits the body
This is good basic weight training information. After shoulder muscle/tendon injuries, surgeries, and atrophy I was interested in how the muscles work together and what strengthening exercises build what muscles so that I could work on those issues. That is covered in some instances with graphics and explanations that show a few but many are not, Weak shoulders are a problem with many of us old folks, just about everyone I know has had rotator cuff surgery, and it is a complicated joint with many muscles involved. The rotator cuff is mentioned several times but not the entire group which forms the cuff, or the other muscles contributing to strong shoulders or exercises to strengthen the entire upper back. Some of the exercises require substantial strength to perform, much more than I have, but they can probably be modified. Overall it's a good course.
Date published: 2016-06-28
Rated

4

out of

5
by
Catheez
from
Knowledgable
Knowledgeable and concise. Not a lot of unnecessary information. I have been using strength training for about 28 years and was looking for some new ideas. The professor was passionate and informed. I enjoyed the course
Date published: 2016-06-05
Rated

4

out of

5
by
djay32669
from
Essentials of Strength Training
Very good course for the beginner or some experience for someone who wants to know about the muscle groups and proper technique. Very good instructor!
Date published: 2016-06-04
Rated

5

out of

5
by
JWmM
from
No More Excuses!
This course is compelling. It's hard to turn it off. The information is so easy to understand and one topic pulls your interest into the next one. Great information for people who were or are too shy or ashamed to go to a gym or to ask for help.
Date published: 2016-01-21
Rated

4

out of

5
by
Zenophon
from
Check it out from the library first
As the mixed reviews indicate, this is not a one-size-fits-all course. The field is well plowed, many, many DVDs on exercise and fitness on the market, and it seems this is an attempt to tap into that market by teachco. Whether the contents match your needs is personal, and this is a new area for teachco, and one where they are having at best mixed success. I viewed my local library's copy, I won't be buying one for the home. it's okay, but it won't replace my Tai Chi daily routine (there is some Tai Chi in this course, but it's not very good). I looked at it because of the brand, I think others do it better.
Date published: 2015-02-22
Rated

4

out of

5
by
RyanOhio
from
OK, good information
Sometimes the professor's accent is hard to understand. I think it is a South African accent, but I'm not sure. Fortunately, rewind is only a button away.
Date published: 2014-12-27
Rated

3

out of

5
by
Pablob
from
Disappointed
I'm not sure what I was expecting. it's hard to follow the science portion. I don't know if it's the material, his accent,/voice, or the pace. The exercise classes were not what I expected either. I guess I thought it would have been a more methodical approach to strength training...
Date published: 2014-12-10
Rated

5

out of

5
by
Loco Nova
from
Great value, especially for "cross training"
I strongly recommend this overview and workout brief as a compendium of best practice, explained and illustrated. I find it especially valuable as reminder of best "cross training" for distance running. The presentation format explains what body areas are in focus, by anatomical overlays not usually found. The presentation style is informative, humorous, and fun. My background is that I primarily use distance running as a base, and previously have used martial arts as "cross training" for strength, flexibility, and balance. I have run Boston as a qualified runner in years past, and achieved a black belt in Shotokan karate. The reason I like this book is that, at 68, with on and off heavy work and travel schedules, I've often changed routines (a good thing), but forgotten what worked in rotation and why. This brings the best all back, by a world class karate champ. I intend to get the "Physiology", also by Hodgkin, because I'm also incorporating swimming, and I'd like to see his presentation on this and other extended workout subjects.
Date published: 2014-10-01
Rated

5

out of

5
by
miatagrrl
from
Valuable Info
Lots of information presented in an understandable way. And killer exercise routines!
Date published: 2014-09-11
Rated

5

out of

5
by
curiouslady
from
The course was engaging and full of information. I am happy that I have the course to refer back to. Just what I needed to take my fitness level up a notch!
Date published: 2013-09-05
Rated

4

out of

5
by
George
from
Basic but good
The initial lectures on the theory of strength training contained useful information and was well presented by Prof Hodgkin. He delivered the information in a simple and easy to understand manner suitable for a range of people from beginners to intermediate trainers. The last 3 lectures contained some actual training routines which were useful. However, I would have preferred a little more theory. Also, given the influence of drugs in sport, particularly in strength type sports, I would have liked a lecture on this. Overall, a basic series on strength training, suitable for those who want a bit of theory and then want to get straight into a workout.
Date published: 2013-06-16
Rated

5

out of

5
by
artseeker
from
USEFUL, LOW BUDGET, GEEZER FRIENDLY
As someone bumping into the mid eighties, I found this brief lecture series quite helpful. However, as one reviewer pointed out, the lack of an accompanying course guidebook is a real disadvantage. The lecturer makes it clear that the props employed in the series can have substitutes in most cases. Those he does use are readily available at sporting goods stores. I imagine they can also be obtained on the internet. The series begins with two lectures devoted to the science involved in building strength. Employing the degree and intensity of workouts contained in the subsequent exercise lectures are really up to the viewer who wishes to follow his suggestions. Coming off three back surgeries in two years myself, I found the general theme of the suggested exercises track pretty much the therapy protocols employed by the institutions who handled my recovery. This series is "user friendly" in the sense one can take from it what one wishes in terms of specific suggestions for exercises. The degree of tempo and repetition is up to one's own judgement and limitations. The series is not, in my mind, some sort of "silver bullet" that if religiously and literally followed will lead one to super strength. Maybe it would, but it does not appear to be that sort of program. What's advertised on TV would be the avenue to explore if one wishes that sort of help. Thus, it could be some of the earlier reviews reflect an expectation that the series does not appear designed to answer. For the individual seeking general advice and suggestions, this series is recommended. To my fellow geezers who may read this review, I would say don't be afraid to buy it and try it.
Date published: 2013-05-06
Rated

4

out of

5
by
M2366
from
Impressed!
I expected to be disappointed by this video because I wondered how much new information it would include. In fact, I ended up learning quite a bit from it! I thought it was well presented and quite comprehensive. It does not include a built in program usable by everyone and the work-out portions are more informational than perhaps realistic for all. Nevertheless I very much enjoyed it and would recommend it!
Date published: 2013-04-15
Rated

4

out of

5
by
NoraBatty
from
Valuable Course, Valid Criticisms
I think there are two primary problems with this course. Firstly, the course description promises way too much; secondly, there is a disconnect between the lectures and at least one of the workouts. More on that later. I have good things to say also so stay tuned. What folks should know is that this course is not a System, or a Method, or a specific prescription for strength training. Mr. Hodgkin presents general guidelines for a strength training regimen plus the variables you can tweak to optimize your workout depending on your needs. You will still have to invest quite a bit of mental energy and trial and error into building a routine. The three workouts, I think, are best used as a collection of suggested individual exercises for inclusion in a routine, and not as workouts to be done in their entirety. This course is merely one resource out of many that I use for strength training. The lectures include quite a bit of excellent and timely discussion about the benefits of strength training to the aging and the overweight. And here is where the disconnect rears its ugly head. The lecture topics set us up to expect accessible exericses. The first and third workouts in my opinion do offer at least a few exercises that most ambulatory folks can do. The weight loss workout, however, is advanced and will also challenge those with joint and back issues (like me). I love and admire many obese people, but I can't see some of them doing fast burpees with plyometrics thrown in for fun. On the plus side, the presentation and production of this course are significantly improved over the full Fitness course. Hodgkin's presentation skills are markedly better (congratulations), enough for me to be inspired to improve my own in my profession. Another improvement is that each workout has its own warm up and cool down, and you can easily skip over each workout introduction. The Tai Chi cooldown is lovely and left me wanting more. The course lecture material validated some of the things I had figured out about myself. For one, that I don't have too many fast twitch fibers. That's ok, because I think it's better to endure than to explode, although explosions hog all the press. Finally, there's something wonderful in this course. And that is the third workout, which isn't really about strengthening the body. It's about strengthening communication, trust, and the bond between two people. I think this workout is an absolutely brilliant example of out-of-the-box thinking.
Date published: 2013-03-27
Rated

2

out of

5
by
RDB 1
from
One size fits all
The first few lectures on the value and ways to do strength training are interesting.The descriptions of the muscle groups and how they work are also educational. However, the exercise routines are performed by young people and I cannot imagine most 70 year olds keeping up with the pace of the recommended exercises. It would have been useful to have the author explain who this strength training is for and what is recommended for different age groups.
Date published: 2013-03-13
Rated

1

out of

5
by
DuBois
from
Not for the beginner
This is hardly a strength training program for the unititiated.The pace is extremely quick and, inspite of the disclaimer, a multitude of exercise equipment is required to duplicate the routines. A better presentation would have included routines at a variety of levels for different age groups. I doubt that many seniors could keep up with the flow and intensity.
Date published: 2013-03-10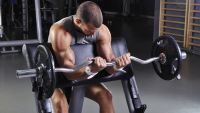 1: Strength Training-Past, Present, and Future
Take a fascinating look at the history and origins of strength training so you understand what strength training really is and why it's relevant to your life. Then, explore some of the training tools available, including medicine balls, kettlebells, barbells, and resistance bands. Finally, investigate the many ways strength training can treat specific health conditions.
2: How Strength Training Benefits Your Body
How do your muscles work when you perform simple motions (such as sitting in a chair) or when you lift weights? How does strength training increase your bone density and lower your risk of osteoporosis? What factors determine how much strength you generate from a specific muscle movement? What are the specific guidelines for beginning and advanced strength trainers? What role should strength train...
3: Strength Training for Weight Loss
Learn the importance of fat in overall health as well as its hidden dangers. You'll investigate what makes for a healthy rate of weight loss, explore the best ways to successfully lose weight through strength training, examine the inner workings of specific joints and muscles, and more. By the end, you'll see why strength training is the most potent weapon in your arsenal when it comes to the war ...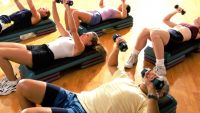 4: Functional Strength Workout
Focus on total functional strength as Mr. Hodgkin guides you through a series of exercises designed to maximize your body's strength and range of motion. Using a body bar, a medicine ball, an Olympic barbell, dumbbells, kettlebells, and a mat, you'll learn how to correctly perform exercises including squat presses, front and rear lunges, cyclones, single-arm presses, gecko rows, side planks, abdom...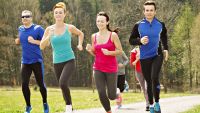 5: Weight Loss and Maintenance Workout
Start building a foundation for maintaining and losing weight through strength training with this challenging and engaging workout. Using just a few simple exercise tools, you'll master the squat jump, the dumbbell curl, the dead lift, the bridge twist, and more. Plus, you'll learn effective ways to combine these exercises and get even more out of your workout.
6: Partner Workout
Grab a partner for this dynamic workout that features exercises to cover all your major muscle groups, including legs (calf raises), chest (wheelbarrow press), back (double standing arm row), shoulders (double reverse fly), arms (biceps curl), and abs (standing medicine ball toss).
Dean Hodgkin
Teaching people how the body works and how exercise can be of benefit is my mission in life, hence I'm so grateful for the opportunity to work with The Great Courses.
ALMA MATER
University of Portsmouth
INSTITUTION
University of Portsmouth
About Dean Hodgkin
International fitness expert Dean Hodgkin has presented master classes and seminars to fitness instructors in more than 30 countries. Voted Best International Fitness Presenter at the One Body One World awards in New York, he has appeared on numerous television and radio programs worldwide. A three-time World Karate Champion and a two-time European Karate Champion, Hodgkin earned a B.Sc. honors degree in Mathematics and Management Studies from the University of Portsmouth. He continued his education at Leicester College, where he was awarded the Certificate in Exercise and Health Studies by the Physical Education Association of Great Britain and Northern Ireland, the leading qualification in the field at the time. Since then he has accrued a wide and impressive array of vocational qualifications and is a regular attendee at conferences focused on the latest health and fitness research findings. At the 2012 International Fitness Showcase-Europe's largest group exercise event, attracting more than 7,000 participants-Hodgkin received a Lifetime Achievement Award for his services to the fitness industry.