Rated

1

out of

5
by
Deputy166
from
Music relates to math
Boy it a month ago and immediately determined it had little to do with music and everything to do with calculus. After speaking to a service rep she said to send it back and they'll exchange it for Italians Before Italy which I did... still waiting.
Date published: 2020-03-28
Rated

5

out of

5
by
Skyscraper
from
Great Courses period!
This is my 6th Great Course. Each of them, covering a diverse range of subjects, has been excellent. They are a truly great inspiration to keep learning, and enjoy doing so, no matter how old you are!
Date published: 2020-02-29
Rated

5

out of

5
by
Stu Y
from
Extraordinary!
Engaging instructor. I am a self taught intermediate pianist and classical music lover lacking some fundamental musical knowledge. This course is not music theory per se - it is so much more! I now look at music - and my approach to improving my piano playing - from a new perspective. I loved the deep exploration into math and trig (sines & Cosines, etc.) A treasure trove of knowledge: Overtones, Temperments, Tunings, Dissonance, Etc Etc. My favorite course thus far!
Date published: 2020-01-30
Rated

4

out of

5
by
Vakadzi2016
from
well presented
So far I have only listened to two lectures and they are well presented and informative. I can't wait to get through all the rest. It has been years since I've done any calculus so his formulas are a little lost on me but I get the sense of what they mean. His visual presentation of what we hear and the varying harmonics a single note are very good.
Date published: 2019-10-17
Rated

5

out of

5
by
dlm7507
from
I loved this course
I ended up binge watching this and will watch parts of special interest again. Bought the transcript as he covers some of the material faster than I could think and need to read it. It's been many years since I studied some of the math but I was able to grasp whe ideas conceptually without working through it. I don't know why an "I never used algebra/I hate math" person would take this course but it is worth saying that they probably would be less inclined to like it unless it sparked an interest in math. As a child I listened to classical music but in my teens started listening to what was popular with my age group. Fascinating that math rekindled my interest. I think the course could have benefited by including some other generas but classical music is richer in material to call from so it was a good choice. I would have been happy with a 20 lesson course but as he said music and math have endless possibilities. He had to limit it somewhere. For the "why" kind of person. like me, this course is quite a treat. I won't spoil the last chapter but will say that I'm glad he included that material.
Date published: 2019-07-27
Rated

5

out of

5
by
Gillum
from
Great Resource for My Music Appreciation Course
This covers many aspect relating to math, science and music. I used a number of ideas for my music appreciation course. he provides many visual example of how the math and physics of music work. The videos are really great and if you love music and want to understand how music is possible because of the math and science of the physical world, then this course should be of interest to you. He earn his living as a mathematician, but is also an accomplished musician. This is an outstanding I highly recommend this course.
Date published: 2019-04-27
Rated

5

out of

5
by
Jeff in BC
from
What a treat
My favorite course for a lot of reasons. Great instructor, fabulous content and good creative production. Very informative, interesting and entertaining. Thank you David. You are quite a talent.
Date published: 2019-03-02
Rated

5

out of

5
by
jwPhoto64
from
Count the Harmony Waves
There is nothing so emotionally profound as music. There is nothing so logically profound as math. So how do these two fit side-by-side? Very well as Professor David Kung shows you. A violinist and mathematics professor may seem like an unlikely pairing in the same individual, but that is exactly what Professor Kung has brought together in his life. Patterns, similarities, differences, time, length, transformations, repetition, and frequency are concepts that mark and define both music or math. Yet we too often do not consider them existing in the other domain. That is why this discussion is so satisfying.
Date published: 2019-01-22
Rated

5

out of

5
by
Paquito
from
How Music and Mathematics Relates
I learned a lot on this course-it was a foreign subject to me-but having some knowledge about mathematics, I have appreciated the relationship between music and mathematics. The professor had an exceptional command of music embraced by mathematics.
Date published: 2018-11-23
Rated

5

out of

5
by
Jay0
from
Very interesting
Explained the importance of overtones or harmonics
Date published: 2018-11-07
Rated

5

out of

5
by
Eamon
from
The course is very well constructed, informative and well presented by the professor who is clearly an expert in this subject.
Date published: 2018-09-24
Rated

4

out of

5
by
Nuerorad
from
Professor Kung does a superb job. Most of the music aspects I understood, due to my experience playing in concert band and stage(dance) band. I took calculus in college and aced it. Despite this, I had a lot of problems grasping the math. I cannot fault Dr. Kung because of my short comings. I liked the last summary DVD the most. Maybe it would be useful to look at that DVD first?
Date published: 2018-06-25
Rated

4

out of

5
by
JG B
from
Excellent
Although I bought this course for my granddaughter, I did view the first part. Anyone interested in both math and music will appreciate it.
Date published: 2018-05-18
Rated

4

out of

5
by
Morgan ll
from
How Music and Mathematics Relate
Great presentation, excellent visuals of concepts! I never knew some of these concepts even existed, very enlightening!
Date published: 2018-02-24
Rated

5

out of

5
by
Mike Maziarz
from
The title describes the content.
I was very pleased with the course material and the presentation. Dr. Kung was thorough and detailed in his analysis and explanations. I had several "who knew" moments and the course was very interesting. I think a basic, even if somewhat dated, knowledge of advanced math is helpful.
Date published: 2018-02-13
Rated

5

out of

5
by
still at it
from
eye opening
Pleasantly surprised by Dr. Kung's course covering relationships between math and music! The content isn't found elsewhere in such detail. It also is a mind opener with regard to new/contemporary music.
Date published: 2017-12-01
Rated

5

out of

5
by
kbr77
from
My whole family loved this series
I married into a group of mathematicians AND musicians -- I've needed help! I'm a very practical engineer who failed elementary school piano lessons. Dr. Kung helped me understand this material (amazing!). This course helped me follow the dinner table conversations, and made me a hero with my mother-in-law who finished her long career as a calculus teacher actually teaching at St Mary's College in Md. Dr Kung was a favorite of hers.
Date published: 2017-08-12
Rated

4

out of

5
by
Birdcall
from
Explanatory, clearly defines subject
We had seen a program describing math's relationships to music that was overly simplified. This series is excellent, and though it demands focused attention, it answers questions with layers of detail that satisfyi both musicians and mathematicians. For those of us who can't grasp the math, it does not detract from the stimulating recognition of how the two disciplines are intricately woven together.
Date published: 2017-07-31
Rated

5

out of

5
by
cdrbill
from
Outstanding Course!
This course was excellent! **Dr. Kung's excitement and love of both math and music really help make this course delightful. He is a great lecturer, and obviously knows his stuff. **I loved how Dr. Kung started and ended each lecture with a musical number, and how he wove these two subjects together. **Using the "technical display" from the sound studio really helped re-enforce the concepts. **I have the math background to keep up, but didn't have the music experience--this course has motivated me to finally start learning to play an instrument (something I've been meaning to do for quite some time) This is definitely one of the best Great Courses I have viewed! I absolutely recommend it.
Date published: 2017-07-27
Rated

5

out of

5
by
algorithmguy
from
Very enlighening!
Great job! First of all, I previously had almost zero musical background and an extensive applied math background. The capable professor increased my musical knowledge and appreciation many fold. I especially liked the lesson on auditory illusions, that are (mostly) solved by the sum of higher harmonics to produce a representation of the fundamental. Cool. I did an experiment to digitally produce pure sinusoidals at 400,500,600,700, and 800 Hz. I then summed them point by point to create a composite file. Sure enough, the Fourier transform of this file showed some components at 100 and 200 Hz. There are many interesting points made throughout the lectures such as problems with tuning a piano, randomly generated compositions, digitally "adjusting" improper pitches (as in vocal), etc. The lesson on how the ear distinguishes the upper harmonics present in a supposedly "pure" fundamental note was excellent. It is how we distinguish a violin from a clarinet, for example. The numerous demonstrations the prof gave with his violin were enjoyable and instructive. Although no previous math background is required, it is certainly desirable to have at least a working knowledge of trig. Anything beyond that is gravy. There are many graphical displays of the frequency spectrum of instrumentals in real time, i.e., the results of the Fourier transform. This course must be taken on video. It would be useless to listen only.
Date published: 2017-07-25
Rated

5

out of

5
by
Baritone
from
We loved this course!
My husband is an engineer, I am a musician. This was the perfect course to watch together. It was a little heavy on the math for me at times, but my husband just loved those parts! It was very interesting to learn how music and math relate. The instructor was so interesting and entertaining. He explained things in a manner we both enjoyed. I think this is our favorite course so far, and we've watched many.
Date published: 2017-07-22
Rated

1

out of

5
by
cornet player
from
Too much math facility required
Despite descriptions to the contrary, a fairly high level of math competence is needed to get much from this course. I am very knowledgeable musically, and somewhat so mathematically, but the math in these lectures was beyond me. Would not have purchased had I known. Unfortunately this was a gift not purchased from Great Courses and thus cannot return it.
Date published: 2017-06-25
Rated

4

out of

5
by
LB solo commuter
from
If you're ordering the audio version . . .
. . . be aware that it's the soundtrack of a course designed for DVD. Now and then I wished I could see something the lecturer was referring to. But I found the course fascinating anyway. A little (not much, but a little) background in music and in high school trigonometry and algebra allowed me to understand enough, even without the visuals.
Date published: 2017-06-25
Rated

2

out of

5
by
glangsto
from
Probably good, but do not buy audio only version
I listened to this course, as I did not get the video version. The music part is fine, but without the mathematics visuals there is really no connection.
Date published: 2017-06-16
Rated

5

out of

5
by
Armchair Philosopher
from
Unique, and in a good way
I am musically literate, but insufficiently educated, having one but only one course in musical theory under my belt. I grew up with music, was involved in band as a student, play a little guitar, and (above all) sing, to this day. I knew music had mathematic roots, but I didn't know the half of it. Dr. Kung's course was a revelation to me in that respect. I still can't get over learning how no piano is (indeed, CAN BE) completely in tune, that compromises are mandatory due to the nature of the mathematics that govern music. This course helped refine my understanding of many things musical (and the older I get, the more interested I am in understanding underlying principles such as these). Highly recommended.
Date published: 2017-05-09
Rated

5

out of

5
by
Fumi
from
How Music and Mathematics Relate
I am a retired petroleum engineer (age 78). By the way I am a female. Seeing the fast changing, and increasing complex world we live I wanted to help the local high school students with math skills. The school board principal, and teachers are very supportive. The students are eager to learn. Many of my students are musicians; some at advanced levels in classical piano, etc. Myself, too, love classical music, and learned a bit when I was young, piano and voice. Occasionally we share about our music interest in my tutoring sessions. This course provides me with insight into math and music --> certainly I related what I learn from the course to my students. They will take further joy of learning math and music. Thank you so much Professor Kung.
Date published: 2017-05-04
Rated

5

out of

5
by
greatcoursist
from
Great companion piece to Prof. Greenberg lectures
One of my favorite lecturers from the Teaching Company. Very much enjoyed this series and am planning on taking his other available course on mathematics. Professor Kung was also kind enough to promptly answer a few questions I had emailed him. It's always very nice when the professors are more than just talking heads on a computer screen and are happy to engage with the strangers who take their courses--they don't have to do this. So, thanks again.
Date published: 2017-03-23
Rated

5

out of

5
by
Curious George
from
A unique and fulfilling experience
After years of attempting to find college-level material like this that I could absorb at my own pace, I was pleasantly surprised how this course addressed many questions of mine that had been long awaiting answers. I consider myself an educated consumer of music, but not a musician. Similarly, I am knowledgeable on most of the basics of physics including wave theory but was unaware of the development of music theory from ancient to modern times. Professor Kung is both an accomplished musician and mathematician who explains both fields of knowledge in a graceful, flowing manner. This course has satisfied my long-standing curiosity regarding auditory illusions and the problems that the practical implementation of musical scales and tuning present. Having taken the course, I feel able to appreciate music composition and musical performance to a much deeper level.
Date published: 2017-03-13
Rated

5

out of

5
by
CatherineCCM
from
Wonderful Course
My husband and I have been watching this video series over the last week and we are just entranced by it! We can only watch one show each evening because it is a workout for the brain. The lecturer clearly loves music but also loves math. He is excellent at making the math as clear as possible for non-mathematicians as well as drawing us into his love of music. Not only have my husband and I learned new things with each lecture, but we have learned to listen to music in new ways. I very highly recommend this course.
Date published: 2017-02-21
Rated

5

out of

5
by
TedS
from
The missing link revealed
I studied classical piano while growing up. Most of what I learned was by rote. Now, at age 61, I'm starting over. And Music/Math was a delightful first step. This is the essence of music. Well balanced with theory and examples. Added bonus: wonderful performances by Dr. Kung. Felt a real connection, like what happens in a real classroom. Was actually sad when course ended. Now I move forward to reinvent my musicality with significant gaps filled in.
Date published: 2017-02-05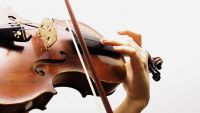 1: Overtones-Symphony in a Single Note
Start the course with a short violin passage from Bach, played by Professor Kung. Then analyze the harmonic series behind a single note, which involves a mixture of different frequencies, called overtones or harmonics. Learn about the physics of stringed and wind instruments, and study the sounds produced by a range of instruments, including the violin, flute, clarinet, timpani, and a fascinating ...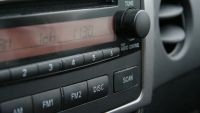 2: Timbre-Why Each Instrument Sounds Different
After hearing the opening measures of Bach's "Air on the G String," investigate why this piece is conventionally played on a single string of the violin. The reason has to do with timbre, which determines why a flute sounds different from a violin and why a melody played on the G string sounds not just lower, but altered. The study of timbre introduces you to a mathematical idea called the Fourier...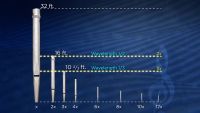 3: Pitch and Auditory Illusions
The fundamental frequency of a male voice is too low to be reproduced by the speaker of a cell phone. So why don't all callers sound like women? Learn that the answer involves the way your brain fills in missing information, convincing you that you hear sounds that aren't really there. Explore examples of auditory illusions that will leave you wondering if you can ever believe your ears again....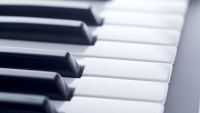 4: How Scales Are Constructed
Professor Kung contrasts a passage from Vivaldi with a Chinese folk tune. Why is one so easily distinguishable from the other? Probe the diverse mathematics of musical scales, which explains the characteristic sound of different musical traditions. Learn how a five-note scale is constructed versus a more complex seven-note scale. What are the relative advantages of each? As a bonus, discover why n...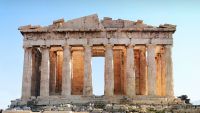 5: How Scale Tunings and Composition Coevolved
Compare passages from Bach's "Chaconne" and a very modern piece, noting how the compositional styles of Western music have evolved alongside small differences in scale tunings. Then explore the mathematics of tuning, focusing on how the exact pitches in a scale are calculated and why there are 12 notes per octave in Western music. Investigate the alternatives, including a scale with 41 notes per o...
6: Dissonance and Piano Tuning
Dissonance is a discordant sound produced by two or more notes sounding displeasing or rough. The "roughness" is quantifiable as a series of beats-a "wawawa" noise caused by interfering sound waves. Learn how to predict this phenomenon using basic trigonometry. Consider several examples, then discover how to use beats to tune a piano. End with a mathematical coda, proving the beat equation using b...
7: Rhythm-From Numbers to Patterns
All compositions depend on rhythm and the way beats are grouped under what are called time signatures. Begin with a duo for clapping hands. Next, probe the effect produced by a distinctive change in the grouping of beats called a hemiola. Also investigate polyrhythms, the simultaneous juxtaposition of different rhythms. Listen to examples from composers including Handel, Tchaikovsky, and Chopin. C...
8: Transformations and Symmetry
Bach and other composers played with the structure of music in ways similar to what would later be called mathematical group theory. Explore techniques for transforming a melody by inversion, reversal, transposition, augmentation, and diminution. End with a table canon credited to Mozart, in which the sheet music is read by one musician right-side up and by the other upside down. Professor Kung is...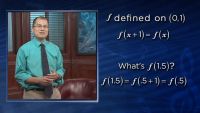 9: Self-Reference from Bach to Godel
Music and mathematics are filled with self-reference, from Bach's habit of embedding his own name in musical phrases, to Kurt Gödel's demonstration that mathematics cannot prove its own consistency. Embark on a journey through increasingly complex levels of self-reference, discovering that music and mathematics are like a house of mirrors, reflecting ideas between them. For example, the table...
10: Composing with Math-Classical to Avant-Garde
Sometimes composers create their works using mathematics. Mozart did this with a waltz, whose sequence of measures was determined by the roll of dice-with 759 trillion resulting combinations. Learn how Arnold Schoenberg used mathematics in the 20th century to design an alternative to tonal music-atonal music-and how a Schoenberg-like system of encoding notes has more recently made melodies searcha...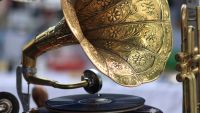 11: The Digital Delivery of Music
What is the technology behind today's recorded music? Delve into the mathematics of digital sampling, audio compression, and error correction-techniques that allow thousands of hours of music to fit onto a portable media player at a sound quality that is astonishingly good. Investigate the difference between analog and digital sound, and explore the technology that allows Professor Kung's untraine...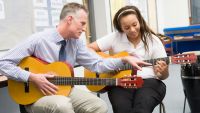 12: Math, Music, and the Mind
Conclude with an eight-part finale, in which you range widely through the territory that connects mathematics, music, and the mind. Among the questions you address: What happens in the brain of an infant exposed to music? Why do child prodigies often excel in the areas of math, music, or chess? And how do creativity, abstraction, and beauty unite music and mathematics, despite being on opposite en...
David Kung
I've loved both math and music since I was a kid. I was thrilled to discover the many connections between these two passions of mine. Sharing that excitement with Great Courses customers has been incredibly gratifying.
ALMA MATER
University of Wisconsin
INSTITUTION
St. Mary's College of Maryland
About David Kung
Dr. David Kung is Professor of Mathematics at St. Mary's College of Maryland. He earned his B.A. in Mathematics and Physics and his Ph.D. in Mathematics from the University of Wisconsin, Madison. Professor Kung's musical education began at an early age with violin lessons. As he progressed, he studied with one of the pioneers of the Suzuki method and attended the prestigious Interlochen music camp. While completing his undergraduate and graduate degrees in mathematics, he performed with the Madison Symphony Orchestra. Professor Kung's academic work focuses on mathematics education. Deeply concerned with providing equal opportunities for all math students, he has led efforts to establish Emerging Scholars Programs at institutions across the country. His numerous teaching awards include the Homer L. Dodge Award for Excellence in Teaching by Junior Faculty, given by St. Mary's College, and the John M. Smith Teaching Award, given by the Maryland-District of Columbia-Virginia Section of the Mathematical Association of America. Professor Kung's innovative classes, including Mathematics for Social Justice and Math, Music, and the Mind, have helped establish St. Mary's as one of the preeminent liberal arts programs in mathematics. In addition to his academic pursuits, Professor Kung continues to be an active musician, playing chamber music with students and serving as the concertmaster of his community orchestra.