Rated

5

out of

5
by
TedS
from
The missing link revealed
I studied classical piano while growing up. Most of what I learned was by rote. Now, at age 61, I'm starting over. And Music/Math was a delightful first step. This is the essence of music. Well balanced with theory and examples. Added bonus: wonderful performances by Dr. Kung. Felt a real connection, like what happens in a real classroom. Was actually sad when course ended. Now I move forward to reinvent my musicality with significant gaps filled in.
Date published: 2017-02-05
Rated

5

out of

5
by
DrHoho
from
One of my all-time favorites.
Of the 75 Great Courses I have purchased over the years, this is certainly one of the top five.
Date published: 2017-01-15
Rated

5

out of

5
by
Since92
from
A masterful teaching performance
Dr. David Kung delivers insights into the complexities of music (from the perspective of a mathematician who is also a musician) in an accessible, engaging, humorous, and memorable fashion. Dr. Kung takes very complex concepts and makes them relatively clear and much easier to understand, but he also communicates and shares his own affection for both math and music that clearly makes this course an authentic labor of love. I have purchased, so far, over twenty courses from the Teaching Company, and this is my favorite to date.
Date published: 2016-12-26
Rated

5

out of

5
by
doctorz
from
Nice mix of music and related mant
My title says it all. This is a nicely crafted work.
Date published: 2016-12-19
Rated

2

out of

5
by
bagelmaker
from
Need to be a math major
This course was advertised as being useful even if you have limited knowledge of math and music. In fact, it requires a high level of math skill in order to follow the professor's line of logic. I'm a musician and was pretty good at math in school, but I was lost after a few minutes. I'm returning the course for a refund.
Date published: 2016-11-28
Rated

5

out of

5
by
Algonquin
from
Lots of interesting stuff
This course was full of new and interesting information. Things that I wondered about and many completely new ideas were explained. Prof. Kung presented the material in a very easy to understand way. I was not able to follow all of the detailed math, but I understood enough of it to follow his concepts and examples.
Date published: 2016-11-15
Rated

5

out of

5
by
gh4cloud
from
Music & Math
Interesting explanation & music examples which causes the viewer to wan to know more.
Date published: 2016-10-10
Rated

5

out of

5
by
Horsesaver
from
This would have helped me understand Fourier Serie
My background is high school band, electrical engineering, and mathematical simulations. I wish I had this course in the '50s and in EE to help understand waves. Music is the key to making this science interesting. The instructor is brilliant. I have not completed all the sections, but I am sold.
Date published: 2016-09-19
Rated

5

out of

5
by
JCJC
from
You'll Never Think of Music in the Same Way Again
The librarian at my town library noticed that I had taken out a DVD of Polanski's "The Pianist" and suggested I watch Professor Kung's lecture series for Great Courses, a recent library acquisition. I'm glad she suggested it: What an engaging and illuminating nine hours! Such visual and auditory invention to present essentially abstract material and make it not only intelligible but striking. I confess that, as I am not a mathematician, much was difficult to absorb — not a shortcoming of the presentation, but a products of my limitations (math studies have long since been in my rear-view mirror). Even so, the experience was eye-opening. (Or should that be ear-opening? Probably both.) For example, and it's but a single example out of many, Professor Kung's treatment and illustrations of the effects of transposition, inversion, retrograde, retrograde inversion had such clarity -- especially of their interplay and how they may be graphed along x or y axes -- that the concepts will stay with you. The use of historical images and information was particularly keen, as was his treatment of the atonal or pantonal revolution. (I liked his brief discussion of Camille Saint-Saëns as a child prodigy: as a small boy, he played the piano for King Louis Philippe and yet lived to write a chorus celebrating French airmen (Aux conquérants de l'air) after World War I — the latter just as Schoenberg in Mödling was turning things upside down.) I especially enjoyed how well-integrated and well-structured the course and its internal references were. No small feat. I've been to many concerts of all kinds of music in the years stretching from 78-rpm disc to digital downloads; but I've never seen anything to equal your lecture series for giving people a glimpse of the correspondence and difference between math and music. Professor Kung, his production engineers, and Great Courses have produced a masterpiece of pedagogy. It's a real gift and well worth watching. There will be parts that you may find difficult (not all that many), but work through them and you'll get a rich reward.
Date published: 2016-09-14
Rated

5

out of

5
by
Bcreekski
from
Informative Lecture Series
I know a lot about music and play piano with classical lessons. This lecture is heavily about mathematics. The mathematics is very difficult and would require an advanced mathematics degree to fully understand. Fortunately, one does not need to fully understand the mathematics to greatly appreciate the linkage between music and mathematics. The presentation by the Professor is excellent with fascinating anecdotes and musical demonstrations. It would be most helpful for students to have some fundamental knowledge of music theory but not essential. The last 3 lectures are an excellent summation of the previous lectures and place everything into a practical perspective. Highly recommend for all people interested in music.
Date published: 2016-08-21
Rated

2

out of

5
by
Acrossthechasm
from
Disappointed
Perhaps it was my mistake to believe that this course would be of value to me. It involved more math than I could handle. I have written several compositions and was hoping it would increase my understanding of music theory and how to apply it to composing. Unfortunately, the two lessons I viewed, one and four, were more intimidating than enlightening. The professor, however, is quite knowledgeable and, obviously, a skilled violinist. He might consider simplifying the curriculum to make it more comprehensible to individuals with limited math skills. i have returned the course. It would be appreciated if you would consider reimbursing me for at least a portion of the $16.85 postage and handling costs I incurred in both receiving and returning the course. If possible, please advise when you have received it. Thank you.
Date published: 2016-08-18
Rated

2

out of

5
by
Greytone
from
Audio version not fit for purpose. Gutted.
Had I known that the audio version of this course would be impossible to follow, I would have bought the video version. I had assumed that all course material would be available in the pdf, as it says that there are illustrations etc in there. However, without the examples and visuals at hand in the book, the audio version is a complete waste of money. Don't get me wrong, the lecturer makes it sound fascinating, and I'm desperate to know more, there's so much information being alluded to, it sounds terrific. Such a shame that I can't access any of this knowledge. I really do think that it should be made clearer what is included in the audio version, because had I known that basic material was missing from the audio, I would have obviously gone for the video. Or perhaps the missing visual aids could be added into the accompanying pdf, which would probably also benefit the students who buy the video version. At least that way the audio would begin to make any sense at all. I was so excited to begin this, and so gutted that my enthusiasm was popped within a mere 10 minutes.
Date published: 2016-08-07
Rated

4

out of

5
by
Bruce Belcher
from
Fascinating Course Relating Music and Math
David Kung shows interrelationships between music and math that not be apparent to the casual observer. It was fascinating to to see how mathematical functions could be used to show musical progressions. I will enjoy watching this class a second time.
Date published: 2016-08-02
Rated

5

out of

5
by
Kuehnrat
from
... excellent!!!
... if you love music and love math then you'll love this course ... nothing more needs to be said!!!
Date published: 2016-07-26
Rated

1

out of

5
by
musician
from
art is emotion not statistics
I couldn't get through ten minutes of the first lecture..music for me is about emotion not mathematical analysis. it might be interesting for some but I found this lecture unable to captivate me...
Date published: 2016-07-18
Rated

5

out of

5
by
Pulchravera
from
Fascinating course
Professor Kung does a great job combining his knowledge of music and mathematics in this course. My one disappointment was his explication of rhythm. Nevertheless, this course is certainly worth anyone's while.
Date published: 2016-06-25
Rated

5

out of

5
by
Sharky
from
Excellent Introduction
I concentrated heavily on the sciences all through high school, college, and grad school and mostly neglected my education in the arts. Lately, I've been looking to increase my understanding and appreciation of music. I thought "How Music and Mathematics Relate" was perfect for bridging this gap. The earlier lectures on timbre and tuning were really mind-blowing, and I also really liked the lecture on the digital delivery of music. Dr. David Kung covers a broad variety of topics in just 12 lectures. I bought the video download on sale and throught it was an excellent value.
Date published: 2016-06-19
Rated

5

out of

5
by
Grichard
from
Truly a great course
A very interesting presentation for those that are both mathematically and musically inclined. As a retired teacher of advanced math, I wish I seen this thirty years ago.
Date published: 2016-06-18
Rated

5

out of

5
by
Jjimenez
from
Calculus instead of fractions
I was hoping to learn something about fractions, so I can use music to teach fractions to my K-1 and middle school students. So far, the math used is trig and calculus. I'm familiar with both so, I'm learning quite a bit.
Date published: 2016-06-05
Rated

5

out of

5
by
JoeFizx
from
Excellent Course!
As an engineer and a musician (who has built a few synthesizers and tuned some pianos over the years) I came into this course with a pretty decent background in the math and physics behind music. This course went well beyond what I thought I knew. I learned a great deal and, as the professor noted a number of times, I find myself listening to music from a different perspective now. I do a little composing and the segment that covered transformations was especially enlightening. With that in mind I plan to try a few things on the keyboard in the upcoming months. Probably the biggest overall gain I got was the clarification of some different mathematical concepts that I had learned in other subject areas. Very well done indeed!
Date published: 2016-05-14
Rated

5

out of

5
by
NJMath
from
Enjoyed the audio version
I see other reviews talking about the need for the visuals from the video. i only listen to Teaching Company courses while commuting and hope they continue to offer audio only versions. I found this course thoroughly enjoyable and engaging in the audio format, but do have to admit that if you don't have some background in music and math it might be harder to follow in audio format. Wonderful course. I highly recommend it.
Date published: 2016-03-06
Rated

5

out of

5
by
NumbersGuy123
from
Lecture 3 incorrectly uses Harmonics & Overtones
I am enjoying the Doctor's presentation, and will soon purchase a Keyboard to experience the fun of hearing the interactions of Notes. I notice that the verbiage in his Blue Book (page 27-28) (How Music & Math Relate) concerning overtones and octaves is wrong. Within the 2nd, 4th, & 7th Bullets; the terms Harmonic & Overtone are repeatedly reversed. Also, the formula for Harmonics is printed wrong on page 27. It should be (2 raised to the n power) times (x). NOT (2nx). Dr. Dave also mis-speaks frequently in the video by referring to Overtones as Harmonics. "The 7th Harmonic of F2 ... " should obviously be spoken as the 7th Overtone.
Date published: 2016-01-30
Rated

4

out of

5
by
Brit1
from
Gift for my grandson who is a musician
My grandson (18) tells me the course was "cool" so I assume it was good value and well presented.
Date published: 2016-01-22
Rated

4

out of

5
by
Shally
from
math and music
The course was way above my head. You should be very well versed in mathematics and physics to understand this course. It seemed like a very good course and well presented but i only listened to a couple of lessons and gave up. I do recommend this course but only if you have a solid background in math and physics but not to my friends.
Date published: 2016-01-20
Rated

5

out of

5
by
Buttonwood
from
Very interesting to an engineer and music lover
I am only at Lecture 6 but I really enjoy the presentation. For me math is a tool in my work, music is what I like for relaxation. It has always been clear that music and mathematics are related, Professor Kung explains it very well.
Date published: 2016-01-20
Rated

5

out of

5
by
WolfgangLeibnitz
from
An enjoyable course
Let me begin with a caveat. I am a retired high school mathematics teacher, who played clarinet and tenor sax as a pastime, so I was predisposed to like this course. That said, this course will appeal to anyone who has an interest in either one of the disciplines, and at least a vague interest in the other. The material is presented from a musical point of view, beginning with pitch and timbre, then going to rhythm and phrasing and composition. The examples are given, live, on violin (Professor Kung is concertmaster of a community orchestra), piano, timpani, sitar, gamilan and laboratory equipment. The math behind the acoustics is explained. The presentation is sometimes very clever. I heartily recommend this course.
Date published: 2015-12-12
Rated

5

out of

5
by
claresw
from
I've given this course to two friends
The material is outside my comfort zone, but I don't mind repeating these lectures because the presentation is so interesting and engaging. I've now given the course, as a DVD and as a download, to two friends who have a serious interest in music theory. For me, it's a pleasure to be in the "presence" of a teacher who is so knowledgeable and so excited about the subject.
Date published: 2015-12-05
Rated

5

out of

5
by
Tecers
from
Perfect Conbination.
A Stimulating and Enlightening course expertly taught and presented. Excellent graphics. Highly and well recommended.
Date published: 2015-10-12
Rated

5

out of

5
by
Loco Nova
from
Caution, "Fundamentals" (like Greenberg) required
My starting point this spring was an engineering background and life work, including a professorship, in computer science. As a kid, my direction was visual, not auditory, which has served me well in web and app development. However, I've always loved music, so I decided to buy the Greenberg "Fundamentals". Ah, the "Ode to Joy"! I then followed up (as recommended by Greenberg reviewers) with the purchase of a Casio LK-280, and have learned the basics of reading a score and playing simple songs. Had I not done this first, Kung's material would have been way beyond my reach. Similarly, if you had hissy fits in those math courses, expect similar hissys here. So CAUTION, well rounded arts and sciences preliminaries are required! However, the payoff in physical understanding, cross cultural music appreciation, and depth in a direction that Greenberg (for all his great gifts) could not accomplish is worth the effort. I have a grandson, who has already pounded on my Casio LK-280. He's almost three; yes, I mean pounded (as in upbeat, loud, and familiar- as Kung relates)... He is almost at the point where he can play very simple measures from "Up town, funk you up". My greatest hope is that some day, my grandson understands this material. My deepest and sincere congradulations to Prof Kung.
Date published: 2015-08-13
Rated

5

out of

5
by
AJ63
from
One of my favorite TTC purchases
Professor Kung is the real deal, working both sides of the brain! Thoroughly enjoyed this course.
Date published: 2015-07-01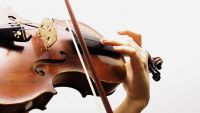 1: Overtones-Symphony in a Single Note
Start the course with a short violin passage from Bach, played by Professor Kung. Then analyze the harmonic series behind a single note, which involves a mixture of different frequencies, called overtones or harmonics. Learn about the physics of stringed and wind instruments, and study the sounds produced by a range of instruments, including the violin, flute, clarinet, timpani, and a fascinating ...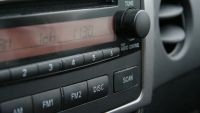 2: Timbre-Why Each Instrument Sounds Different
After hearing the opening measures of Bach's "Air on the G String," investigate why this piece is conventionally played on a single string of the violin. The reason has to do with timbre, which determines why a flute sounds different from a violin and why a melody played on the G string sounds not just lower, but altered. The study of timbre introduces you to a mathematical idea called the Fourier...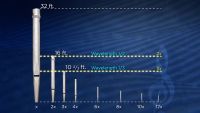 3: Pitch and Auditory Illusions
The fundamental frequency of a male voice is too low to be reproduced by the speaker of a cell phone. So why don't all callers sound like women? Learn that the answer involves the way your brain fills in missing information, convincing you that you hear sounds that aren't really there. Explore examples of auditory illusions that will leave you wondering if you can ever believe your ears again....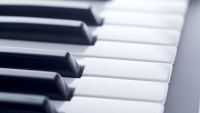 4: How Scales Are Constructed
Professor Kung contrasts a passage from Vivaldi with a Chinese folk tune. Why is one so easily distinguishable from the other? Probe the diverse mathematics of musical scales, which explains the characteristic sound of different musical traditions. Learn how a five-note scale is constructed versus a more complex seven-note scale. What are the relative advantages of each? As a bonus, discover why n...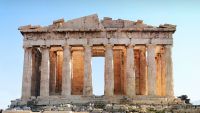 5: How Scale Tunings and Composition Coevolved
Compare passages from Bach's "Chaconne" and a very modern piece, noting how the compositional styles of Western music have evolved alongside small differences in scale tunings. Then explore the mathematics of tuning, focusing on how the exact pitches in a scale are calculated and why there are 12 notes per octave in Western music. Investigate the alternatives, including a scale with 41 notes per o...
6: Dissonance and Piano Tuning
Dissonance is a discordant sound produced by two or more notes sounding displeasing or rough. The "roughness" is quantifiable as a series of beats-a "wawawa" noise caused by interfering sound waves. Learn how to predict this phenomenon using basic trigonometry. Consider several examples, then discover how to use beats to tune a piano. End with a mathematical coda, proving the beat equation using b...
7: Rhythm-From Numbers to Patterns
All compositions depend on rhythm and the way beats are grouped under what are called time signatures. Begin with a duo for clapping hands. Next, probe the effect produced by a distinctive change in the grouping of beats called a hemiola. Also investigate polyrhythms, the simultaneous juxtaposition of different rhythms. Listen to examples from composers including Handel, Tchaikovsky, and Chopin. C...
8: Transformations and Symmetry
Bach and other composers played with the structure of music in ways similar to what would later be called mathematical group theory. Explore techniques for transforming a melody by inversion, reversal, transposition, augmentation, and diminution. End with a table canon credited to Mozart, in which the sheet music is read by one musician right-side up and by the other upside down. Professor Kung is...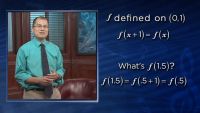 9: Self-Reference from Bach to Godel
Music and mathematics are filled with self-reference, from Bach's habit of embedding his own name in musical phrases, to Kurt Gödel's demonstration that mathematics cannot prove its own consistency. Embark on a journey through increasingly complex levels of self-reference, discovering that music and mathematics are like a house of mirrors, reflecting ideas between them. For example, the table...
10: Composing with Math-Classical to Avant-Garde
Sometimes composers create their works using mathematics. Mozart did this with a waltz, whose sequence of measures was determined by the roll of dice-with 759 trillion resulting combinations. Learn how Arnold Schoenberg used mathematics in the 20th century to design an alternative to tonal music-atonal music-and how a Schoenberg-like system of encoding notes has more recently made melodies searcha...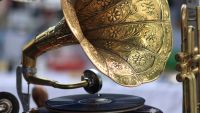 11: The Digital Delivery of Music
What is the technology behind today's recorded music? Delve into the mathematics of digital sampling, audio compression, and error correction-techniques that allow thousands of hours of music to fit onto a portable media player at a sound quality that is astonishingly good. Investigate the difference between analog and digital sound, and explore the technology that allows Professor Kung's untraine...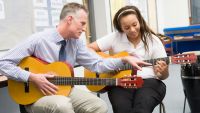 12: Math, Music, and the Mind
Conclude with an eight-part finale, in which you range widely through the territory that connects mathematics, music, and the mind. Among the questions you address: What happens in the brain of an infant exposed to music? Why do child prodigies often excel in the areas of math, music, or chess? And how do creativity, abstraction, and beauty unite music and mathematics, despite being on opposite en...
David Kung
I've loved both math and music since I was a kid. I was thrilled to discover the many connections between these two passions of mine. Sharing that excitement with Great Courses customers has been incredibly gratifying.
ALMA MATER
University of Wisconsin
INSTITUTION
St. Mary's College of Maryland
About David Kung
Dr. David Kung is Professor of Mathematics at St. Mary's College of Maryland. He earned his B.A. in Mathematics and Physics and his Ph.D. in Mathematics from the University of Wisconsin, Madison. Professor Kung's musical education began at an early age with violin lessons. As he progressed, he studied with one of the pioneers of the Suzuki method and attended the prestigious Interlochen music camp. While completing his undergraduate and graduate degrees in mathematics, he performed with the Madison Symphony Orchestra. Professor Kung's academic work focuses on mathematics education. Deeply concerned with providing equal opportunities for all math students, he has led efforts to establish Emerging Scholars Programs at institutions across the country. His numerous teaching awards include the Homer L. Dodge Award for Excellence in Teaching by Junior Faculty, given by St. Mary's College, and the John M. Smith Teaching Award, given by the Maryland-District of Columbia-Virginia Section of the Mathematical Association of America. Professor Kung's innovative classes, including Mathematics for Social Justice and Math, Music, and the Mind, have helped establish St. Mary's as one of the preeminent liberal arts programs in mathematics. In addition to his academic pursuits, Professor Kung continues to be an active musician, playing chamber music with students and serving as the concertmaster of his community orchestra.