Rated

4

out of

5
by
elliephoto
from
Grow Anything Containers
Finally had a chance to look at this one. It is informative ,helpful. I got a nice list of various plants that I will be trying out as well. Thumbs up!
Date published: 2018-09-04
Rated

4

out of

5
by
Mike O
from
It's very informative
I haven't finished the course, however I have gained some new ideas.
Date published: 2018-08-16
Rated

2

out of

5
by
gardenia
from
I bought this course and I am not too happy about it. The contents of the course are very poor. the professor could add more in hers video. so sorry!
Date published: 2018-06-27
Rated

1

out of

5
by
Will88
from
Not what I was expecting.
I have viewed all the modules of the course. I was disappointed because the lessons are heavily concentrated on the appearance of the plants. I was expecting to learn about how to keep the plants alive in a detailed scientific way, because the title is HOW TO GROW anything, not how to make your garden appear very pleasing.
Date published: 2017-12-06
Rated

4

out of

5
by
Bevie351
from
Very enjoyable, full of tips and great ideas. I can't wait to try some of her ideas for vertical gardening.
Date published: 2017-09-28
Rated

5

out of

5
by
ssalfa
from
Clear instructions, creative ideas
So glad I found this on Great Courses website! Looking forward to the results of planting tips I learned.
Date published: 2017-09-12
Rated

5

out of

5
by
kdk1
from
easy to understand
Not complicated at all. Learned much about subjects i bought.
Date published: 2017-09-08
Rated

5

out of

5
by
CherieJ
from
Well Done!
I live in the high desert of Nevada and do a great deal of container gardening. I found this series informative as well as entertaining. A few new ideas and confirmations of some old ones. Well worth the price.
Date published: 2017-06-22
Rated

4

out of

5
by
DeeFrance
from
Interesting
There is a lot of information and great ideas. I am really new to gardening so this is perfect and yes there are plenty of more advanced concepts. I love this course and happy that I brought it.
Date published: 2017-06-04
Rated

5

out of

5
by
mpiano
from
Knows her subject
Not only does she know her subject well but illustrates with live plants exactly how to go about doing the processes. Very inspiring!!!
Date published: 2017-04-09
Rated

4

out of

5
by
Jackiconn86
from
Practical and easy methods
I bought this class as a follow-up on another garden class. Growing in containers is an easy solution for space and little kids who want to help
Date published: 2017-02-17
Rated

4

out of

5
by
Lorac
from
The presenter sure knows her stuff--except how to pronounce foliage. It really should have 3 syllables!
Date published: 2016-10-05
Rated

2

out of

5
by
norn
from
Glad I got it on sale.
I was looking for the different ways to handle growing plants in pots as compared to gardening on a plot . Not much about the differences; mostly about the design and use of pots .
Date published: 2016-09-14
Rated

2

out of

5
by
MariaIlsun
from
Repetitive Display of Strange Plants in Pots
While I can heartily recommend "How to Grow Anything: Food Gardening for Everyone", I am a bit disappointed with this set of lectures. After only viewing 3, so it could change, my impression of all three videos are of Ms. Meyers showing what plants she likes (unusual ones) and how she combined them in pots to arrange on a deck and a small patio. Our taste in plants are not the same. I would have liked some ideas about how to care for roses, dwarf citrus, herbs, vegetables ... etc. Not enough useful information such as soil selection for what plants, regular maintenance info - is pruning a good idea for container plants? - how much to water, etc.
Date published: 2016-02-23
Rated

4

out of

5
by
Maraith
from
Good from A to...M
I'm a beginner with container gardening so this was really perfect. From the best containers to the right design elements to plant options...I liked the basics. Perhaps more experienced gardeners would feel it's too simple but it worked for me. The settings are pretty repetitive but the teacher knew her topic and was easy to listen to and watch.
Date published: 2016-01-30
Rated

4

out of

5
by
BigHead
from
View Before Starting Serious Container Gardening
After viewing these lectures on container gardening I realize that it is as much work as gardening in the backyard if you want beautiful flowers (which you would since they would be indoors and in front of your face all day long). Ms Myers probably spent a lot of time on arranging of plants and flowers and landscaping ideas because of all the nitty gritty things that has to match including the container to the plant and to the indoor decor. Add that to the steps that you need to take to prevent excess water from getting onto the floor and making a mess. Container gardening for decorative plants equals "high maintenance." Perhaps food gardening would be worth the hassle?
Date published: 2015-05-12
Rated

3

out of

5
by
DigsInTheDirt
from
don't recommend
Must know too much. This was a waste of my time. She was lively, but didn't get enough for what I paid; my same thoughts on Best Garden for your Landscape. Won't buy anything of hers again.
Date published: 2015-03-06
Rated

3

out of

5
by
herbdoctor8
from
not what the title depicted
was hoping for more on edible plants in containers, a little more technical would have been nice. it was more like a floral arrangement course than container growing
Date published: 2015-01-15
Rated

3

out of

5
by
JGilp
from
How to grow anything: Container Gardening Tips
This course is not what I expected. I feel that the title is misleading. I wanted to learn about horticulture, disease control, plant problem clinic. This course feels like watching HGTV program. The instructor is engaging and upbeat; however, I expected more than just plants combinations, color, and organization of the containers. The information is very general.
Date published: 2014-11-08
Rated

3

out of

5
by
KellyJ
from
Wish there was more about Gardening!
I guess maybe I read into the title, but I was disappointed by this course. From a general landscaping with containers view this course is excellent. But as far as actual GARDENING - ie, tomatoes, okra, corn, etc...well this left a lot to be desired. The speaker is very engaging and upbeat, so as long as you are looking for general container principles and how to properly make a balanced presentation, etc. this will serve you well!
Date published: 2014-09-03
Rated

4

out of

5
by
Bonita7
from
Good basic Information
An enjoyable short course on container gardening that enables just about everyone to create, maintain and enjoy plantings from small pots on a window shelf to huge planters that sit on your porch or deck. Ms. Myers also notes basic problems that gardeners deal with - ranging from common pests to knowing when to feed plants. Different soil blends to various amounts of light needed and ending up with dealing with cooling weather conditions. One thing I did notice was that it became easy to get caught up in keeping track of which plants go with which in the first chapter - Fillers, Thrillers and Spillers. The objectve is - I believe - to not put these specific plants together but to use plants that are similar to the ones Ms. Myers uses to create a well-rounded presentation. You can tell that Ms. Myers is accustomed to being before the camera and conveying information in small bits of time which shows her familiarity with today's numerous television self-help shows. She is relaxed. She is definitely not afraid to get her hands dirty. Perhaps she tries to get too much information in these short clips but it is easy enough to review and listen again. Even the most experienced gardener could get a few tips from this course even if it just to see the oddest things to put a plant in.
Date published: 2013-07-14
Rated

5

out of

5
by
Florida Pat
from
Lots of Great Information
I have been gardening in containers for years and learned a lot from this wonderful course. I always enjoy the "academic" courses offered by the Great Courses, however this course was a nice change of pace. I live in Florida and found that the professor's presentation was very relevant to all the different growing zones. This is a major accomplishment since the material was condensed. I appreciated the attention to design as well as plant upkeep and selection. The presentation on light needs of different types of plants was especially interesting to me, particularly what happens when a low light plant is exposed to too much light. I'm recommending this course to all of my gardening friends!
Date published: 2013-06-27
Rated

5

out of

5
by
WillMike
from
GREAT VALUE FOR THE PRICE
WHAT I LIKED MOST ABOUT THE COURSE IS THAT I AM A VISUAL LEARNER AND, UNLIKE BOOKS ON CONTAINER GARDENING, THIS SHOWS YOU EXACTLY WHAT YOU NEED TO START AND MAINTAIN A CONTAINER GARDEN. I SAT AND WATCHED THE ENTIRE SERIES IN ONE SETTING. IT DOES NOT COME WITH A BOOK, BUT DOESN'T REALLY NEED ONE. I TOOK NOTES ON SOME OF THE SUGGESTED PLANTS THAT YOU COULD USE. THIS IS DEFINITELY A SERIES I WILL HAVE TO WATCH SEVERAL TIMES TO GET THE MOST OUT OF IT...BUT, MOST OF THE GREAT COURSES ARE NOT WATCH-IT-ONE-TIME AND YOU'VE GOT IT ...THE PRICE IS ABOUT WHAT YOU WOULD PAY FOR A BOOK ON THE SUBJECT...BEING SOMEONE WHO KNOWS NOTHING ABOUT GARDENING OR PLANTS, I AM GLAD I PURCHASED THIS.
Date published: 2013-05-27
Rated

4

out of

5
by
NYNM
from
OK, not great
I am enjoying this brief course and expect to use it on my terrace in Manhattan. The lecturer is knowledgeable and enthusiastic. She covered many topics. My complaint, however, is that this did not seem like Great Courses program, it seemed like a gardening show on cable TV. There was nothing "academic" about it at all; even some of the newer "Better Living" make an attempt to be academic, use some theory or some research or something to try to bring it to a "higher level." This detracted from GC reputation because you can learn about container gardening thru many sources. There was nothing distinctive here.
Date published: 2013-05-22
Rated

5

out of

5
by
walterj
from
Great purchase! Learned a ton!
This course covers a ton and the instructor is very knowledgeable. I just bought and watched both of the How to Grow anything DVDs and can't wait to start transforming my gardens.
Date published: 2013-05-09
Rated

4

out of

5
by
weaver
from
Ten pounds of Info in a five pound bag!
Covers almost EVERYTHING. The instructor's talking speed has been honed to a razor's edge by many 5 minutes or less TV guest appearance soundbites. But she is still clear and easy to understand except for the names of plants - which are mercifully printed on the screen in most cases. Be ready to pause if you want to take any notes. This is a very well rounded course which shows some handy gadgets for specific applications, the new vertical wall plantings, fairy gardens, and some new varieties of plants. Each class rotates from the potting bench, to the deck, to the greenhouse-nursery, and some show the same containers a few weeks later as they fill in. There is also info on creative containers and their usability. If you add all these things to the regular expected subjects you will find the classes jam packed and be left wishing there had been more than six sessions so she could go into more detail on some special subjects, like the fairy gardens or vertical wall planters.
Date published: 2013-04-07
1: Designs in a Pot-Thrillers, Spillers, Fillers
There's a lot to container gardening, but this session gives you the perfect starting point for creating your own wonderful gardens. Start with a detailed look at the varieties of containers out there (from improved plastics to concrete to self-watering) and how to find the right soil mix-or even make your own. Then, discover one of the keys to designing a powerful container garden-the "thriller, ...
2: Create a New Space-Edibles and Ornamentals
Patios, small decks, fire escapes-whatever your space constraints, there are a wealth of container gardening ideas and designs you can enjoy. Taking you through several seasons, this lesson shows you how to take advantage of small spaces to blend ornamentals and edibles (such as tomatoes and blueberries) and come up with creative solutions for everyday gardening challenges, including color balance...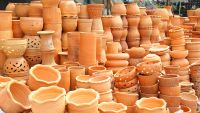 3: Unusual Pots, Vertical Spaces, Shade Design
Ms. Myers shows you how to start thinking outside the traditional container with some unique ideas for making garden containers from a range of found or recycled items, including buckets, shoes, and teapots. Also, learn how to better choose specific plants and containers to decorate walls or fences that can be stubborn to plant around; find out what edible and decorative plants grow best in areas ...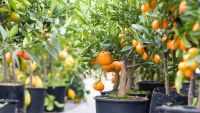 4: Grasses to Trees-Big Plants in Containers
Large plants in large containers can offer perplexing design challenges when it comes to space, color, plant care, and privacy. Which trees, shrubs, and large ornamental grasses are right for your space? What are some tricks to designing with them and maintaining their health throughout the seasons? How can you effectively use large containers to screen bad views, create a focal point, provide a v...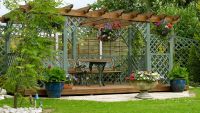 5: Outdoor Living Areas and Special Features
Start by learning how to approach outdoor seating and lounging areas from the gardener's perspective and discover how to mix and match containers and plants to create the mood you want. Then, find out some tried-and-true ways to solve the pesky problems of common pests and plagues (from aphids to mosquitos to plant rot). Finally, dabble in the creation of eye-catching theme gardens, such as a trop...
6: Cool-Season Changes and Indoor Gardens
It's never too soon to start thinking about container gardening in cool-season weather. Here, Ms. Myers offers fantastic ideas for adding fall color to your outdoor container gardens and for taking care of your gardens during autumn and winter. She also shows you how to move your plants indoors or plant new indoor container gardens so you can enjoy your plants all year long. Plus, you'll also find...
Melinda Myers
We started just like you with common problems faced by many gardeners. We want to design a garden that works for you and your dream for something better.
ALMA MATER
University of Wisconsin, Madison
INSTITUTION
Horticulturist and Certified Arborist
About Melinda Myers
Melinda Myers is a horticulturist, certified arborist, gardening expert, television/radio host, columnist, and author with more than 30 years of horticulture experience. She earned her B.S. in Horticulture from The Ohio State University and her M.S. in Horticulture from the University of Wisconsin, Madison. Before launching her own business in 2006, she was a tenured associate professor at the University of Wisconsin Extension Service and a tenured horticulture instructor at Milwaukee Area Technical College. Her numerous awards include two Garden Media Awards from the Garden Writers Association, the Garden Communicator of the Year Award from the American Nursery & Landscape Association, the Gold Leaf Award from the International Society of Arboriculture, the Perennial Plant Association Garden Media Promoter Award, and the American Horticultural Society's B. Y. Morrison Communication Award for effective and inspirational communication. Ms. Myers is the author and coauthor of more than 20 gardening books, including Can't Miss Small Space Gardening and Birds & Blooms' Ultimate Gardening Guide. She is also a columnist and contributing editor for Birds & Blooms magazine, the Milwaukee Journal Sentinel, Gardening How-To, and Wisconsin Gardening. A seasoned media presence, Ms. Myers hosts the nationally syndicated Melinda's Garden Moment and appears regularly on various national and local shows. For more than 20 years, she hosted The Plant Doctor radio program, seven seasons of Great Lakes Gardener on PBS, and the nationally syndicated YardWorks!