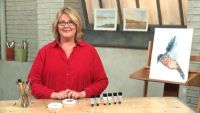 1: Understanding Successful Watercolor
Meet artist Kateri Ewing as she introduces you to the limitless possibilities of watercolor. Kateri explains the characteristics of successful watercolor paintings, including how to select the most effective paints and tools. Next, learn the difference between luminous and muddy works, which will transform the way you'll see and paint in the future.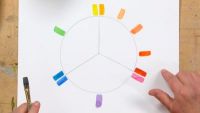 2: Split Primary System
Learn the difference between primary and split primary colors, and discover how color theory will help improve your paintings. Kateri shows you how organizing your palette will reduce frustration and wasted paint, and she walks you through the creation of your own 15-color wheel.
3: Charts & Color Matching
Every artist has experienced the disappointment of not being able to match a hue exactly, but Kateri shows you how to solve this common challenge! Create your personalized color charts that train your hand and your eye to recognize color relationships, and allow you to match any color you can find.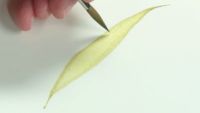 4: Tertiaries, Neutrals & Greens
Now that you've mastered primary and secondary color relationships, Kateri walks you through ways to mix complementary tertiary hues to achieve even more nuanced mixes. Next, she shares professional tips for transforming unnatural green paint pigments into the greens found in nature.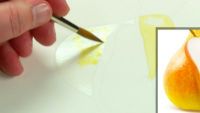 6: Building Color & Completing the Pear
Continue building your colors as you improve your ability to accurately observe and mix various shades. Kateri helps you work darker colors into your yellow and green pear study, creating depth and form with washes, stunning details and nuanced shading.
Kateri Ewing
Watercolor can become like a new language that you can use to express your creativity across my subjects and styles.
About Kateri Ewing
For watercolorist Kateri Ewing, painting is all about capturing the awe she feels for the natural world. In preparation for painting, Kateri regularly walks and photographs the woods, meadows and waterways in two of her favorite places near her home in western New York state: Wyoming County and Knox Farm State Park. Kateri's passion for painting and drawing is infused in her teaching, and sharing her techniques with students of all ages is her favorite thing about being an artist. Kateri's original watercolors are currently represented by Meibohm Fine Arts.