Rated

5

out of

5
by
Steve11246
from
A fun course
This is a good course for those who want to learn a few card (and other) tricks and is also great if you want to understand the fun side of mathematics. The professor is entertaining and easy to understand.
Date published: 2020-05-05
Rated

5

out of

5
by
Pops4
from
Fascinating and fun!
I've enjoyed Professor Benjamin's courses before. I've passed the lessons in this course on to my grandson with great success.
Date published: 2020-04-30
Rated

5

out of

5
by
Home Schooler
from
Fun and Interesting
I'm home schooling my grand-daughter. In addition to the normal school topics, I wanted something to entertain and educate her at the same time. This course is accomplishing that! The Professor teaches us the trick, then explains the math behind it. Couldn't be better. I sent a video to her teacher and whole class, with her performing a flawless 9 card trick. Everyone loved it. Her and I were both excited. BTW - she's in 2nd grade! Great course for everyone while staying home.
Date published: 2020-04-25
Rated

5

out of

5
by
Chunger
from
Even for Non- Math Majors
I was hoping to not need a degree in linear algebra to be able to understand how card tricks are done and this course did not disappoint.
Date published: 2020-04-20
Rated

5

out of

5
by
picknfiddle
from
Absolutely Amazing!
Although I have only seen the first two of the 12 programs in this course so far, I am totally amazed and very satisfied with it! The tricks are amazing, they're not hard to do, in the math that backs them up is simply incredible. This already is money well spent, and I still have ten programs to go. Thanks!
Date published: 2020-04-19
Rated

5

out of

5
by
DawnSteve
from
Gift for Graduate
We bought this course as a gift for a high school graduate. We love The Great Courses! Between my husband and me, we have hundreds in our library. We are completely addicted. We do "dinner theater" every day by watching one of the courses while we have lunch. Travel, science, philosophy, math...we have learned and enjoyed so many subjects. Especially now during our enforced social distancing, these courses are the perfect way to attend a class or do some armchair travel with a knowledgeable teacher or guide. We have bought many of our favorites as gifts for family and friends. Thank you, Great Courses.
Date published: 2020-04-19
Rated

4

out of

5
by
Backwoods Savage
from
Fascinating
I have not yet went through the entire book but have started on the second DVD. Most of the tricks I like. The only exception is when you have to stack the deck. For some reason those do not appeal to me. I like how the explanations are always given on how the trick is accomplished. I have one other book by this man and it too is good with the exception that he is difficult to watch because he does not know how to hold still. I was afraid it would be the same with this one but it is not too bad. I would recommend this course for anyone who likes math and cards.
Date published: 2020-04-12
Rated

5

out of

5
by
Cat4
from
Math and Magic
I just bought these courses so have not had time to do more than examine the material which is excellent. No friends interested in magic to recommend to. That goes for the physics courses, but what little I've seen, for someone who wishes to familiarize themselves with the topic and learn, these are excellent.
Date published: 2020-04-07
Rated

3

out of

5
by
blade
from
so-so
I am sure that it takes years of practice to be accomplished at the art of magic. However some of the chapters herein were laborious to the point of being unintelligble.
Date published: 2020-04-06
Rated

5

out of

5
by
nevertooldtolearn
from
great fun!
my 14 yr old son and I are watching these lessons together and having great fun. The tricks are all very doable. The explanations for both doing and understanding are clearly illustrated. My son can now mystify his big brother with these tricks...that is priceless!
Date published: 2020-01-30
Rated

1

out of

5
by
Jacy27
from
No real quality
Very disappointed in this purchase. Wasn't what I expected.
Date published: 2019-12-28
Rated

5

out of

5
by
Markbo
from
Easy to Follow - AWESOME Tricks
Have had it for 2 weeks and feel like a real magician. It's fun to understand how tricks are really done (or the principle that makes the illusion happen).
Date published: 2019-12-22
Rated

5

out of

5
by
Norma
from
Fits my needs perfectly
Arthur Benjamin is a wonderful teacher with an engaging personality and fine sense of humor. His work is perfect for this customer who specializes in math related magic. I am very pleased with the course.
Date published: 2019-12-19
Rated

5

out of

5
by
Retired dude
from
What a hoot!
We ordered it so I could learn some of the card tricks to entertain the grand-children. My wife says I have been entertaining her while I watch and then practice the skills taught. Definitely needed the book to help document what the DVD reveals.
Date published: 2019-08-08
Rated

5

out of

5
by
Magic Mike
from
Great presentation of math and magic
As a magician who was somewhat familiar with this topic, I was very impressed by the his presentation and content. He has included magic for both beginner and experienced performer. I have found tons of ideas and concepts that I will use in my own act. Entertaining, humorous, Dr Benjamin has created a excellent lecture.
Date published: 2019-08-07
Rated

5

out of

5
by
Mittens
from
Well worth it!
I am now a card shark. I will amaze my friends. And be the talk of the neighborhood.
Date published: 2019-08-06
Rated

5

out of

5
by
PMM1950
from
Great Product, Great Price
This instructor is so clear and good. He demonstrates so well, I learned four great tricks in about an hour.
Date published: 2019-06-13
Rated

2

out of

5
by
bobbyr
from
Not the Right Course for Me
I guess I have to blame myself for not liking this course - I should have known better. Basically, it's sometimes complicated, sometimes convoluted, and most times boring. For instance, the lecture on multiplying and dividing numbers very fast strikes me as slightly interesting, but all in all nerdy and not very useful. In addition, many of the tricks were recycled from his previous courses. Sorry, those were my reactions. While I enjoy math, this course did not meet my expectations. However, Prof. Benjamin's lecturing style is excellent. He is energetic and obviously loves his subject. There were some interesting topics such as Fibernacci numbers or nature's numbers. Geometric and topological magic included displays and discussions of Mobius bands. Another notable topic was the magic of 9 where any number times 9 produces an answer whose digits add up to nine or multiples of nine. I know that some others will enjoy this course, but as for myself - I believe that I wasted my money. Therefore, I can only give this a luke-warm recommendation.
Date published: 2019-05-23
Rated

5

out of

5
by
Graycamaro68
from
Filling in My Long overdue Gaps of Knowledge!
I have always enjoyed the Great Courses as I have not always had the time to do all of the studying on this wide range of course offerings. I have a wide range of interests which is amply filled with these courses that I can sit at home and at my convenience, study.
Date published: 2019-05-21
Rated

4

out of

5
by
G G G
from
A fun course!
I've had a longtime interest in both mathematics and magic, so when this course came on sale I had to get it. Some of the methods and effects were familiar, but others were new to me and made the course worthwhile. The presentation is engaging as well as informative. Overall it was an enjoyable and helpful experience.
Date published: 2019-04-06
Rated

5

out of

5
by
Baristaville
from
Prof. Benjamin does a great job with this topic. This is the fourth course of his that I've done and appreciate his ability to share the application of mathematical principles to areas typically not perceived as connected to math. His course on Games is also outstanding in this regard. The math survey course and mental math one are also very good but a different flavor.
Date published: 2019-03-24
Rated

5

out of

5
by
cashreno
from
Magical!!
I never stop being amazed at what this man can do. I use his tricks to get the attention of my reluctant students and to get the attention of students in a classroom that I am substituting in.
Date published: 2019-02-23
Rated

5

out of

5
by
Susanne8
from
Good
I can't say a lot as I only looked at the first chapter. I got it for a nephew who does some magic and is studying to be a clown and for his father who loves math and has an interest in magic. I think it can help both their skills and relationship. It seemed like it would be fun and interesting. I've always enjoyed math and I am a clown. Magic always adds to the fun.
Date published: 2019-02-06
Rated

5

out of

5
by
ARG3
from
Grateful to learn so much!
My grandkids were amazed I could do cube roots in my head! Priceless!! Math card tricks too.
Date published: 2019-01-31
Rated

5

out of

5
by
GaryS
from
Fun Course but great brain building too
Math has always been a necessity, but not fun for me. I look for classes that will challenge my mind while making the process of learning a pleasure. This course fits that balance very well. Dr. Benjamin describes the numeric sequences used in so many magic tricks. When you learn the math behind them, you just have to say "Wow!" Well done Dr. Benjamin. Top of the class!
Date published: 2019-01-25
Rated

5

out of

5
by
BGZRedix
from
Fun, Well Done, and Enjoyable for Beginners!
This was an enjoyable introduction to a variety of magic tricks based on elementary mathematics, primarily 9th-grade algebra. The first half explains many relatively simple card tricks, which anyone motivated can learn with a little practice, and the math is mostly an afterthought. The second half is more straightforwardly math-oriented. The algebra, which is used to explain the tricks, ranges from obvious to moderately involved, but it is all basic; the more complicated-appearing explanations just require a bit more time and effort to work through, not genius. And yes, you will learn some interesting math along the way. Of course it helps if you have a natural inclination to love magic and/or math. And Professor Benjamin is a natural performer, whose talent in this direction most of us will not be able to emulate. But don't let this stop you! - If the course description sounds interesting, you will likely be very pleased. I have no intention of getting up and performing any of the tricks, but I enjoyed seeing them so well performed and clearly explained. Thank you, professor!
Date published: 2019-01-17
Rated

5

out of

5
by
warnoldt
from
Perfect for me!
I volunteer at church by reading to a group of kids who vary in age from about 4 to 10. Also I am a CASA for 2 teenage youths. While I would have preferred that this course would cover all age ranges I intend to use it for I am more than pleased with it. By utilizing a little creativity of your own and carefully choosing the card trick, even younger kids can be captivated. I highly recommend this course for anyone willing to invest a little time learning something both fun and educational.
Date published: 2019-01-14
Rated

5

out of

5
by
PaSL
from
What fun!
As usual, professor Benjamin continues to put out videos that are both instructive and entertaining while, at the same time, infused with some mathematical elements.
Date published: 2019-01-02
Rated

5

out of

5
by
Glen926
from
Well presented, easy to learn
I received this course for Christmas. It has been an immediate success for me and my grandkids, ages 6, 9, 9, 10. The card tricks are presented well and the math behind them explained so all can understand. I recommend highly!
Date published: 2018-12-30
Rated

4

out of

5
by
RLPENDLETON
from
FUN AND INFORMATIVE
I thoroughly enjoyed this course. I was pleased that it was not all about sleight of hand and tricks. Everything was done with logic and precision and it was all explained thoroughly. I think the teacher did an excellent job and I highly recommend this as an exercise is logical thinking
Date published: 2018-12-06
1: Mathematical Card Tricks
Begin the course with card tricks in which mathematics is clearly being used, but the secret is not easy to figure out. Learn the invariant principle: Some qualities stay the same in a deck even though the order of cards is changing. End with what Professor Benjamin calls the "tear-able" trick, being careful to use cards that you don't mind wrecking.
2: What's Your Deal?
Explore card tricks in which the cards are shuffled, dealt, and flipped over in interesting ways, leading to surprising outcomes. Discover Hummer's principle—an endless source of mystifying, crowd-pleasing tricks, based on random mixing of cards combined with a simple procedure that preserves a pattern that seems positively magical.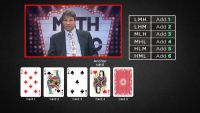 3: Look like a Card Shark
Professor Benjamin shows how to play cards like someone who would be thrown out of a casino. Learn the Jonah principle for always winning at poker. Get a "feel" for counting cards and develop the knack for telepathically communicating a hidden card to an assistant. Finally, who could claim to be a card shark without a trick that turns up four aces every time?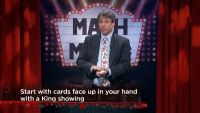 4: The Deck Is Stacked
Investigate tricks based on the cyclic method of card ordering, or "stacking," popularized by magician Si Stebbins and tracing originally to one of the first books on magic, published in Italy in 1593. Learn how to seemingly weigh a deck of cards in your hands and other miraculous feats based on this simple principle.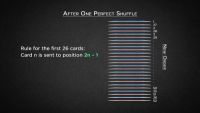 5: Perfect Shuffles
Professor Benjamin introduces a special guest, mathematician and magician Brent Morris, master of the perfect shuffle (also known as the faro shuffle), in which two equal halves of the deck are interlaced perfectly. You will learn two versions of this virtuoso technique—the in-shuffle and out-shuffle—along with sequences of shuffles that lead to very interesting symmetries.
6: Riffle Shuffles
Explore results of an ordinary riffle shuffle, where the deck is cut roughly in half, and the cards are interlaced approximately—but usually not perfectly. Depending on how the cards are arranged beforehand, intriguing effects are possible, based on Gilbreath's principle of patterned sequences. Study several of these magic showpieces.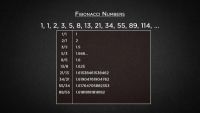 7: Magic with Numbers
Master an impressive medley of number-guessing tricks, involving the golden ratio, the Fibonacci series, and other notable numbers. In analyzing how the tricks work, discover how straightforward algebraic expressions are secretly pulling the strings. The feats include the very first mathematical magic trick that Professor Benjamin learned.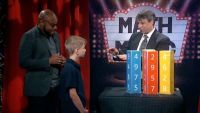 8: Look like a Genius
You don't have to be a genius to look like one. Drawing on young volunteers, Professor Benjamin shows easy strategies for mentally multiplying numbers by 11, dividing numbers by 91, multiplying any numbers near 100, squaring numbers ending in 5, and other seemingly fearless feats of arithmetic, without use of a calculator.
9: The Magic of Nine
Admire the magic of the number nine. An ancient technique called "casting out nines" lets you pick out the missing digit in a bewilderingly long series of operations. Then learn to determine two-digit cube roots and also find the age of a volunteer who has hidden the number in a complicated calculation—all with the help of the number nine.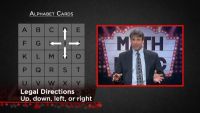 10: Look like a Psychic
Hone your psychic powers by developing tricks such as these: Have someone scramble their birthday in a seemingly unbreakable code, which you decipher with ease. Calculate the hidden spots on a stack of dice. Use the parity principle to guess where your partner has landed in an alphabetic array. Also learn the magician's "toxic" calculation principle.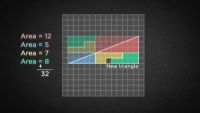 11: Geometric and Topological Magic
Explore mathematical mysteries that seem geometrically or topologically odd. Consider a paper strip with a half twist, joined end-to-end, known as a Möbius band. What happens when there are more twists or if the shape is cut? Create an analogous shape by slicing a bagel. Also, solve puzzles with disappearing figures, including a rabbit.
12: Magic Squares
Since ancient times, magic squares have given endless hours of fun through designing grids of numbers where each row, column, and diagonal produces the same sum—as if by magic. In this last lesson, learn to create magic squares quickly from numbers provided by your amazed audience or based on your volunteer's birthday. Finally, end the course with a magic matrix based on the number pi.
Arthur T. Benjamin
As a professor, I have always wanted to bring math to the masses. The Great Courses has helped make that dream come true.
ALMA MATER
Johns Hopkins University
INSTITUTION
Harvey Mudd College
About Arthur T. Benjamin
Dr. Arthur T. Benjamin is Professor of Mathematics at Harvey Mudd College. He earned a Ph.D. in Mathematical Sciences from Johns Hopkins University in 1989. Professor Benjamin's teaching has been honored repeatedly by the Mathematical Association of America (MAA). In 2000, he received the MAA Deborah and Franklin Tepper Haimo National Award for Distinguished College or University Teaching of Mathematics. The MAA also named Professor Benjamin the 2006-2008 George Pólya Lecturer. In 2012, Princeton Review profiled him in The Best 300 Professors. He is a professional magician, whose techniques are explained in his book Secrets of Mental Math: The Mathemagician's Guide to Lightning Calculation and Amazing Math Tricks. Professor Benjamin also served for five years as coeditor of Math Horizons magazine. An avid games player, Dr. Benjamin is a past winner of the American Backgammon Tour and has written more than 15 papers on the mathematics of games and puzzles. Professor Benjamin has appeared on dozens of television and radio programs and has been featured in publications, including Scientific American, People, and The New York Times. In 2005, Reader's Digest called him America's Best Math Whiz.