The Benefits of PLUS Membership
With your PLUS membership, you will receive exclusive discounts on any DVD and Instant Video and Audio courses from TheGreatCourses.com. Whether you're supplementing your own personal collection, or giving the gift of learning to a loved one, your PLUS membership provides you with amazing savings of 80% or more PLUS free shipping!*
*This special offer can only be accessed by clicking the link above. This offer cannot be combined with other offers or discounts. The 80% discount is calculated from the regular retail price and excludes bluprint and CreativeLive partnership courses. Free shipping is valid in the United States and Canada.
PLUS Even More Benefits
The Great Courses Daily
TGC Daily
TheGreatCoursesDaily.com is your one-stop-shop for enlightening articles, exclusive content, and illuminating insights from the staff and professors of The Great Courses.
Learning Paths
Want to master a specific subject? Follow our curated selection of Learning Paths to get recommendations for a full curriculum that provides a variety of perspectives and a deep dive into the topic of your choice. Find your favorite Learning Path on TheGreatCoursesDaily.com.
Guidebooks
Whether you want to check the spelling of a complicated term or access the ingredients list to the dish you want to try, The Great Courses Plus guidebooks are there for you. Free to download, they'll help you master the materials with questions to consider, vocabulary terms, suggested reading, and more.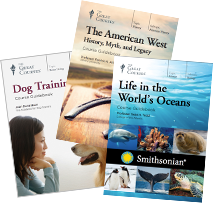 Closed Captioning
More than 300 of The Great Courses Plus videos offer closed captioning for easier learning. Look for the official CC box to determine if closed captioning is available for your course.
Hey Alexa!
If you use the Amazon Echo (Alexa) in your home, you can easily add your PLUS courses to your Alexa lineup and listen to your favorites from the comfort of any room.
Audio Streaming
Take your learning on the go! The Great Courses Plus offers seamless audio streaming so you don't have to stop learning, even if you can't watch your favorite courses. Explore English while exercising, consider Confucius while commuting, or build business skills in the bath.