Rated

5

out of

5
by
MelissaS
from
Extremely Well Done!
I bought this about a month ago and have absolutely love it! Kateri did a fantastic job providing a foundation in which I know that I'll be able to build from. I especially loved the lesson on expressive mixed media. I just bought her book and I'm hoping that she will produce another course soon. Thanks so much Kateri for a fantastic lesson!
Date published: 2020-09-11
Rated

5

out of

5
by
Judy6744
from
Easy to understand
I bought this a couple of months ago, and I really am happy that I did. The instructor is very good. She explains everything in an easy to understand manner. She made watercolor painting easy and fun.
Date published: 2020-08-05
Rated

4

out of

5
by
Big Eyes Bees
from
Beginner Water Coloring
This has been both fun and a challenge to learn water coloring techniques. However, I submitted two questions and never received a response. Lesson 6 "Washes" I think an objective system e.g. numbers to describe degrees of color differences rather than shades related to different drinks would be more helpful.
Date published: 2020-06-18
Rated

5

out of

5
by
Tracys
from
Inspirational teacher
I have tried other painting course and it just didn't seem to click, but with Kateri it did. She is inspiring in her teaching method. She gave simple to follow instructions and small projects which gave me a sense of achievement. I would thoroughly recommend to novice watercolour painters.
Date published: 2020-06-03
Rated

5

out of

5
by
Ehawee
from
Good variety of projects.
This instructor, Kateri Ewing is so creative! She explained about the translucence of paints, which I never learned in any other class. She is engaging and makes the painting fun, too.
Date published: 2020-04-30
Rated

4

out of

5
by
Mysti4
from
Thorough in Approach
The teacher gives good, clear explanations of a difficult medium. Targeted exercises ave particularly helpful in learning to control the water.
Date published: 2020-04-24
Rated

5

out of

5
by
Andi
from
A pleasure to learn!
I love the great courses and I am enjoying the watercolor class so much, especially during the stay at home period. The instructor is professtiona, personable, knowledgeable and easy to follow. A must for beginners.
Date published: 2020-04-22
Rated

5

out of

5
by
Nana paints
from
Easy to follow; fun!
I'm really enjoying my lessons with Kateri. Painting is something I've always wanted to do and now I can!
Date published: 2020-04-21
Rated

5

out of

5
by
comptontesh
from
Very informative loving this video
Learned so much just from the supplies I need for water color painting wonderful teacher
Date published: 2020-04-16
Rated

5

out of

5
by
Libbi
from
Excellent instruction
This is an excellent overview of watercolor basics told in a well-paced, clear manner. Kateri Ewing provides many demonstrations of techniques, color mixing and specific projects. I've done some watercolor and found this course to be very helpful. I also liked the addition of other beginners working on the projects.
Date published: 2020-04-15
Rated

5

out of

5
by
Veramerle
from
It was a good program; the instructor started with the basics and then advanced to different applications. She should have restrained her hair (my observation. It kept falling in her face.) Who would have known that 3 colors would produce such a wide variety of colors!
Date published: 2020-04-12
Rated

5

out of

5
by
GBur
from
Knowledgeable, Excellent teacher
I thoroughly enjoyed and learned much from this watercolor course. Not only does the instructor know her medium; she is also an excellent teacher and knows how to introduce the topics by breaking them down and having us work along with her. She brings in students for several projects and coaches them on video through their issues. Very helpful! I I am a beginner and yet I produced two pieces - the tulip and the chickadee - that I have framed and am very proud of. (My family is impressed too!) It is because of her teaching approach that I was able to see these projects through. I do hope she will offer more courses in watercolor and take us to the next level.
Date published: 2019-10-30
Rated

5

out of

5
by
Oldasin
from
Beginner's guide
Complete info for beginners to learn about supplies and how to use them.
Date published: 2019-10-09
Rated

5

out of

5
by
GBomphray
from
Indeed a great course.
I felt this was an excellent course with a terrific teacher. A lot of fun.
Date published: 2019-09-16
Rated

5

out of

5
by
Chili75
from
Informative and Inspiring
This was my first course and I am a beginner with painting. This course far surpassed my expectations. Kateri's presentations were presented in a logical order. Each video was packed with information. I liked that I could stop, rewind, fast forward and rewatch the videos. Presenting a beginner and his/her struggles was enlightening. Providing projects was very helpful. Kateri is an inviting and enjoyable teacher. I wish she would do another course with modeling how to paint more images and scenes. Best money I have invested in, in a while!
Date published: 2019-09-12
Rated

5

out of

5
by
Bassplayer
from
Learned a lot
Enjoyed the course. Kateri broadened my artistic horizons...
Date published: 2019-06-19
Rated

5

out of

5
by
Bunky
from
Excellent!
I am in the middle of this course and love it. The instructor is incredible. This is one of the best online art courses I have watched.
Date published: 2019-06-12
Rated

5

out of

5
by
Anne200
from
Easy to Enjoy!
This course is truly for the very beginner! You are given valuable and practical information in purchasing brushes, paints, paper, and other tools. I learned so much before I even purchased supplies. I really recommend this course for anyone wanting to try their hand at water coloring. I am thoroughly enjoying the lessons!
Date published: 2019-06-03
Rated

5

out of

5
by
Violetsunshine
from
Awesome class!
I'm only a little more than halfway through and am so glad I purchased this class. I've been through three waterco!or books to teach myself and multiple free online videos. This class is clear and detailed. The books I bought would just show basics and then tell you to fill in the colors and shading and show this amazing final painting that I could never hope to do.. This instructor tells you what colors to use and where to put the shading. Also a good thorough description of what to look for in paints paper and brushes and why.
Date published: 2019-05-19
Rated

5

out of

5
by
MarjorieE
from
Informative AND Inspiring
Having taken several Watercolour courses these past few years I would consider myself at an intermediate level. But I have greatly enjoyed Kateri's clear and practical presentation of even the basics, and her tips, examples and hands-on demos have given me a wealth of new information. Kateri's projects are all ones I want to do and will do them - because in them she covers the full range between detailed realism and delightful abstract where the water and colourful pigments perform their own magic. I love watercolour because it is unique and Kateri, throughout her course, maintains it's simplicity and distinction and especial beauty. Her presentation is warm, engaging, natural and positive and I will watch the videos again and again, making this Teaching Company course one of considerable and excellent value.
Date published: 2019-05-11
Rated

5

out of

5
by
Krissy Lee
from
A nice, basic overview for those beginning in watercolor. Good detail on tools and how to use them as opposed to just watching the instructor without knowing why they're holding the brush a certain way, etc. The review with students after certain lessons is a handy thing, to see common issues beginners have in technique. The section on color theory and mixing was probably the most valuable part for any novice and worth watching for that alone. I am an artist myself and by no means a beginner, but watercolor is not my first medium and was looking for a refresher before tackling a tricky commission. I actually learned a couple things that were extremely helpful to remember later.
Date published: 2019-01-23
Rated

5

out of

5
by
RachelRice28yahoo
from
Great knowledge
I bought this weeks ago and I love it. I love to draw and paint so this is helping me improve. I love the ceramic plate idea I'm using that now.
Date published: 2018-12-22
Rated

5

out of

5
by
New Artist
from
Painting with Watercolor
This is a great course for anyone who wants to get the basics of watercolor.
Date published: 2018-11-09
Rated

5

out of

5
by
Shopping Maven
from
Start to Learn Water Color Painting Here
The teacher makes every step very clear and she has the kindest manner.Wish I could take private lessons from her!
Date published: 2018-09-08
Rated

5

out of

5
by
555555555hhhhhh
from
Startup Library! A great way to get beginners.
I love the way this course is presented. One aspect of the procedures at a time. Ms. Ewing is excellent at explaining the tiniest detail. She covers EVERYTHING! I am anxious to get started even though I have to go back and remind myself of different things before buying anything. Thank you Ms. Ewing.
Date published: 2018-09-07
Rated

5

out of

5
by
Sifu
from
Fantastic Basic Course
I brought this a few weeks ago for my wife who just entered retirement. She read a book, a few magazines, but this is what motivated her.
Date published: 2018-09-05
Rated

5

out of

5
by
Kevin H
from
Painting With Watercolors
Nuts and bolts. A wonderful and concise introduction. Never boring!
Date published: 2018-09-02
Rated

5

out of

5
by
Debrah
from
I learned many things I never knew
I went to a large university in my younger years and obtained a BFA (fine arts) I took several watercolor classes and thought I had a basic understanding. This DVD has taught me a lot of things that were never brought up in university classes, especially the lesson on mixing colors within the color wheel Kateri had set up. It was amazing to discover the theory of mixing colors that made the difference between muddy colors and bright colors. I wish she had been one of my teachers while at university.
Date published: 2018-07-24
Rated

5

out of

5
by
Fran08
from
As Promised
provided instruction as promised, easy to follow, interesting and fun
Date published: 2018-07-20
Rated

5

out of

5
by
Ann L
from
Great for those who love to create!
I am recently retired and art has been an area of interest all of my life. With the help of Great Courses I am finally able to explore this are of interest with a great instructure!
Date published: 2018-06-26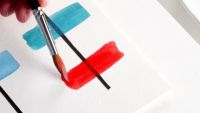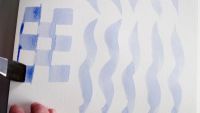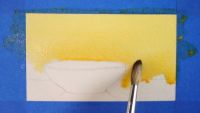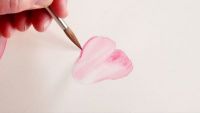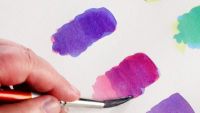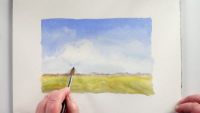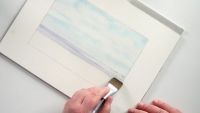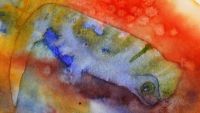 12: Projects: Expressive Mixed Media
Explore a more expressive, gestural watercolor style. Start by dropping color into a water glaze on paper and see if any shapes or subjects emerge. Then lift, push and pull the pigment to refine the shape, using colored pencils and pens to define your subject.
Kateri Ewing
Watercolor can become like a new language that you can use to express your creativity across my subjects and styles.
About Kateri Ewing
For watercolorist Kateri Ewing, painting is all about capturing the awe she feels for the natural world. In preparation for painting, Kateri regularly walks and photographs the woods, meadows and waterways in two of her favorite places near her home in western New York state: Wyoming County and Knox Farm State Park. Kateri's passion for painting and drawing is infused in her teaching, and sharing her techniques with students of all ages is her favorite thing about being an artist. Kateri's original watercolors are currently represented by Meibohm Fine Arts.