Plus Pilots: Identity in the Age of Ancestral DNA
Rated

3

out of

5
by
Nicholas87
from
Lukewarm
I'm encouraged by the subject matter brought up in the pilot, especially with relation to ones relationship between genetic legacy and cultural identity. However, the presenter's use of "trendy" terms such as Latinx make me a bit leery as to how these subject will be handled in longer form. Less than ~3% of Latino's identify as such, which can indicate future discussions on groups will come from a similar narrow cultural perspective.
Date published: 2021-04-06
Rated

5

out of

5
by
LauraKH
from
Potential to be a fascinating full-length course!
I certainly hope that you develop this into a full-length course. I'd like to see more on genetics, and perhaps also genealogy.
Date published: 2021-04-06
Rated

5

out of

5
by
whgeorge
from
Well done. We are all brothers and sisters and children of God.
Date published: 2021-01-14
Rated

5

out of

5
by
petrarch
from
Identity Ancestral DNA
This is a must-watch for anyone who is interested in genealogy through the use of DNA. I hope the Great Courses continue publishing information on the how-to's of tracing one's ancestors through this marvelous technology.
Date published: 2020-10-20
Rated

5

out of

5
by
slcleary
from
Great Presenter and Interesting Material
Dr. Foeman was an excellent presenter. She presented the material in such an engaging manner that led me to want more when the lecture ended. I learned some insights into ancestry and identity that I had not encountered before.
Date published: 2020-10-15
Rated

5

out of

5
by
EdNy1977
from
Very Nice Start.
This is a nice Pilot. I enjoyed the instructor's style and approach. I'm definitely interested in seeing more. Will it be made into a full course?
Date published: 2020-10-03
Rated

5

out of

5
by
Gerry3851
from
Absolutely fascinating!
Very well done. Great organization. Flowed smoothly from one area to another. Very interesting - would like to learn more. Good at the 10,000 foot level. Would be great as a full course. Dr. Foeman presents information at a very good level - not too pedantic and not overly complex.
Date published: 2020-10-01
Rated

5

out of

5
by
Humangen
from
The developing story of our history.
I love the approach that was taken in this course. I have worked in the field of the molecular genetics of animal models but my personal fascination has been human evolution since a child reading about the Leakeys. We understand meaning through our stories. Professor Foeman provides an engaging narrative that is valuable for reflection on this evolving story.
Date published: 2020-09-15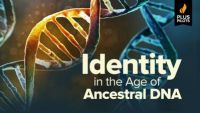 1: Identity in the Age of Ancestral DNA
Twenty years ago, the first draft of the full human genome map was completed, and consumer-based ancestry DNA kits started to get popular. Join Professor Anita Foeman to look at how—and if—these kits work, what the results mean, and the ways people have changed how they think about lineage, race, and ancestry.