Plus Pilots: Identity in the Age of Ancestral DNA
Rated

5

out of

5
by
Humangen
from
The developing story of our history.
I love the approach that was taken in this course. I have worked in the field of the molecular genetics of animal models but my personal fascination has been human evolution since a child reading about the Leakeys. We understand meaning through our stories. Professor Foeman provides an engaging narrative that is valuable for reflection on this evolving story.
Date published: 2020-09-15
Rated

2

out of

5
by
skaar
from
Horoscope glorified.
There are two well known Retail genetic "ancestry" products that should be considered the equivalent of the horoscope: "For Entertainment purposes only." I have worked in this field and bring a skeptic cynicism to them... the first lecture of this series shouldn't be on focusing on the psychological outcomes of the tests (and I've seen some dramatic outcomes). but to Debunk most of these tests as low-resolution guesses as to your ancestry. Very low resolution. Retail tests are not very accurate at all... and the statistics provided in the Retail Reports are also routinely misunderstood. The $100 upgrades ("medical analysis") are expensive version of the better and cheaper 3rd party DNA submission services (the Retail Tests allow you to UPLOAD your results for more detailed analysis - easily found on the web). One notorious instance was a co-worker who had a "hit" for Breast Cancer on a retail test... generated tens of thousands of medical tests, etc. ... BRCA1/BRCA2 positive... which she wasn't. Thankfully talked out of a mastectomy. These are not-ready for prime-time services. They do NOT sequence your genome (a common misunderstanding). It would be premature to delve into this topic with the current state of retail genetic testing... this kind of course will not age well. And the kind of course that would age well would be tedious and boring. Having said all that, this is still an important topic... and plenty of good information could be provided... but mostly at tapping down expectations. Receiving a result that you are "8% Indigenous South American" is virtually meaningless.... people don't want to hear that.
Date published: 2020-09-11
Rated

2

out of

5
by
Max1
from
Okay
Facilitator is pleasant. However the information presented is not really enlightening.
Date published: 2020-09-11
Rated

5

out of

5
by
Amanda10
from
Very Interesting
I would love to see the full course for this having gotten into my own genealogy a few years ago (and discovering some surprises!). I find ancestry absolutely fascinating and I love learning how the results are determined.
Date published: 2020-09-07
Rated

5

out of

5
by
clessio
from
simple and clear
a comprehensive but understandable enough lecture. nice one
Date published: 2020-09-07
Rated

5

out of

5
by
MACJEC
from
Excellent Pilot
I have been working on my Family Tree for many years, and have recently begun the DNA journey. I found Professor Anita Foeman's lecture engaging and interesting. I would love to see this as a GCP course - including topics like understanding the terms used in genetic genealogy. I think this has wonderful potential to be a full course.
Date published: 2020-09-05
Rated

5

out of

5
by
Rose Marie
from
DNA Tests and the Surprises and Reactions
Professor Anita Foeman did an excellent lecture on 1st lesson DNA. I already had my DNA results and an update as technology progressed. Looking forward on how far back these test potentially can reach, methods, ect. She talked of personal reactions to the DNA test and individuals being surprised of their ancestral background. Professor Foeman had a very interesting lecture.
Date published: 2020-09-03
Rated

5

out of

5
by
NikH
from
Would watch series
Engaging and trustworthy, the professor stresses that we are all 99.9% the same, shows examples of persons who are siblings but have very different phenotypes and integrates how family stories play a role all while teaching about the importance and history of generics. Great job!
Date published: 2020-09-03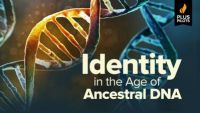 1: Identity in the Age of Ancestral DNA
Twenty years ago, the first draft of the full human genome map was completed, and consumer-based ancestry DNA kits started to get popular. Join Professor Anita Foeman to look at how—and if—these kits work, what the results mean, and the ways people have changed how they think about lineage, race, and ancestry.