Plus Pilots: Life before Agriculture: Humanity's Forgotten Prehistory
Rated

5

out of

5
by
chipper68
from
Fascinating introduction!
This 1 lecture course just begins to show the fascinating advances in the related scientific fields! I would love to see more!
Date published: 2021-05-03
Rated

5

out of

5
by
bskogsberg
from
Engaging and Interesting
I am really hopeful that this course will be added to my available courses-I'd love to see the entire series! Very interesting.
Date published: 2021-04-08
Rated

5

out of

5
by
RebeccaandBob
from
Looking Forward to Future Lectures
Nice to see a multi-dimensioned approach. Looking forward to learning different types of analysis and their application. Presentation is well organized, delivered, and concise.
Date published: 2021-02-27
Rated

5

out of

5
by
Mnemosyne
from
Looking forward!
The content and delivery are superb. I'm looking forward to the full lectures. I would like to see more visuals.
Date published: 2021-01-30
Rated

5

out of

5
by
Metanewbie
from
Clear and engaging!
The lecturer got me interested in a topic I didn't think I'd be keen to learn about. Her presentation was very clear and she spoke without annoying verbal tics. I'm looking forward to the full course after watching this pilot.
Date published: 2021-01-27
Rated

5

out of

5
by
buddgood
from
Excellent preview
I am really looking forward to the rest of this course by this excellent professor!
Date published: 2021-01-21
Rated

5

out of

5
by
Peter from Loveland
from
Great Start!
This was a great start to a promising lecture series on a period of archeology that is often glossed-over--the time just before the start of agriculture. The lecturer is up-to-date on the latest findings and presents them in a way that is accessible to novices and interesting to those familiar with this area of study. I very much hope to be able to view the full series!
Date published: 2021-01-19
Rated

5

out of

5
by
D2presbystronomer
from
Looking forward to the rest
This is a really interesting opening lecture on the topic of preagricultural society. The professor lays out the framework very clearly and begins filling in the foundation for the course with engaging examples of actual scientific studies. She answered just enough questions and raised just enough more that I'm looking forward to seeing the rest of the course.
Date published: 2021-01-02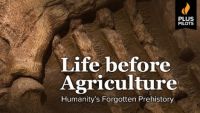 1: Life before Agriculture: Humanity's Forgotten Prehistory
Join archaeologist Professor Suzanne Pilaar Birch to discover what the fairly new school of archaeological science can tell us about life before agriculture at the continental scale of human migration, since our species first emerged in East Africa 200,000 years ago, to the earliest agricultural societies which appeared around 12,000 years ago—all the while, adapting to the diverse environments around the world. Using insights gained through detailed case studies and cutting-edge scientific methods, you'll see what guided human decisions about what to eat, where to live, when to move, and how to acquire what was needed for daily survival.