Plus Pilots: Life before Agriculture: Humanity's Forgotten Prehistory
Rated

5

out of

5
by
ROBOT KITTEN
from
TOTALLY COOL
ITS SO INTERESTING HOW THEY STUDY AND INVESTIGATE THE HISTORY, AND THE BETTER WE UNDERSTAND ANCIENT AGRICULTURE THE BETTER WE ARE PROBABLY OFF IN LONG RUN BECAUSE ITS SO IMPORTANT
Date published: 2020-12-28
Rated

5

out of

5
by
Emily C
from
Great presenation
Really hope we will be able to see the rest of the course soon. Interesting subject matter that is not usually available.
Date published: 2020-12-01
Rated

5

out of

5
by
littlefish1107
from
Very interesting!
Would love to see more. I hope the rest of the course becomes available soon!
Date published: 2020-11-26
Rated

5

out of

5
by
Hageyama
from
An informative and pleasant walk into prehistory
When can we expect to see the full course? One lecture is not enough to give a a proper review even though the theme of Prehistory as presented by the professor has a lot of promise.
Date published: 2020-11-17
Rated

5

out of

5
by
ghelias
from
Excellent - I want to see the entire course.
It would be a mistake not to add the full course to The Great Courses Plus offerings.
Date published: 2020-10-31
Rated

5

out of

5
by
RCThomas
from
Good Start to a Rarely-Covered Topic
The instructor provides a good overview of the intended focus and some of the key tools and techniques of archaeology relevant to the topic. The topic itself (the study of human prehistory before the development of agriculture) is very interesting but there aren't as many books or other sources available for non-specialists as for later periods of prehistory and early history, so a full version of this course would be a great addition to Great Courses Plus library.
Date published: 2020-10-22
Rated

5

out of

5
by
sbtaylor
from
really cool information
it's really neat to hear about the new techniques being used to find out information about the ancient world.I can't wait for more :)
Date published: 2020-09-27
Rated

5

out of

5
by
lefae1330
from
Next Lectures?
I really enjoyed the lecture and while some of it I knew from previous readings, it was still engaging and learning. The instructor is active in the sense she doesn't stand still and explains things clearly. This was a topic I have been looking for and look forward to the rest of the lectures soon!
Date published: 2020-09-19
Rated

5

out of

5
by
zeke111
from
get this full course! such a different, interesting topic
Date published: 2020-09-06
Rated

5

out of

5
by
cvmiller1
from
Fascinating topic
This is truly a fascinating topic and the instructor does a great job in presenting her material. This lecture made me want to learn more so much that I decided to rewatch NOVA's Human Odyssey tonight again. Please incorporate this course in your repertoire of courses.
Date published: 2020-09-05
Rated

4

out of

5
by
PDNY
from
Great Topic; Interesting Lecture
I would love to see a course that delves into human pre-history, emphasizing recent discoveries that help us to piece together the puzzle of life during the stone age. This introductory lecture to such a would-be course certainly demonstrates the professor's expertise in the area. For an opening lecture, though, I would have appreciated a clearer roadmap of the direction of the course. There were a lot of loosely related examples of work done in different places. I'd prefer to be introduced to some very general concepts within which this work is being carried out-- the dominant paradigms or models guiding the work. After providing an overview of some organizing models or theories, I would probably better understand the relevance of the examples. I think she is a promising lecturer with fascinating material. With just a little more focus on organization of materials this could definitely be a great addition to the Great Courses library.
Date published: 2020-08-31
Rated

5

out of

5
by
R Victor
from
Great Intro to A Would Be GREAT course
This is a great topic - Life before Agriculture: Humanity's Forgotten Prehistory. The instructor makes this topic enjoyable to watch. She is a good presenter and is very knowledgeable of her subject. I would like to have her complete her course.
Date published: 2020-08-29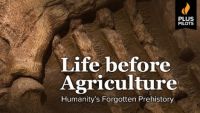 1: Life before Agriculture: Humanity's Forgotten Prehistory
Join archaeologist Professor Suzanne Pilaar Birch to discover what the fairly new school of archaeological science can tell us about life before agriculture at the continental scale of human migration, since our species first emerged in East Africa 200,000 years ago, to the earliest agricultural societies which appeared around 12,000 years ago—all the while, adapting to the diverse environments around the world. Using insights gained through detailed case studies and cutting-edge scientific methods, you'll see what guided human decisions about what to eat, where to live, when to move, and how to acquire what was needed for daily survival.