Plus Pilots: Max Planck and the Ultraviolet Catastrophe
Rated

3

out of

5
by
JosephEM
from
Fascinating problem given too little time
I agree with some of the other reviews in that this lecture appears to require a greater background in physics and calculus than I currently have. I would recommend cutting up the content over several lectures to break down some of the more confusing aspects of the problem. Specifically, I was lost at the comparison between the black body and a pipe organ. While I can kind of see where he is going with it, I don't quite follow how light waves would act like sound waves. He also seems to quickly go over some very important points about the math brushing aside some of the complexity by saying "This is why physicists invented calculus." I find that explanation rather unsatisfying, and ultimately I don't think I followed his points. I've watched the video twice and gone over some parts several times to see if I could tease out what he was saying. Alas, I was not very successful. I'm still trying to figure out what the curves on the graph were trying to represent. For me it's a tough slog. I would definitely recommend this lecture to a friend who had the necessary background to understand it, but then I fear they would already understand the ultraviolet catastrophe. I enjoyed the professor very much. I would definitely watch further lectures from him on this subject if they went into more depth.
Date published: 2020-09-11
Rated

4

out of

5
by
Mohammad
from
Nice if You Have Some Background!
This pilot seems promising provided that you have the necessary background to understand what the lecturer is talking about. You don't need a Ph.D. in Nuclear Physics to achieve this. I suggest that you take a course on Quantum Theory. There are a couple of courses here on Quantum Theory that might help
Date published: 2020-09-08
Rated

5

out of

5
by
WWWC
from
Great Explanation
Never quite been able to understand black body radiation and the ultraviolet catastrophe but this lecture definitely advanced my understanding. The mathematics is complicated and probably beyond a level that I am willing to pursue so I enjoyed this professors explanation. Great overview of the underlying concepts and their importance in physics. Definitely liked his presentation style.
Date published: 2020-09-05
Rated

3

out of

5
by
acardnal
from
Too Advanced for Me
I stopped about halfway through. Much too advanced for me. BUT this would be a very good course for those with a sufficient background in physics and math. Not a course for basic students of physics. If you are an intermediate or advanced knowledge of physics, this would be a good course to take.
Date published: 2020-09-04
Rated

4

out of

5
by
pnf1
from
Another look at Quantum Physics
Big picture concept is clear. Use of the few formulas presented would be enhanced by not going over them so quickly. Nature of "oscillators" inside black box needs to be clarified. Overall, stimulating and leaves the feeling in me of at least grasping a rudimentary big picture without understanding with the details.
Date published: 2020-09-02
Rated

5

out of

5
by
Gingie
from
Clearly explains a complicated topic
This is not easy subject matter but the professor does an excellent job explaining it and the graphics are very helpful.
Date published: 2020-09-02
Rated

5

out of

5
by
SmartGuyWannaBe
from
Great combination of history and physics
Pushes my thinking beyond the barriers of normal everyday life. Think fast and try to keep up with the science jargon if you can if you're a novice. That knowledge is floating around somewhere in your head, unused.
Date published: 2020-09-02
Rated

3

out of

5
by
Floydald
from
Lost me
He lost me at the black box needs to be made clearer.
Date published: 2020-09-02
Rated

5

out of

5
by
tbjsexton
from
Mind stretcher
Professor Orzel keeps your interest at a great pace while covering a complex topic. This presentation was very helpful in explaining the history and technical background to Plank's Constant. Thanks very much!
Date published: 2020-09-02
Rated

5

out of

5
by
Anonymous
from
Another fascinating pilot.!
Make this into a course. It is a unique explanation of Max Planck's discovery.
Date published: 2020-09-02
Rated

4

out of

5
by
BLI343
from
Run that by me again!
Loved the teacher. Dynamic and non-hesitant. But details waaayyy over my head. I need a more basic course in quantum physics. Will search for other general interest lectures. I'm curious but without any sophisticated math or science. I can't even remember what calculus looks like.
Date published: 2020-09-01
Rated

5

out of

5
by
WalterCDerrick
from
exceptional clarity brought to a complex topic
I hope that this very talented instructor becomes a mainstay for The Great Courses.
Date published: 2020-08-31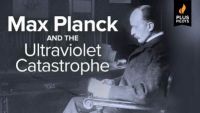 1: Max Planck and the Ultraviolet Catastrophe
Quantum physics is known to be hard to understand; really, really weird; and very far removed from our everyday reality. Join Professor Chad Orzel to demystify the world of quantum physics, starting with all the ways you observe the key phenomena that make up the science of quantum physics. You'll gain a new appreciation for your toaster!