Rated

2

out of

5
by
Krissy Lee
from
I was actually rather disappointed in this course. I'm an artist and not at all a beginner, and realism is my particular forte, so to be fair the information may be more valuable to true beginners. But I didn't think the instructor did a very good job of explaining why she made choices she did as she went along, and how to apply that in later work. I'll allow for differences in technique and working style which can vary greatly among all artists, but there wasn't enough explanation in what to look for when checking values (extremely important in realism); she just constantly bounced around merely mentioning that she was correcting as she went. I didn't see any real instruction on the extra attention necessary for true realistic representation (and frankly thought the final work looked awfully flat and was missing quite a bit of detail, which was jarring when seeing much more highly detailed work in the background scene). I think the entire course needed to be twice the length to give any real value to the supposed subject. It was far too rushed to be helpful. It really felt more like a ride-along than step-by-step instruction. If you just want an intro to botanical painting, it's worth a look--maybe. If you're looking for real instruction, I wouldn't recommend it at all.
Date published: 2019-01-23
Rated

2

out of

5
by
Marie O
from
Not happy!
The teacher is painting on a larger scale. The sample that is sent is 4 by 5 and really doesn't allow for the preciseness that she demonstrates. I traced from the picture and she doesn't give the other colors we can use if we don't have the same colors, U.S. colors vs Britain. She is a fabulous artist, but if we are watching her, we are beginner or intermediate colorists. She doesn't allow for that possibility. Telling us we should make a larger print or trace is my biggest complaint.
Date published: 2019-01-14
Rated

5

out of

5
by
PJBH
from
Realistic Watercolors Step by Step
This course is fantastic! Anna broke down the lessons into easy to follow steps. Her presentation is easy to follow and she is a positive, encouraging instructor. The supply list allowed me to get everything together so I was ready to start in without interruption. In the past, I made a couple of feeble attempts as watercolors but with Anna Mason's course, I was able to able to complete this painting in just a few days with very good results and I learned so much.
Date published: 2018-12-30
Rated

3

out of

5
by
janet27
from
A rose by any other name
I was rather disappointed in this class. Unless you want to do nothing but to duplicate the rose painting the instructor uses as a demo, you will not learn enough to move beyond on your own.
Date published: 2018-12-29
Rated

5

out of

5
by
JAPV
from
Great course
I am very happy with my purchase. Very clear and concise.
Date published: 2018-09-07
Rated

5

out of

5
by
New Artist
from
Very good title
I think the course is excellent and Anna is a great instructor.
Date published: 2018-08-31
Rated

5

out of

5
by
Cindy R
from
Great teacher!
I bought this course a month or more ago and had a chance to sample the teacher's style and the presentation. The course does what it promises to do. It's pretty good! I'm teaching myself how to watercolor and this was another course I wanted to take. So far, the two watercolor courses from TGC have been helpful. The teacher teaches in a way that anticipates what the student might ask or need to know and that is helpful. Details with good explanations. It's great for beginners as well as those who want to learn more botanical painting methods.
Date published: 2018-07-29
Rated

5

out of

5
by
Dorothe Gail
from
Great for beginners!
I wanted to learn to watercolor after I retired. I couldn't find a class or instructor that fit my schedule so I decided to try this course. Anna Manson is an excellent instructor and her unique technique made my first experience with any type of painting very positive. I liked that I could stop and replay parts of the course when needed. I am so excited to start another piece.
Date published: 2018-05-09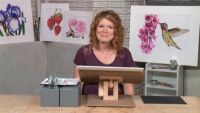 1: Working With Watercolor
Meet Anna Mason and get started discovering the simplicity behind painting with watercolors. Develop your painter's eye with watercolor basics as Anna helps you uncover the secret to layering watercolors. You'll also learn her brush techniques for painting fine details. Think small!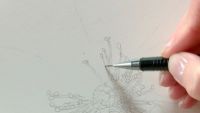 2: Preparing to Paint
Set up your workspace for success! Anna will provide techniques for taking the best reference photo to work from, no fancy camera required. Then get started working on a realistic pencil outline of a flower by either tracing or using Anna's measurements technique for an accurate rendering.
4: Painting the Stamen & Reassessing Petals
Begin painting a realistic-looking stamen to add color variation to your painting! Learn the importance of order in watercolor painting and building up tone throughout the painting process. After finishing the stamen, you'll reassess the petal tones and balance the darkness of the petals.
5: Painting the Bud
Start painting a flower bud by layering tones light to dark. Anna will teach you how to avoid making mud out of your color choices. Use greens and reds to add tones to the sepals for clarity and deep contrast. Finally, gain confidence in your contrasts and explore how to use gouache for brilliant highlights.
6: Painting the Leaves & Stem
Create a variety of greens to cover the leaves, stems and thorns for a natural-looking finish. Layer the dark tones on top of the dried lighter tones using Anna's layering technique. You'll fill in the midtones to create the veins and juggle the rest of the hues to create a smooth, finished look.
7: Finishing Details & Assessing Contrast
Add final key details to make your painting look natural. Anna demonstrates how easy it is to make your details pop for a realistic finish. Learn to make darks richer and help details shine through with Anna's techniques for color correcting. Then assess the big-picture contrast of your painting.
Anna Mason
Nature was a constant theme in my artwork and I was captivated by the detail I can see in the natural world.
About Anna Mason
Anna Mason is a watercolorist specializing in big, bold, botanical subjects. After making a huge career change to paint full-time 10 years ago, she's been honored with an RHS Gold Medal for Botanical Art and the Grand Prize by International Artist Magazine. In recent years, Anna has made it her mission to teach her unique watercolor techniques in an easy-to-understand way by contributing to Artists & Illustrator Magazine in the U.K., writing The Modern Flower Painter (Search Press) and teaching on Craftsy.