Rated

4

out of

5
by
Yovanna
from
Loving it, BUT...recipes incomplete
I'm really loving this series, and while I know my way around a baking pan, I'm still learning lots of things I didn't realize, think about, understand. I would give this five stars, BUT, the recipes included in the book that goes with this series do NOT have complete directions. The oven temperature and baking time are left out! It does me no good to have a recipe booklet that doesn't include crucial information: oven temp and baking time. I guess I can Google similar recipes and guess what oven temp to use....but having paid for the course, you would think that basic information would be included.
Date published: 2020-01-18
Rated

5

out of

5
by
FrankHW
from
Fantastic
Six lectures doesn't seem like a lot, but this course is packed with instruction and demonstrations on all the fundamental techniques for making desserts. Baking has always been something of a black box to me personally. Not only does baking seem notoriously easy to screw up even when using commercial mixes, North American dessert recipes invariably come with dozens of ingredients and twice as many steps. Going through this course, you'll learn quickly it doesn't need to be that way. The lectures simplify everything, from the rationale behind each ingredient, to what to watch for in order to avoid problems, to presentation tricks, to ideas on how to get creative when finishing your desserts. A scale is the only thing you might be missing from the most basic of kitchen setups to take a stab at each recipe. This is a course I've gone back to again and again to make desserts for my family and friends. I can't think of a more ringing endorsement.
Date published: 2020-01-16
Rated

5

out of

5
by
JeannieS
from
An enjoyable course
Learned a lot of handy little tips and I'm very happy I purchased this.
Date published: 2020-01-13
Rated

4

out of

5
by
MoBookworm1957
from
The Everyday Gourmet: Baking Pastries and Desserts
I bought this course to explore the exciting world of Baking Pastries and.Desserts. I am not disappointment.
Date published: 2020-01-11
Rated

4

out of

5
by
Louise O
from
Almost a great course!
I would love to give this course 5 stars but I just can't. I loved the chef and he did a great job of teaching you techniques. The problem is with the recipes and the companion book. As other reviewers have mentioned, the recipes are poorly written and hard to follow. Some are fine but others have incomplete instructions (such as baking time and temperature). Sometimes you can go back to the course and figure out what it should be but sometimes I just went online to find similar recipes. I made at least 1 recipe from each chapter and found serious flaws in at least 1/2 of them. Having said that, I would still recommend this course. I learned so much from the course and even a lot from having to figure out the incomplete recipes.
Date published: 2019-12-26
Rated

5

out of

5
by
Kate 7
from
Truly a great course, even for seasoned bakers! Looking forward to more courses from the Culinary Institute!
Date published: 2019-12-17
Rated

2

out of

5
by
Bas1001
from
Disappointing
This course seems to be geared toward people who have never baked anything or maybe a 10-year-old. I was hoping to get some really good information, but instead I was bored. I quit watching it after a couple of classes. Quite frankly the classes I have watched on Bluprint were better.
Date published: 2019-11-13
Rated

5

out of

5
by
WindyAcresBaker
from
Great foundational teaching!
Though I am not new to baking, I do volunteer with a children's cooking club and thought I might gain new knowledge to pass on. I learned several things through this course about the reasoning of why we should do certain things when we bake (sifting, avoiding overmixing, etc.) and also about what could have gone wrong in their finished product if the results are less than stellar.
Date published: 2019-04-25
Rated

4

out of

5
by
Jim with time to cook
from
Excellently presented, very specialized.
When I say the course is specialized, I really mean it left me hungry for more. Desserts have been delegated to the big food companies (Pillsbury, Betty Crocker, etc...), and this course is a way to take them back for ourselves. Be a baker, don't pay one! Make your own cookies, cakes, custards, and pies! Recipes are widely available, but this course offered techniques. There was special value in the discussion of leavening agents - baking soda/powder and air itself - but it completely ignored the best known leavening agent of all - yeast. Perhaps this was too large a subject for a six-lecture course, but I would have liked to see more. Breads and rolls, both sweet and savory, would make a fine course. (Hint, Chef Durfee...) Just the same, this course offered a lot. The pies and cakes, custards, creams and sauces presented here will keep me busy for a long time.
Date published: 2019-04-09
Rated

4

out of

5
by
Erlitretr
from
Baking pastries and desserts
I'm glad I bought this book. Learning alot. Looking to buy more. Thank you
Date published: 2019-02-07
Rated

5

out of

5
by
mamaw
from
Baking Course
Love it, love it, love it!!! And I love the other courses that I purchased just as much! Thank you for providing the opportunity to obtain such wonderful knowledge!
Date published: 2018-12-20
Rated

5

out of

5
by
Rocco M
from
Solid Foundation
Although I have worked in bakeries for several years, I profited from the course immensely. The techniques in this course builds a solid foundation. In fact, I enjoyed the course so much that I bought several copies as Christmas gifts.
Date published: 2018-12-20
Rated

4

out of

5
by
Link5518
from
Learning tips
I don't do a lot of baking. This course is challenging me to do more. I learned why my cookies do not turn out. There are many little tips that I never thought about when baking.
Date published: 2018-09-17
Rated

5

out of

5
by
Jooooo
from
It was a gift for my husband. He loves it. He loves the step by step video so he can see how it is completed.
Date published: 2018-09-04
Rated

4

out of

5
by
tspe
from
So far I have enjoyed the episodes that I have watched.
Date published: 2018-03-20
Rated

5

out of

5
by
Joree
from
Informational Presentation
I just bought this video and have really enjoyed the first 3 classes. The quality of instruction is consistent with the CIA and I enjoy knowing not only how by why I should mix ingredients a certain way. I can't wait to watch the remaining classes.
Date published: 2018-02-21
Rated

4

out of

5
by
OldArmyWife
from
Great Gift
Bought this course as a gift for my husband who is recovering from surgery. He wanted to learn to make cream puffs. Looking through the guidebook, this course is way more than cream puffs!! I am looking forward to his creations and doing quality control........eating them!!
Date published: 2018-02-21
Rated

4

out of

5
by
Jencookie
from
Exactly what I was looking for
Looking for help of how to expand my knowledge in baking!! Can't wait to watch more!! (Haven't finished it)
Date published: 2017-10-07
Rated

5

out of

5
by
Jumping jack
from
Great features!
I bought this as a gift for a granddaughter, I'm sure she will love this because she loves baking and making deserts. I am also enjoying the download, I think the chef is very good at instructing the basics so you can apply it to many recipes.
Date published: 2017-04-12
Rated

5

out of

5
by
JLS48
from
A Great Value
The course exceeded my expectations. Excellent price, quality and speed of delivery.
Date published: 2017-01-06
Rated

5

out of

5
by
Touppas
from
Awesome course
I love all of the courses and the chef instructors from The Culinary Institute. Course content and presentation are always superb.
Date published: 2016-11-26
Rated

5

out of

5
by
TeachingAuntie
from
Great Intro Course
I got this as an introductory course for my niece, who is in her last year in high school. She is considering going to school to become a pastry chef, so this provided a great introductory overview of concepts and techniques. The included cookbook is a great resource for anyone who wants to learn foundational techniques and recipes.
Date published: 2016-09-25
Rated

4

out of

5
by
MamaJ
from
Good information for a beginning Baker.
My daughter has used several of the great courses cooking courses and has enjoyed them all. This one so far is her favorite.
Date published: 2016-09-13
Rated

3

out of

5
by
MarySweetTooth
from
Baking summary
I was expecting more viewing of the preparation process. I was kind of hoping he would have demonstrated a croissant. I found what he did was interesting and helpful, I just would have preferred he talked more duirng the preparation rather than talking and showing the prep almost separately.
Date published: 2016-07-06
Rated

5

out of

5
by
JulieTheArtist
from
The Everyday Gourmet: Baking Pastries and Desserts
This was a great course on gourmet cooking/baking. It supplements, instead of overlaps, 'The Everyday Gourmet: Rediscovering the Lost Art of Cooking', which was also wonderful. It was easy to understand his descriptions of texture and consistency and see it in the video. I enjoyed seeing how to cook eggs into a variety of dishes, and make churros, cream puffs, etc. I would highly recommend this course for anyone interested in improving/increasing their cooking repetoire. I have already successfully made and enjoyed eating one of the dishes.
Date published: 2016-02-13
Rated

5

out of

5
by
BLHCO
from
This course sent me on a new and exciting course
I have watched a number of the cooking courses. This course sent me in a new direction, baking. I have always enjoyed cooking. But now I am exploring baking. Exciting stuff!
Date published: 2016-01-18
Rated

5

out of

5
by
Ark1836
from
This Course Will Make Me Gain Weight
I was a bit hesitant to buy this course because it is much shorter than most Great Courses, and I was worried about the value. I still wish this course had several more lessons, but I feel that this course gave tremendous value for what it covered. The professor explains that most desserts from cakes to pies to custards use one of only a handful of basic techniques. The professor focuses on teaching the basic techniques that can then be applied in a variety of applications. The professor is not just a master chef but also an artist. I plan to try making many of the desserts he prepared, but I already know that matching the professor's precision and artistry will be beyond my meager skills. That being said, I believe that I picked-up on techniques that will make my efforts much better. My favorite part of this course was the professor's ability to explain "why" to do something and not just "how" to do it. If I understand the importance of a seemingly unimportant step (like sifting the dry ingredients), it makes me more likely to do it and not try to cut corners. Everything the professor made looked wonderful, and I really appreciate how he walked through each step. For those of you that watch cooking shows on television, this course goes far, far beyond what you may have experienced in that format. In television programs, the principal goal is to entertain the audience so the camera spends most of the time focusing on the celebrity chef's face and the food always looks perfectly manicured with no drips or spills because someone off camera is doctoring the dish to make it look perfect. In this course, the professor's hands get dirty, food spills and splatters and everything is not perfect. In other words, the professor in this course shows real life. That gives me more confidence that I can truly learn the technique. The only bad thing about this course is that I am going to eat more desserts now, which is not good for my weight.
Date published: 2015-08-04
Rated

5

out of

5
by
ProfessorW
from
Such a treat
Like many others, I wander into the kitchen all too often, and as I grow older I'm less interested in the joys of cakes sold in the bakery aisle of my local grocery store that look uniformly perfect, and taste flavorless. I've been making bread for a number of years but only recently branched out to make other baked goods. I found this course extremely useful. The Chef is clear and easy to follow, offers numerous tips on technique and covers many important topics. In general, such a course can not complete with the more hands on courses that can be found at other sources, but it also does not pretend to be anything than what it is -- a sound overview of different approaches to make tasty products. I enjoyed it greatly.
Date published: 2015-06-28
Rated

4

out of

5
by
Babs
from
Pastries
Easy to watch and well organized and presented. Good ideas which I can use. Choices are a little fancier than I would normally choose, but some are worth a try. I liked the part that dealt with the basics, because that had the most useful information. Worth the cost and time spent watching it.
Date published: 2015-03-25
Rated

5

out of

5
by
Denise2
from
Baking Pastries and Desserts
Love this....great points on techniques. Nice presentations. Good for beginners and intermediate bakers! Great wedding gift, etc
Date published: 2015-02-22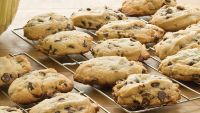 1: Handle with Care-Basic Doughs
Understand several basic techniques and methods you can then expand on to make a wide range of unforgettable desserts. Here, focus on organizing your workspace, methods for proper measuring, and ways to cream butter, sugar, and eggs to the right consistency. Then, watch as Chef Durfee makes cookies and pound cake and shows you what can go right-and what can go wrong as well.
2: Mixing It Up-Methods for Cakes
Regardless of what cake you're making, they all revolve around several basic mixing methods. What are they? And what are their secrets? Chef Durfee takes you step-by-step through baking a rich devil's food cake and several egg foam cakes (a chiffon cake and an angel food cake), the latter of which helps demonstrate the right-and wrong-way to whip eggs and cool your cakes.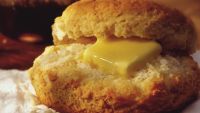 3: Blue-Ribbon Winners-Pies and Biscuits
Here, learn everything you need to know about flaky dough, which can often be intimidating even for an experienced baker. First, gain confidence in making a buttery pie crust by learning how to mold it with your hands or pastry tools, how to blind-bake it, and even how to make an attractive latticed top. Then, explore some of the secrets to making tender, flaky biscuits and beautifully golden-brow...
4: Lighter Than Air-Cream Puffs
Cream-puff pastry is unique in that it's a twice-cooked pastry dough. And its applications go far beyond what you'd expect. In this lesson, master the art of baking and experimenting with puff pastry and use it to create some unbelievably decadent desserts. Among these: chocolate eclairs, cream puffs, and deep-fried Mexican churros. Along the way, you'll also get tips on making pastry cream...
5: Simple to Elegant-Custards
Vanilla-infused crème anglaise. Butterscotch pudding. Crème brulee (complete with a blowtorched sugar topping). Learn tips and tricks to wowing your dinner guests with these delectable egg-based custards, all the while strengthening your confidence in the sometimes tricky art of baking with eggs on the stovetop or in the oven. By the end of this lesson, you'll discover just wh...
6: Final Touches-Mousse and Dessert Sauces
Whip your more advanced baking skills and techniques into shape in this final lesson devoted to light and luscious mousses and creams. After learning how to make your own whipped cream, chocolate mousse, dessert sauces, and vanilla bean panna cotta, you'll watch Chef Durfee as he demonstrates the best ways to unmold, plate, and present your desserts with flair and your own unique touch-just like a...
Stephen L. Durfee
So many people are interested in learning how to bake, but they're intimidated because they think that it is either too complicated or scientific. The truth is baking can be a lot of fun. It's not that complicated and if you master just a few basic techniques, that's really all you need to know to get started. 
ALMA MATER
Hamilton College
INSTITUTION
The Culinary Institute of America
About Stephen L. Durfee
Stephen L. Durfee is a Pastry Instructor at the Culinary Institute of America (CIA) at Greystone, where he has been on staff for more than 10 years. He is a Certified Executive Pastry Chef and a Certified Hospitality Educator. Before then, he was the Executive Pastry Chef at The French Laundry in Yountville, California. While there, he won the 1998 James Beard Award for Outstanding Pastry Chef and in 1999, he was named one of the Top Ten Pastry Chefs in America by Pastry Art & Design and Chocolatier magazines. Chef Durfee's extensive career includes working as a pastry chef at Charles Nob Hill in San Francisco, California, and at the Wheatleigh in Lenox, Massachusetts; and as a pastry instructor at the New York Cooking School (where he earned his certificate in pastry/baking). He also apprenticed at restaurants in Paris and ChambEry, France. Chef Durfee has also participated in and judged numerous cooking competitions and challenges. In 2007, he represented the CIA at the National Pastry Team Championships, where his team won a bronze medal. In 2010, he finished third in the World Chocolate Masters competition. In 2012, he won the position of chocolatier on the U.S. team that will compete in the Coupe du Monde de P,tisserie in Lyon, France, in 2013.