Rated

5

out of

5
by
Romen
from
Really enjoyable
This was fantastic, a really good use of my time. I learned a bit, and overall enjoyed all of the content. There was enough here that whether you know nothing or are already fairly knowledgeable about beer, the material is approachable and there's something for everyone. There's also more to dive into, and I'm revved up to learn even more now about this subject now. The instructor seemed incredibly knowledgeable about the topic. I think this course will enhance your enjoyment of beer, no matter where you are with your experience and knowledge.
Date published: 2020-08-21
Rated

2

out of

5
by
Kent R
from
Sierra Nevada Commercial
Dissapointed in the course. Too much emphasis in Sierra Nevada and too many snide opinions by lecturer. I would have appreciated a more neutral view on beer companies and more specific information so I can make my own connections. Seems like professor dumbed the course way down and just used hyperbolic terms when discussing sour, foamy, etc.
Date published: 2020-07-20
Rated

5

out of

5
by
mikeinMV
from
A thoroughly enjoyable series
My wife purchased this course as a Fathers Day gift and I've watch most of the lectures. I thought I knew quite a bit about beer but each lecture provided new information. It definitely has enhanced my appreciation of beer.
Date published: 2020-07-02
Rated

2

out of

5
by
Jean F
from
Everyday Guide to Beer
I was expecting more technical info on beer production.
Date published: 2020-06-28
Rated

2

out of

5
by
grandsonson
from
easy to order
I bought this for my grandson (age 24). I can only address how easy it was to order. 2 separate addresses and all reached the right parties - i got the bill and he got the materials
Date published: 2020-06-26
Rated

4

out of

5
by
ABCD 123
from
Everyday Guide to Beer
Dr Bamforth is very personable and knowledgeable. I learned a lot and recommend the course. At times though it became more of a Sierra Nevada commercial.
Date published: 2020-06-22
Rated

5

out of

5
by
cardinal
from
Wonderful class
This course might be easy to overlook, but it is an absolute bargain. Terrific overview on beer--its history, brewing technique, flavors, categories, international in scope--and I highly recommend the Charles Bamford virtual guide. His knowledge and sense of humor make for an impressive delivery of the material.
Date published: 2020-06-21
Rated

5

out of

5
by
Greg1954
from
Great Information About My Favorite Beverage
Growing up in Wisconsin when the legal drinking age became 18, I have enjoyed many beer types and brands over almost 50 years. The lectures and interviews were very interesting, informative and useful. I learned more in 6 hours than I have in all my years of enjoying beers in the United States and some foreign countries.
Date published: 2020-06-21
Rated

2

out of

5
by
betabrewer
from
Great if you want to know more about Sierra Nevada
I thought it would be fun to take a sip of beer every time Sierra Nevada was mentioned. Now I need a new liver. If anybody has an extra size 3 liver, please let me know. The information in the course is very general. It does not go into any real depth about how beer is brewed or different styles of beer. There is some interesting historical context but, even there, it is a bit lopsided in favour of English and German styles, especially those styles that are commercially brewed by a certain American brewery. Craft beer may as well not even exist, as far as this course is concerned. There is an obvious bias toward commercially brewed beers. At one point, the outrageous statement is made that any beer, even mass produced beers, can be considered to be craft beers because somebody crafted it at some point. Excuse me but that is bollocks. I'm sure that the fact that Sierra Nevada is too big to be considered "craft" has nothing to do with that opinion. There is an entire hour-long lecture on pairing beer with food. Unless you plan on visiting the Sierra Nevada taproom (and ordering the cheese board), it is completely worthless. There is much attention given to quality control, not surprising given that the lecture is presented by a quality control expert at a major commercial brewery. Some of that information is interesting but I don't know how knowing it would actually influence somebody's buying decisions or enhance their appreciation for beer. The parts about how important it is that the labels are put on straight (you will be surprised at how often this is mentioned) has no obvious value to anybody who doesn't work in quality control at a commercial brewery. The most useful information is presented in the first few lectures. The second half felt to me like they were just padding the series to make 6 hours. That said, there is some interesting information in the first half, although it doesn't go into much depth on any subject other than how great Sierra Nevada is (their conclusion, not mine). Personally, I am a homebrewer and a regular patron of several local breweries and craft beer taprooms. I was hoping for more information about the history of regional styles, brewing in continental Europe and how beer contributed to Europe's development. Instead I got an in-depth look at Sierra Nevada's Asheville, NC brewery and product line and six hours of assurance that they brew very high quality beer (again, their conclusion) and their labels are always straight. I can't really say that I recommend this course, but there is some interesting information, particularly if you love Sierra Nevada. If you're looking for information about brewing processes or different styles of beer, you're going to be disappointed. Even to the extent that brewing is discussed, it's discussed within the context of Sierra Nevada's own unique-proprietary processes in their large commercial brewery so much of the information won't apply to beers brewed by anyone else.
Date published: 2020-06-13
Rated

5

out of

5
by
MikeOB
from
I thoroughly enjoyed this course
This is a very interesting excursion through all of the aspects of beer, The pace is quick and there's a lot of nomenclature to consume, but the presentation is light hearted and the Professor is well versed in his subject. I am enjoying the lessons on an "as available" basis. Each is a stand alone bit of knowledge so you don't have to binge watch. I didn't find the references to Sierra Nevada to be distracting at all.
Date published: 2020-06-11
Rated

3

out of

5
by
Zindebaad
from
A Fairly Good Commercial for Sierra Nevada Company
Coming from a family of brewmasters, I did learn a little about brewing. However, I felt the course was a commercial for Sierra Nevada Brewing Company. The presenter did a terrific job of lecturing though..
Date published: 2020-06-06
Rated

5

out of

5
by
An American Fan
from
What a prof should be
If all of my courses in school were as engaging as this one, I might have skipped the partying, not skipped class, and been a hell of a lot smarter and fully entertained along the way.
Date published: 2020-05-28
Rated

5

out of

5
by
acardnal
from
Very Informative and Good Production Quality
I watched this by streaming it on the Great Courses Plus. I really enjoyed the course. It was only 12 lectures but I learned a lot! Very good production quality with lots of graphics, images, and interviews with craft brewers. And the professor was not boring and full of real world experience in beer making. Among many things, I learned the difference between an ale and a lager! I recommend the course to beer lovers everywhere.
Date published: 2020-05-23
Rated

2

out of

5
by
Murray7865
from
Should be called "Everyday Guide to Sierra Nevada"
6 hours of ads for Sierra Nevada Brewery punctuated by general information about beer. Too much commercialization.
Date published: 2020-05-18
Rated

5

out of

5
by
Beersnob
from
Great review of an historical beverage.
A very informative review of the quite long history of beer, its ingredients, biochemistry, brewing variances, and varieties of beer by an obvious expert in "Beeya"
Date published: 2020-05-18
Rated

4

out of

5
by
Klem
from
Know what you drink
This is a great course to understand more about what you're drinking. As a prior home brewer and an avid participant in visiting San Diego Counties numerous craft breweries (and a few in England & Ireland) I found this course very informative.I watched this on "Plus" and bought the DVD for my son. Interestingly, his wife went to UC Davis as did the instructor Mr. Bamford and is from Chico the original home of Sierra Nevada Brewing who Mr. Bamford has consulted for.
Date published: 2020-05-11
Rated

5

out of

5
by
RickRay
from
Beer is complicated - and this is a "must have"
This is a "must have" for anyone wanting a better understanding of beer. The chapters are nicely put together and very informative. Dr. Bamforth is truly the expert and he makes a great presentation.
Date published: 2020-05-06
Rated

4

out of

5
by
Pheezer
from
It was desciptive.
Professor Bamforth was certainly knowledgeable. I thought much of the course seemed like a lengthy expensive infomercial. I am a fan of Sierra Nevada products and their corporate philosophy.
Date published: 2020-05-06
Rated

4

out of

5
by
Big Bob
from
Great professor on my favorite subject
Very interesting and fun course on the most delicious of subjects. In some ways, a bit of an infomercial for Sierra Nevada. That's not all bad though because they make wonderful beer. But I would liked more than just a random mention of some of the other great beers while discussing flavors and brewing methods.
Date published: 2020-05-06
Rated

4

out of

5
by
AndyG
from
Learning with a pleasant aftertaste.
While the business of making and distributing beer is a serious undertaking, learning about it does not have to be quite as stressful. Particularly in the second half of the program, this is a reasonably paced and informative cover of a beverage that a large percentage of the world's population enjoys consuming, whether by itself or with food, as well as being the topic of polite conversation. The focus on one particular brewing concern, while obvious, is not so excessive as to override the positives of the program.
Date published: 2020-05-04
Rated

5

out of

5
by
Bob2
from
I'm still listening to other important lectures from the fine Teaching Company, but haven't quite started the beer lectures yet. But looking forward to it!
Date published: 2020-04-29
Rated

5

out of

5
by
ec135h
from
Wealth of Information
Great information for any beer lover, well worth the time & price.
Date published: 2020-04-22
Rated

5

out of

5
by
Papabear32641
from
Great Content and presentation!
I have been drinking beer for almost 40 years and studying the history and culture for the last 7or so. I have seen or read or heard a lot of the imformation contained in this course before but it was never presented in such an easy to follow manner.
Date published: 2020-04-20
Rated

4

out of

5
by
Kevin the Maharaja
from
Everyday Guide to Beer
As a Beer lover and a sometime Beer brewer, I enjoyed this course very much and learned a lot that I did not know especially on Barley and Hops. The lectures were wonderfully illustriated and the tasting lecture was one of the favorite of the series. Started buying different beers now just to taste the difference between them.
Date published: 2020-04-20
Rated

5

out of

5
by
CDA Girl
from
Fascinating for a craft beer lover!
I'm two-thirds of the way through the lectures and am really enjoying them. While I understand the criticisms about the Sierra Nevada angle, I appreciate Professor Bamforth's knowledge and experience. His comment about a beer tasting the same even if its original company is bought out by one of the Big Guys is one I hear every so often here in the PNW. I get that, but my personal preference is to give my hard-earned dollars to the smaller, local brewers rather than to some faceless corporate office far away. Anyway, this is a thoroughly engaging journey around the beer world, and I'm learning a lot. Highly recommended to any beer fan who doesn't already know it all.
Date published: 2020-04-20
Rated

5

out of

5
by
Jeff15
from
Fantastic for the beer enthusiast
I bought a few weeks ago and watched a lecture a day. I teach a homebrew course and got great style pointers from the instructor!
Date published: 2020-04-13
Rated

5

out of

5
by
roadkiehl
from
Very informative
I lke beer! I learned alot of things That I didn't know about beer.
Date published: 2020-04-03
Rated

5

out of

5
by
Marktime
from
Always Great Presentations!
We have bought several Great Courses and am always astonished at the excellence of every single one. If Great Courses can't get the absolute greatest expert and best presenter, they simply do not make a course on that subject.
Date published: 2020-03-31
Rated

2

out of

5
by
cgesch
from
One Big Sierra Nevada Advertisement
This course should be named 'Everyday Guide to Sierra Nevada'. This is not what I expect from the Great Courses. I stuck through to get to the food pairing only to find it was specific to the Sierra Nevada tap room. It was not applicable to a home environment. The course was very shallow. The one plus, the photography was good.
Date published: 2020-03-28
Rated

5

out of

5
by
Bebs
from
Perfect
My wife and I watched one lecture per day and were so sad to see it end. Lovely production.
Date published: 2020-03-28
1: 8,000 Years of Beer
Begin your journey with a primer on the history of beer and its place among peoples like the Sumerians, Egyptians, and the Medieval Benedictines. You'll learn about figures like Dukes William IV and Ludwig X of Bavaria and the Reinheitsgebot, and even hear the fascinating story behind the origin of British pub signs.
2: Malt, Hops, Yeast, Water: How Beer Is Made
Now that you've traveled through beer's history, you're ready to discover how it's made. You'll go in-depth with ingredients like malt and hops, and which geographic regions of the world each variety comes from. Then, Sierra Nevada's Head Brewer Scott Jennings will take you through the process of how this elite brewery produces its award-winning beer.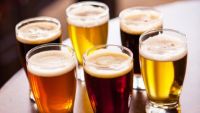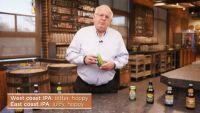 4: All about Ales
Ale is one of beer's most significant and diverse classifications. Here, you'll investigate popular versions like pale ales, India pale ales (IPAs), and Scotch ales. But did you know that porters and stouts are also ales? Go in depth with this important beer category and then discover the unique characteristics of each sub-type.
5: All about Lagers
Germany's impact on beer history cannot be overstated, and nowhere is this more prevalent than when drinking a glass of lager. A deceptively difficult beer to brew, this category includes styles like doppelbocks, marzens, and the increasingly popular Oktoberfest. But an Oktoberfestbier in Germany means something very different than it does in other parts of the world.
6: Beers of the World: Who Drinks What
The world's leading beer brand has significantly more market share than Budweiser and Coors Light combined, and you've likely never heard of it. In this lesson on the business of beer, find out how this is possible and what top producers like Anheuser-Busch InBev, and micro and regional breweries all mean for the industry as a whole.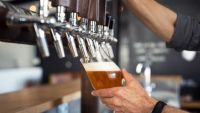 7: Enjoying Beer I: The Perfect Pour
How a beer looks can influence our perception before we even take our first sip. Learn why everything from a beer's packaging and label to the bottles a brewery uses can affect our experience. You'll also discover how to pour a beer properly to get the appropriate amount of foam, and what nucleation sites in a glass do for both presentation and flavor.
8: Enjoying Beer II: Maximizing Flavor
Did you know that the aroma from hops is made up of at least 420 different compounds? Learn the typical flavor each type of malt infuses into a beer and how different chemicals combine to form the sweet, salt, sour, or bitter notes each style is known for. Conclude with the proper serving temperature for most of the major beer types you've learned about in previous lessons.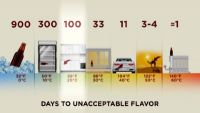 9: Enjoying Beer III: Buying and Storing
The way beer is stored, packaged, and distributed can have a huge impact on how it tastes. Ryan Mintzer, packaging and warehouse manager at Sierra Nevada, will take you through some of the brewery's best practices to ensure that each beer has optimal flavor and freshness before being poured into your glass.
10: Pairing Beer with Food
Pairing beer with food effectively can take some practice, but a few important tips will help you plan that next meal with confidence. Whether it's matching beer with existing recipes or actually adding it into a dish, beer's versatility should not be underestimated. Experience a five-course dinner menu with beer pairings, specially prepared by Jessie Massie, head chef at Sierra Nevada's Mills River Taproom.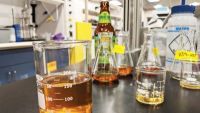 11: The Science of Quality Beer
Quality in beer can be very subjective and a difficult thing to quantify. General Manager Brian Grossman, of Sierra Nevada's Mills River facility, and Quality Manager Liz Huber discuss this idea and how measurements of alcohol by volume (ABV), clarity, pH, and other checks are used to achieve desired results.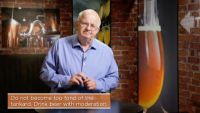 12: Beer and Human Health
Nutritious or just empty calories? In this final lesson, Dr. Bamforth will take you through the health benefits and risks associated with beer consumption, such as recommended consumption limits and why moderation has been preached since this beverage's early days. However, beer also contains antioxidants and an array of vitamins like niacin, folic acid, and riboflavin.
Charles W. Bamforth
Beer is a thing of beauty. Four simple ingredients; yeast, malt, hops, and water combine under the right conditions to create a product that can be wholesome, nutritious, delicious, and satisfying.
ALMA MATER
University of Hull
INSTITUTION
University of California, Davis
About Charles W. Bamforth
Charles W. Bamforth is a Distinguished Professor Emeritus at the University of California, Davis. He received his PhD in Biochemistry from the University of Hull. He is also a senior quality advisor to Sierra Nevada Brewing Company and an Honorary Professor in the School of Biosciences at the University of Nottingham. He has been part of the brewing industry since 1978, holding such positions as deputy director-general of Brewing Research International as well as quality assurance manager and research manager at Bass Brewers.
Professor Bamforth's many academic and professional honors include the Award of Distinction from the American Society of Brewing Chemists, the Faculty Stewardship Award from the UC Davis Foundation, and the Brewers Association Recognition Award. He was also awarded the Horace Brown Medal, the highest accolade of the Institute of Brewing and Distilling; the Award of Honor by the Master Brewers Association of the Americas; and the Award of Distinction by the College of Agricultural and Environmental Sciences at UC Davis.
Professor Bamforth has published numerous books and articles about beer throughout his career. Since 1985, he has also written prolifically about soccer. He has appeared extensively in the media, including on the BBC, Discovery Channel, NPR's Science Friday, and PBS. His video credits include "The Art & Science of Beer," Brew Dogs, How Beer Saved the World, How Stuff Works, and Ultimate Factories.
Professor Bamforth has presented lectures at numerous venues, including Google, the New York Academy of Sciences, the Smithsonian, and the National Press Club.