Rated

5

out of

5
by
marioacuario
from
The cat is both alive and dead, welcome to Ph.
A very interesting and nice course. I enjoyed very much the lectures regarding the meaning of time.
Date published: 2020-06-15
Rated

5

out of

5
by
PatC
from
Science Knows Only One Thing
This course comes across as an advanced dissertation, but actually addresses our most basic scientific assumptions. It is presented clearly and provocatively. The first 15 minutes of the first lecture are unusually enticing and tightly edited, sketching the complex issues to follow and the history that generated them with deft simplicity. Gimbel succinctly explains how we have relied for a century on two modes of thought that are not compatible. As usual in such confusing situations, we have the option to fall back on God, at least those with an intact sense of wonder. The realization is that, scientifically, we know nothing except that our predictive models work.
Date published: 2020-06-13
Rated

3

out of

5
by
leadsled
from
Fairly interesting, but not great
This course by Dr. Steven Gimbel is fairly interesting, but not great. Professor Gimbel's presentation is excellent, but the course itself contains too much gobbledegook terminology and conceptual obfuscations. As the great physicist Richard Feynman once observed, physicists are hands-on explorers, while philosophers are merely spectators. Feynman's words are still apropos.
Date published: 2020-06-11
Rated

5

out of

5
by
richibi
from
down the rabbit hole
Professor Gimbel leads us into an adventure where up is down, black is white, true is false, and so on, conditions of the science of physics as it is understood today after the probing ruminations of some its greatest thinkers - you'll need your thinking cap on, however, the concepts are not easy, but the trip, and it is indeed a trip, is utterly delightful thanks to the professor's engaging presentation, with the cherry on top of his unexpected, and quirky, sense of humour
Date published: 2020-06-01
Rated

5

out of

5
by
Vato
from
Great Course !!!
At last TGC got back to some heavy weight ideas and issues. I enjoyed this class so much. A perfect balance between philosophy and physics, very interesting insight covering history of prominent ideas and theories, multi angel approach to issues. Most importantly Professor Gimbel talks about very complex issues with very easy and plain language inserting his great sense of humor. I just loved this class and I "PreOrder" any future classes delivered by Professor Gimble.
Date published: 2020-05-28
Rated

5

out of

5
by
JPLfr
from
Fabulous and intellectually challenging.
I have been taking Great Courses for probably 30 years, for a total of in excess of 100 different courses. At first they were only audio. However, the instructor was without a doubt the very best I have ever experienced. That includes not only Great Courses but those involved in my partial PhD efforts, a Masters degree, two bachelors degrees, and AA, and JD.
Date published: 2020-05-28
Rated

4

out of

5
by
slyphnoyde
from
Of Somewhat Specialized Interest
This is a course that will appeal to some and not to others. Mostly it will appeal to those interested in philosophy who also have some scientific background. As one of TCC's shorter courses, it is a good value for those interested. Gimbel is a good lecturer.
Date published: 2020-05-23
Rated

5

out of

5
by
toothpick9
from
This course has it all!
This course has it all! What we know about the universe and how we think about what we know. In my quest to understand quantum theory I've watch many physics presentations and read a few books. It's been made clear to me in this video in a way I haven't seen, heard, or read before. Thank you Great Courses and Professor Gimbel. I will soon watch it again, there's so much to learn.
Date published: 2020-05-22
Rated

5

out of

5
by
Shogun1
from
I have purchased over 20 Great Courses mostly in the sciences and mathematics areas. They have all been excellent. I highly recommend them to anyone anxious to learn about ideas and reality that they may have pondered.
Date published: 2020-05-20
Rated

5

out of

5
by
mirmor
from
Interesting title
The professor is erudite and engaging and often humerous
Date published: 2020-05-16
Rated

5

out of

5
by
Anonymous
from
Excellent, wanted more
This is a fantastic course and compliments TGC's other offering in this area: " Mathematics, Philosophy, and the 'Real World'". The latter is longer and more rigorous, and for me at least more humane and actionable. However as a fantastic introduction I wouldn't hesitate to recommend "Philosophy and Physics". Ideally get both. For me what professor Steven Gimbel does is to bring energy and whit to fascinating field. I've watched the course twice now and fully intend to follow up on the references mentioned.
Date published: 2020-05-16
Rated

5

out of

5
by
Dav35
from
Quality of presenters
I have been a long time customer of The Great Courses.I have found most lecturers ,are good and some are outstanding. The outstanding ones never fail to present an informative and compelling lecture.
Date published: 2020-05-14
Rated

4

out of

5
by
BGZRedix
from
Nice Overview; Not Profound
Philosophy and physics are both fields of great interest to me. I'm no more than a dilettante, but their combination, the 'interpretations' of nature which the philosophy of physics comprises, has never impressed me as much more than various imaginative but mostly unsupportable and uninsightful musings. I hoped this course might change my perspective. It did not. It is certainly a fun course to take, which is why I am recommending it to those with a definite interest in this area. Professor Gimbel is an enthusiastic and engrossing speaker who kept my attention throughout (with the exception of his, um, humor.) He clearly loves his subject and is knowledgeable in both physics and philosophy in their separate embodiments as well as in their overlap. And a very basic and often interesting description of the relevant physics is provided for each of the areas discussed. I found the historical descriptions underlying the development of major scientific theories to be one of the most enjoyable aspects of the course. And you do not need to remember your high school physics course to appreciate this, although it would help if you actually liked taking it. (Occasionally the oversimplification of the information is significantly incomplete or misleading, however, as I found to be the case with entropy. Also, why do science instructors so rarely explain why time flows more slowly for the astronaut twin than for the one who remains on Earth instead of the other way around? And the animation of the Doppler effect is just wrong.) But little was added to my own minimal appreciation of the meeting of these two great fields. A major problem was lack of clear meanings. For example, whether numbers, or space, are or are not "real" have apparently been significant issues, and our professor gives time to each. Unfortunately, I was left with no clue what it might mean for a number or for space to be "real" or not. What possible difference would it make to anything? The various interpretations of quantum mechanics are nicely summarized, but, again, the choice between these is more analogous to that between analyses of a poem than to anything providing insight into the real world. So, by all means take this course if you find this area of intrinsic interest. You may well have a very different reaction from mine. If you do take it, please post a review!
Date published: 2020-05-13
Rated

5

out of

5
by
Jer_H
from
Intriguing connections
I've been learning some physics, through The Great Courses, that I was missing in my education. I wasn't aware of the close relationship of Physics and Philosophy. This course clearly made the connections for me and also dealt with the overlaps. If you ever question what is real, start with this course. It gives you a lot to think about.
Date published: 2020-05-13
Rated

5

out of

5
by
KevD
from
Excellent program
I purchased this a month ago and am very satisfied with the material.
Date published: 2020-05-11
Rated

5

out of

5
by
Janis123
from
Excellent courses!
I have purchased from the Great Courses for some time along the lines of my interest. You can't go wrong with their offer to refund a course if it doesn't meet your expectations. However, I've always been satisfied.
Date published: 2020-05-09
Rated

5

out of

5
by
Peter435
from
I binge watched it
I would recommend this for anyone who has a genuine interest in modern physics, epistemology and metaphysics. At 12 lectures it is a whirlwind tour of modern concepts in physics, so some basic background knowlege in physics would probably make this course more palatable. It is a little heavy on physics lexicon and concepts, so be prepared for that. But there really is no simple, common sense way to talk about quantum mechanics, and that is presumably what leads to interesting philosophical questions. The instructor is engaging, dynamic, fun to listen to, and has a great presentation style in my opinion. A lot of information is packed into 12 lectures, and I felt given the short length of the course, I received a pretty good dose of the range of epistemological and metaphysical questions arising out of 20th century physics.
Date published: 2020-05-08
Rated

1

out of

5
by
13204897
from
Mea Culpa
Well, I am self isolating, and this course sounded intriguing. I have struggled, but am giving up. It is worse than the disease. I thought that there would be a balance between Philosophy and Physics. I must have slept through the Physics part. After almost 9 lessons, I give up. It just feels like an endless blather -- what is the punch line -- still waiting. No, I am not waiting anymore. Moving on to another Great Course.
Date published: 2020-05-03
1: Does Physics Make Philosophy Superfluous?
Trace the growth of physics from philosophy, as questions about the nature of reality got rigorous answers starting in the Scientific Revolution. Then see how the philosophy of physics was energized by a movement called logical positivism in the early 20th century in response to Einstein's theory of relativity. Though logical positivism failed, it spurred new philosophical ideas and approaches.
2: Why Mathematics Works So Well with Physics
Physics is a mathematical science. But why should manipulating numbers give insight into how the world works? This question was famously posed by physicist Eugene Wigner in his 1960 paper, "The Unreasonable Effectiveness of Mathematics in the Natural Sciences." Explore proposed answers, including Max Tegmark's assertion that the world is, in fact, a mathematical system.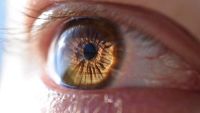 3: Can Physics Explain Reality?
If the point of physics is to explain reality, then what counts as an explanation? Starting here, Professor Gimbel goes deeper to probe what makes some explanations scientific and whether physics actually explains anything. Along the way, he explores Bertrand Russell's rejection of the notion of cause, Carl Hempel's account of explanation, and Nancy Cartwright's skepticism about scientific truth.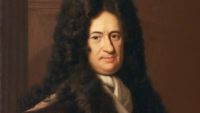 4: The Reality of Einstein's Space
What's left when you take all the matter and energy out of space? Either something or nothing. Newton believed the former; his rival, Leibniz, believed the latter. Assess arguments for both views, and then see how Einstein was influenced by Leibniz's relational picture of space to invent his special theory of relativity. Einstein's further work on relativity led him to a startlingly new conception of space.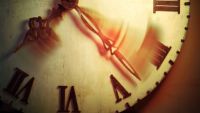 5: The Nature of Einstein's Time
Consider the weirdness of time: The laws of physics are time reversable, but we never see time running backwards. Theorists have proposed that the direction of time is connected to the order of the early universe and even that time is an illusion. See how Einstein deepened the mystery with his theory of relativity, which predicts time dilation and the surprising possibility of time travel.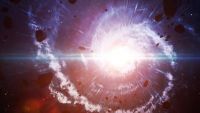 6: The Beginning of Time
Professor Gimbel continues his exploration of time by winding back the clock. Was there a beginning to time? Einstein's initial equations of general relativity predicted a dynamic universe, one that might have expanded from an initial moment. Einstein discarded this idea, but since then evidence has mounted for a "Big Bang." Is it sensible to ask what caused the Big Bang and what happened before?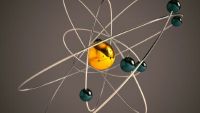 7: Are Atoms Real?
Compare proof for the reality of atoms with evidence for the existence of Santa Claus. Both are problematic hypotheses! Trace the history of atomic theory and the philosophical resistance to it. End with Bas van Fraassen's idea of "constructive empiricism," which holds that successful theories ought only to be empirically adequate since we can never know with certainty what is real.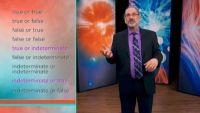 8: Quantum States: Neither True nor False?
Enter the quantum world, where traditional philosophical logic breaks down. First, explore the roots of quantum theory and how scientists gradually uncovered its surpassing strangeness. Clear up the meaning of the Heisenberg uncertainty principle, which is a metaphysical claim, not an epistemological one. Finally, delve into John von Neumann's revolutionary quantum logic, working out an example.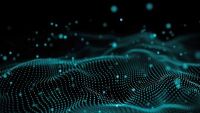 9: Waves, Particles, and Quantum Entanglement
Quantum mechanics rests on an apparent category mistake: Light can't be both a wave and a particle, yet that's what theory and experiments show. Analyze this puzzle from the realist and empiricist points of view. Then explore philosopher Arthur Fine's "natural ontological attitude," which reconciles realism and antirealism by demonstrating how they rely on different conceptions of truth.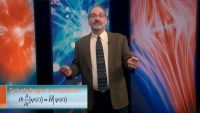 10: Wanted Dead and Alive: Schrödinger's Cat
The most famous paradox of quantum theory is the thought experiment showing that a cat under certain experimental conditions must be both dead and alive. Explore four proposed solutions to this conundrum, known as the measurement problem: the hidden-variable view, the Copenhagen interpretation, the idea that the human mind "collapses" a quantum state, and the many-worlds interpretation.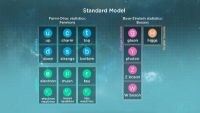 11: The Dream of Grand Unification
After the dust settled from the quantum revolution, physics was left with two fundamental theories: the standard model of particle physics for quantum phenomena and general relativity for gravitational interactions. Follow the quest for a grand unified theory that incorporates both. Armed with Karl Popper's demarcation criteria, see how unifying ideas such as string theory fall short.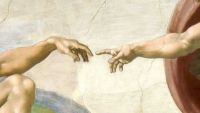 12: The Physics of God
The laws of physics have been invoked on both sides of the debate over the existence of God. Professor Gimbel closes the course by tracing the history of this dispute, from Newton's belief in a Creator to today's discussion of the "fine-tuning" of nature's constants and whether God is responsible. Such big questions in physics inevitably bring us back to the roots of physics: philosophy.
Steven Gimbel
Scientists give us new accounts of how the universe works, and philosophers unpack those theories to see what they tell us about what is real.
ALMA MATER
Johns Hopkins University
INSTITUTION
Gettysburg College
About Steven Gimbel
Professor Steven Gimbel holds the Edwin T. Johnson and Cynthia Shearer Johnson Distinguished Teaching Chair in the Humanities at Gettysburg College in Pennsylvania, where he also serves as Chair of the Philosophy Department. He received his bachelor's degree in Physics and Philosophy from the University of Maryland, Baltimore County, and his doctoral degree in Philosophy from the Johns Hopkins University, where he wrote his dissertation on interpretations and the philosophical ramifications of relativity theory. At Gettysburg, he has been honored with the Luther W. and Bernice L. Thompson Distinguished Teaching Award. Professor Gimbel's research focuses on the philosophy of science, particularly the nature of scientific reasoning and the ways that science and culture interact. He has published many scholarly articles and four books, including Einstein's Jewish Science: Physics at the Intersection of Politics and Religion; and Einstein: His Space and Times. His books have been highly praised in periodicals such as The New York Review of Books, Physics Today, and The New York Times, which applauded his skill as "an engaging writer...[taking] readers on enlightening excursions...wherever his curiosity leads."