Rated

5

out of

5
by
Jessica47
from
Fascinating look at particle physics
This class is perfect for someone interested in particle physics but without a science background. The professor goes into the history of the discovery of the particles and we learn a little bit about the men and women who did this work. The content is dense but the Pace is good and things are well explained.
Date published: 2020-04-17
Rated

5

out of

5
by
Candleman NJ
from
like listening to a great mystery novel
The instructor explains what could be complicated matter (pun intended!) clearly and in a very interesting manner with useful analogies and can tell he is very excited about what he is discussing. Keeps your interest the whole time
Date published: 2020-03-15
Rated

5

out of

5
by
Klaus
from
Clarity is outstanding
Explaining such a complex subject in such a clarity is really outstanding. I am over 80 years old and enjoyed this course and recommend it to everyone thinking about it.
Date published: 2019-11-29
Rated

4

out of

5
by
Golfer37
from
Fed With a Firehose
This course held promise and with extra and outside study will be good. The professor attempts to take what is a difficult (for me) subject and condense a lot of material into 12 lectures. I'm half way through the course. I've watched the first six lectures three times. Visuals are few. The study guide is very good and improves my understanding of the material. I consider the study guide essential, not supplemental. Not a course for casual interest. Would I recommend it to a friend? Depends on the friend. I'll render a second report when I finish the course.
Date published: 2019-11-29
Rated

5

out of

5
by
iononmori
from
very informative
i have purchased many physic courses and Professor Carroll consistently does an amazing job of explaining the very complicated concept in a way that a lay person can grasp. I hated physics in high school as well as college because none of the teachers/professors were able to help me visualize or grasp the bigger pictures behind all the tedious formulas. I've purchased other Great Courses where Dr Carroll has lectured also; physics finally become interesting to me and i am so glad to have a little more understanding of the world i live in.
Date published: 2019-11-01
Rated

5

out of

5
by
Mallen
from
Great insight into lthe latest thinking in physics
An outstanding view of the latest perspectives of how physicists look at the microworld and how they arrived at their understanding.
Date published: 2019-06-03
Rated

4

out of

5
by
Meli
from
Interesting and accessible
I loved this course. It was educational and understandable and the last time i studied physics was in high school. When i streamed the lectures online however, lecture 11 came out as a repeat of lecture 10. and therefore I am not sure I will be subscribing to thegreatcourses plus, i mean what i f the same thing happens? This repeat does not happen on the DVD.
Date published: 2019-04-28
Rated

5

out of

5
by
Hubbleguy
from
Outstanding
I have most physics and astronomy courses from Great Courses. All are great. Too much hand motion in Unification course. Alex Filippenko in Astronomy is incredible. I'm adopting his text, Cosmos
Date published: 2019-04-27
Rated

5

out of

5
by
BE70
from
Excellent Presentation
I bought this to augment the Great Courses Cosmology Course by Dr Whittle (which is also a great series) and am very satisfied.
Date published: 2019-04-25
Rated

1

out of

5
by
Bargi
from
For the layman, the course is worthless. Professionally presented for sure, mostly for the expert.
Date published: 2019-03-20
Rated

1

out of

5
by
AriM
from
Do not buy this course.
Prof. Carroll perpetrated a great injustice in the Particles for Justice controversy. My friend Janice Fiamengo in her Fiamengo File recounts the shocking witch hunt perpetrated against Alessandro Strumia. Prof. Carroll was one of the authors of the shockingly unjust document that ruined the career of an innocent man. Is this the kind of professor you want to support with your course purchases? Stand up to the bullies. Do not buy this course. Demand better from The Great Courses.
Date published: 2019-02-06
Rated

3

out of

5
by
DDKavanagh
from
Interesting but not educational
An interesting but not great series of lectures. For non physicists it presents some interesting views of reality. For someone who is really trying to learn about the subject it suffers from the standard modern physics lecture faults; a plethora of nouns without definition. What is really meant by "electron spin"? If it is 'spin' why must the value be an integer? What are the relationships of all the particle types to quarks or each other. What is a "particle"? A bit of matter or a standing wave node? What does a physicist mean when he says "energy"? What does an electron volt have to do with momentum? And the list goes on. DDK
Date published: 2018-11-24
Rated

5

out of

5
by
PlymouthWoodworker
from
Lecturer is Excellent
Excellent presentation for the scientifically inclined. Taught at a high enough level to get into the details, but does not go into the mathematics. The course progresses in a logical way, and the lecturer conveys thoughts and concepts very well.
Date published: 2018-11-06
Rated

5

out of

5
by
HtwoB
from
Clearly and Logically Presented
A remarkably clear and logical presentation of an extremely complex and difficult subject. I have read numerous books and watched several videos on the subject of Quantum Mechanics which all left me confused and discouraged. The manner in which this course developed the subject matter finally began to give me a glimmer of hope that I could begin to comprehend this new reality, and am wanting to learn more!
Date published: 2018-10-10
Rated

5

out of

5
by
B W Schuster
from
Outstanding course - fascinating
My primary interests lie in the areas of philosophy and religion, so this course has a significantly different focus. I had no previous exposure to quantum theory or physics, applied or otherwise. I found this course to be fascinating. The presentation and all the explanations were detailed and clear, without necessitating a deep dive into the underlying mathematics. The video supporting the topics was also helpful. I think anyone with an intellectual curiosity would enjoy this course.
Date published: 2018-09-29
Rated

5

out of

5
by
PamPAC
from
Candy for the Brain
As an "older" woman with no science background, but lots of interest, I was spellbound by this course. I can't pretend that I grasped it all, but enough to make me want to dig deeper. What a great way to keep my mind active!! Dr. Carroll was a great lecturer and kept my interest even when I didn't quite get it. The course production was excellent and helped enhance my understand. I highly recommend the video as opposed to just the audio. I plan on taking all of Dr Carroll's courses in physics.
Date published: 2018-09-02
Rated

5

out of

5
by
MrBob
from
Nice overview of the latest in particle physics for the non-physicist including the importance of the higgs boson and how particle accelerators are built. This is a lot of material to absorb, and in lesson 11, he finally lost me. I need to mull this stuff for some time and then go back to lessons 11, 12/.
Date published: 2018-07-22
Rated

5

out of

5
by
SamwiseP
from
Complex ideas explained clearly.
A fascinating walk through the world of particle physics, the LHC and, of course, the Higgs boson.
Date published: 2018-07-19
Rated

3

out of

5
by
Mary Lou
from
very complex, good attempt to make it simple
I was distracted by the staging. Too much of a performance.! Hardly a course. Professor explained well and tried to not use math equations. I much preferred the desk and presentation in the astronomy course.
Date published: 2018-07-16
Rated

5

out of

5
by
Tommy G
from
Dr. Carroll presented the heretofore baffling Higgs Boson within reach for a mind not steeped in particle physics or quantum mechanics. He presents very clear analogies while dispelling faulty common analogies. Thoroughly enjoyable much as his Dark Matter, Dark Energy course. I am no longer terrified by physics.
Date published: 2018-07-12
Rated

5

out of

5
by
Flynnster
from
The title was consistent with the content
I wanted to learn about the Higgs since I had taken University level particle physics in the late 1970's. This video course filled in gaps and is presented by a true expert who does walk through the historical build up to the Higgs. The proof of the Higgs existence as predicted from theory brilliantly confirms that field theory and symmetry are a sound model for the subatomic. This course explains without undue complexity another fascinating piece of the mathematical tapestry we humans have woven that explains the universe of all things. Discoveries like this reaffirm my belief that the invention of mathematical science is proving to be the crowning achievement of mankind.
Date published: 2018-06-27
Rated

5

out of

5
by
ColinR
from
Enjoyably dense and completely fascinating, I've listened to this a couple times over and love it.
Date published: 2018-06-18
Rated

3

out of

5
by
Dr Stan
from
Needs more lectures
I loved this course but there is far too much material covered in too few lectures. I could not begin to digest it all. Quantum field theory is super dense and needs much more time to tell.
Date published: 2018-06-10
Rated

5

out of

5
by
Gary Kitson
from
Sean Carroll is the absolute best ever!
I have 40-year-old degrees in physics and math, was a math teacher as a young man, was a US Air Force officer, and am a recently retired senior manager of a $35 billion aerospace/defense company. Stand-up presentations were a daily routine for me and I have studied and taught the art of effective communication. In my judgment Sean Carrol is as close to perfect as I have ever seen. I will buy any course he offers.
Date published: 2018-05-25
Rated

5

out of

5
by
PhilipF
from
Not for the faint hearted
If you are comfortable with particle physics concepts such as fermions, bosons, spin and colour then this is a fascinating step up to quantum field theory. If not then you might enjoy Don Lincoln's "The Theory of Everything" first. Sean Caroll's energetic delivery assumes a confident familiarity with the material and I found some of the lectures called for a review of the notes and a second viewing. Having said that, the course is fascinating, informative and very enjoyable.
Date published: 2018-05-03
Rated

5

out of

5
by
Geoff42
from
Excellent presentation
Prof. Carroll gives an excellent presentation of an intriguing subject. Brings the whole subject to life in a very interesting way.
Date published: 2018-04-25
Rated

5

out of

5
by
Birgit
from
Polished presentation, excellent instructor
We just finished watching this course and were thrilled with it. I felt there were a couple of areas that lost me, specifically the explanation of symmetry and the point of adding up values from Feynman diagrams. That said, the rest of the course more than made up for my confusion in these two areas. Prof. Carroll begins with a discussion of field theory and the particle zoo. Since these topics were new to me I was enthralled. His presentations were clear and densely packed with information. More than that, the caliber of the production is noteworthy in and of itself. Prof. Carroll uses several tactics to keep the viewer engaged in a course that largely discusses the unsee-able - backdrop panels move slowly, he constantly shifts between cameras, and he incorporates several good dollops of physics history. Surprisingly he never stutters or has empty air time. He's constantly explaining abstruse concepts in clear English and has frequent computer-generated visual aids pop-up next to him on the screen to illustrate points. I feel this course is informative and thought provoking. I found myself rushing gleefully to the den each evening where my spouse and I would settle in for our nightly installment of knowledge. I very much enjoyed the course and recommend it highly.
Date published: 2018-04-19
Rated

5

out of

5
by
hifive
from
Very interesting research
The Higgs boson has been at the center of recent research and any one who is interested in physics would want to know about this recent discovery. Excellent professor.
Date published: 2018-04-18
Rated

5

out of

5
by
GrantG
from
Exciting concepts
This series takes you through the entire stands model of particle physics and explains the final piece the Higgs-Boson (and how they discovered it). The lecturer is clear and straightforward and there is no necessary prior knowledge to enjoy this course
Date published: 2018-04-06
Rated

5

out of

5
by
NorthForkSplash
from
A very interesting overview
Just what the Doctor ordered! Exactly at the level of what was needed without going overboard, or tripping up, on math or theory. Nicely done!
Date published: 2018-03-30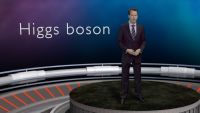 1: The Importance of the Higgs Boson
Why was the discovery of the Higgs boson such a big deal? That's the key question that Professor Carroll tackles in his illuminating introduction. Take a fascinating dive into the world of modern particle physics and see how the Higgs is the missing piece of a scientific puzzle that helps us understand the "rules" for the universe.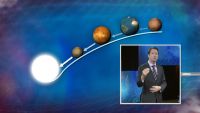 2: Quantum Field Theory
Toss out the textbook image of electrons circling an atom's nucleus. This lecture explores the big twist of quantum field theory: The world isn't really made of particles. They're fascinating and necessary figments of quantum mechanics created by observing the fields that fill every inch of the universe, and grasping that eye-opening concept is essential to understanding the Higgs.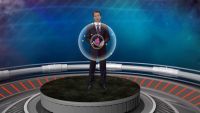 3: Atoms to Particles
Now that you know what particles really are, it's time to walk through the "particle zoo" and explore the roles of photons, gluons, and quarks. Along the way, Professor Carroll looks back on the development of the Standard Model and how our changing understanding of the weak nuclear field suggested the existence of the Higgs years before we found it.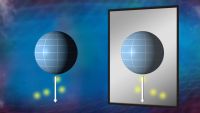 4: The Power of Symmetry
Symmetries don't only apply to geometrical objects. They apply to the laws of physics themselves. In this lecture, you may feel your mind twist in asymmetrical ways as you explore how symmetry governs the known forces of nature and how it helped form a wild theory that an as-yet-undiscovered particle-the Higgs-must exist.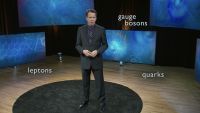 5: The Higgs Field
With the basics of particle physics covered, Professor Carroll walks us through the decades-long hunt for the Higgs. You'll meet the many brilliant minds-Anderson, Englert, and Higgs among them-who determinedly set out to solve the mystery of the weak nuclear field. You'll also discover why Angelina Jolie is like a top quark.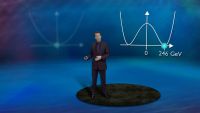 6: Mass and Energy
In this lecture, "classical" physics, as explained by Newtonian and Einsteinian mechanics, provides insight into what makes the Higgs so special. Uncover the key to the Higgs's uniqueness in the particle zoo-that even at its minimum energy state (its "resting" state), the Higgs field has a large, constant value.
7: Colliding Particles
Once physicists established the need for the Higgs boson to exist, how did they set out to locate it? It was just a matter of bringing the particles and fields together under the right conditions. You'll see how physicists use Feynman diagrams to keep track of how virtual particles carry the various forces between quarks and leptons.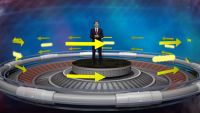 8: Particle Accelerators and Detectors
Want to build your own particle accelerator? You'll need a lot of money, a lot of room, and the information that Professor Carroll shares in this lecture. You'll learn that particle accelerators aren't simply "atom smashers." They bring into existence new particles that weren't there before.
9: The Large Hadron Collider
If blacksmithing were like particle physics, the Large Hadron Collider would be the anvil. Seventeen miles around and representing the unprecedented cooperation of scientists worldwide over the course of years, the LHC is a remarkable achievement. Explore its construction, capabilities, and amazing promise for the future of physics.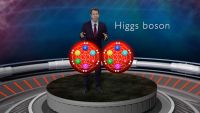 10: Capturing the Higgs Boson
Looking for a needle in a haystack? Try looking for a never-before-seen particle in the largest machine ever built. With the LHC complete, the search for the Higgs began in earnest, and particle physics combined with probability to find the missing piece in the Standard Model puzzle. Professor Carroll describes both the exciting hunt and the key players in the amazing discovery.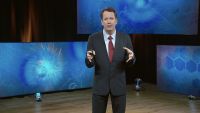 11: Beyond the Standard Model of Particle Physics
Now that the Higgs boson has been found, everything is answered, right? Not quite. Professor Carroll says the properties of the Higgs suggest that something else is at work out there. Moreover, the Higgs boson can be a stepping-stone to our exploration of dark matter, extra dimensions, the asymmetry of matter and antimatter, and a Grand Unified Theory of particle physics.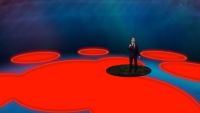 12: Frontiers-Higgs in Space
The Standard Model explains the forces and molecules that comprise us and everything with which we interact. But even with the Higgs, we can't explain the stuff that makes up 95% of the universe: dark matter and dark energy. In his conclusion, Professor Carroll shines a light on dark matter, its relationship with the Higgs, and the wonderful mysteries still ahead.
Sean Carroll
We need to push on our understanding of cosmology, particle physics, gravity, not to mention how complexity and entropy evolve through time, and eventually you'll be able to really understand what our theories predict.
ALMA MATER
Harvard University
INSTITUTION
California Institute of Technology
About Sean Carroll
Professor Sean Carroll is a Senior Research Associate in Physics at the California Institute of Technology. He earned his undergraduate degree from Villanova University and his Ph.D. in Astrophysics from Harvard in 1993. Before arriving at Caltech, Professor Carroll taught in the Physics Department and the Enrico Fermi Institute at the University of Chicago, and did postdoctoral research at the Massachusetts Institute of Technology and at the Institute for Theoretical Physics at the University of California, Santa Barbara. Professor Carroll is the author of Spacetime and Geometry: An Introduction to General Relativity, published in 2003. He has taught more than 200 scientific seminars and colloquia and given more than 50 educational and popular talks. In addition, he has written for numerous publications including Nature, New Scientist, The American Scientist, and Physics Today. Professor Carroll has received research grants from NASA, the U.S. Department of Energy, and the National Science Foundation, as well as fellowships from the Sloan and Packard foundations. He has been the Malmstrom Lecturer at Hamline University, the Resnick Lecturer at Rensselaer Polytechnic Institute, and a National Science Foundation Distinguished Lecturer. While at MIT, Carroll won the Graduate Student Council Teaching Award for his course on general relativity. In 2006 he received the Arts and Sciences Alumni Medallion from Villanova University.