Forgotten War: The Lasting Legacy of World War I
Rated

5

out of

5
by
Laurence F
from
A gap that needs to be filled
I agree completely with the other reviewers that there needs to be a full course. Considering the breadth and depth of the history courses carried by TGC, the absence of a course on WWI represents a glaring hole in the catalogue.
Date published: 2021-05-12
Rated

5

out of

5
by
logicalpositiv
from
great but short
Need a full length course. The teaching company had a great one in the past
Date published: 2021-05-10
Rated

4

out of

5
by
brad461
from
why not a full course?
This short lecture hardly does the topic justice. There should be a complete course. No wonder this war has been forgotten as there is no course on it in your archive
Date published: 2021-03-14
Rated

5

out of

5
by
Kelly
from
Succinct review
I'd love to see a full course of WWI. It's critical for understanding WWII and most people know almost nothing about t.
Date published: 2021-02-28
Rated

5

out of

5
by
Anonymous
from
Excellent Presentation
We are loosing the detailed knowledge of this era - those that lived through it have passed on - yet this is crucial to understanding where we are today. The material here is clearly and dynamically presented with great perspective. I highly encourage you to complete this course.
Date published: 2021-02-21
Rated

5

out of

5
by
Kirill
from
I need this course!
Great professors! I'm looking forward to the full course! Could you please tell me when you are going to add it?
Date published: 2020-11-13
Rated

4

out of

5
by
Rise2
from
Great explanation of what the lecture is about.
Too often people dismiss WWI, but this lecture does a very good job of showing how later events come about from this war. I would have preferred more detail, but for anyone wanting a better understanding of the consequences of the war and the peace settlement that arose will get an excellent introduction.
Date published: 2020-10-17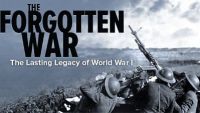 1: Forgotten War: The Lasting Legacy of World War I
Four esteemed professors—Edward T. O'Donnell, David R. Stone, Craig L. Symonds, and Patrick Allitt—with different historical specialties discuss the implications of World War I, the military strategy, the triumphs and failures, and the war's legacy for both America and for the world.