Plus Pilots: Harriet Beecher Stowe and Harriet Tubman
Rated

5

out of

5
by
VicRob
from
Very informative
Great to watch anytime but especially during Women's History Month.
Date published: 2021-03-16
Rated

5

out of

5
by
Marusya
from
Cant wait for the course!
We watched Robert Bell's earlier course on "America's Struggle Against Slavery," which was riveting. This pilot is excellent. We'll turn to the full-up course as soon as it is available.
Date published: 2021-02-19
Rated

5

out of

5
by
JackieR
from
Excellent
I hope to see more in the future. This lecture was enjoyable and I learned a lot!
Date published: 2021-02-05
Rated

5

out of

5
by
taty08
from
Lecture of the 2 Harriets
Great lecture. Learn more than what I knew about the under ground railroad! I would highly recommend this a support lecture for anyone taking African American history in college.
Date published: 2020-11-20
Rated

5

out of

5
by
Mari Dallo
from
Really good!
Amazing to see how these two women helped the anti-slavery movement! The instructor painted a very realistic picture so that I could see the scenes with clarity.I hope this course is continued,
Date published: 2020-11-02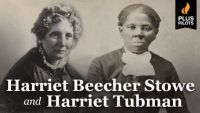 1: Harriet Beecher Stowe and Harriet Tubman
When it comes to heroes of the antislavery movement, there are, interestingly enough, TWO pivotal Harriets. Examine Harriet Beecher Stowe's blockbuster novel, Uncle Tom's Cabin, to better understand the ways in which Stowe advanced the fight against slavery and edged America closer to the Civil War. Then, explore the more immediate and equally decisive steps taken by enslaved people and their allies to build an antislavery escape network that stretched from the bowels of the slave South all the way into British Canada, with a focus on a different Harriet—Harriet Tubman.