Rated

5

out of

5
by
Miss Tweety
from
Great teacher
The teacher is easy to understand and she shows you what she is talking about. I haven't watched all of it yet. I do like what I have seen. Thanks
Date published: 2020-07-20
Rated

5

out of

5
by
Joree
from
Helpful for re looking at my work
I have crocheted baby blankets for years. This reminded me of things I should have been doing for more complex designs .
Date published: 2018-06-08
2: Creating a Fabric
Learn how hook and yarn choice determine the look and drape of crocheted fabric. Then, discover how to rid yourself of too-tight foundation chains forever as Edie demonstrates how to create a foundation single crochet row. Say goodbye to accidentally skipped or added stitches as Edie shows you two ways to work the turning chain in double crochet.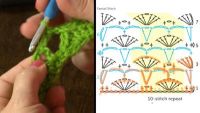 3: Reading a Pattern
Gain confidence in pattern-reading as Edie explains the common punctuation found in written crochet patterns. Understand how fabric comes together, then take a dip into reading diagrams as Edie walks you through several examples. Crochet along with Edie as you make a lovely fantail swatch using just a crochet diagram.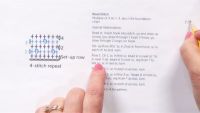 4: Pattern Problem Solving
Delve deeper into pattern-reading as you examine the subtle changes that can make a pattern more or less clear. Skip frustrating patterns and learn to identify clear ones as Edie shares her checklist for what makes a good pattern and the red flags that warn of a bad one. Then, gather Edie's tips for keeping track of your place in a pattern -- written or diagram --and learn her foolproof trick for keeping track of rounds while working in a spiral.
5: Gauge
Explore the importance of gauge as you discover all of the factors that can affect your stitch size. Learn to crochet a helpful swatch so you can measure your gauge. Become confident in your ability to measure stitch gauge and row gauge whether you're working flat, in the round or with lacy and textured patterns!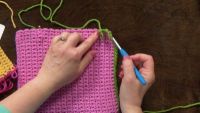 6: Edgings
Add professional-quality edgings to give your pieces polish. Discover Edie's easy methods for picking up stitches evenly -- even when working with stitch multiples. Never deal with curled-up corners again as you learn how to follow a curve and turn corners without creating puckers. Finally, master the crab stitch, a great corded edge, as you crochet in reverse!
7: Refinements
Tackle more advanced techniques as you learn a way to create fabric that is uniform on both the beginning and final edge. Stitch colorful granny squares with seamless color joins and add the standing double crochet stitch to your repertoire. Plus, control where your hook ends up when you are working motifs in the round, so you'll always be in the perfect place to begin the next stitch.
Edie Eckman
Whether we are knitting, crocheting, or sewing, we are not only shaping our fabric, but we are creating our fabric at the same time.
About Edie Eckman
Edie Eckman is a teacher, designer and author of bestselling crochet books, including Around the Corner Crochet Borders, The Crochet Answer Book, and Beyond the Square Crochet Motifs. Edie's classes are infused with her desire for pattern instructions to be understandable and accessible for all crocheters. Her articles and designs have appeared in a variety of publications, including Interweave Crochet, Knitters and Knit 'n Style.