Plus Pilots: Building a Website with HTML and CSS
Rated

5

out of

5
by
Michael47
from
I enjoyed this course
EXCELLENT! This course is an excellent introduction on how to start thinking about building up a website. I think everyone who wants to be a web designer need to see this course.
Date published: 2021-03-14
Rated

5

out of

5
by
GmaDi
from
Looking forward to more lectures
I am looking into building a website to promote my husband's small business. I found this course to be very informative. Professor Jen White is engaging to watch and presents her material clearly. In her presentation she addresses both people who need a website to use but are not programmers and also those who would looking into self hosting. We will likely be using a web service such as Squarespace or Wix at least initially, since the learning curve for Wordpress or programming languages would delay the launch of a usable site. The advice for planning strategy, identifying goals as a beginning has given me a starting point. I hope this course will be continued with additional episodes.
Date published: 2021-02-14
Rated

5

out of

5
by
CrissyPie
from
Looking forward to a full course
I am self-taught in many things, such as web design, but I have a Computer Science degree from about 28 years ago. I look forward to watching this full course to refresh my knowledge of web design that has languished as I've taken a more creative route in graphic design and photo editing for much of the last 20 years
Date published: 2021-01-10
Rated

5

out of

5
by
MichelleMit
from
Interesting and engaging.
I enyjoyed the pilot lecture and hope more lectures in this series become available. The instructor clearly explained the initial steps involved with designing a website - the planning - what we are wanting to accomplish with the site and who we are trying to reach.! I think people probably want to jump right into the mechanics (the coding etc) and overlook this first step.
Date published: 2020-11-18
Rated

5

out of

5
by
scribendi
from
Looks excellent!
Really looking forward to this one! My knowledge is way out of date. I really like all the information about goals and who your audience is. I'm also eager to learn about how to structure a site's navigation -- I've always felt that was one of the most important elements. Is this course still on its way?
Date published: 2020-10-14
Rated

3

out of

5
by
Ninjaneer
from
Tempting start
Interesting start with a good rounded case study to illustrate the principles. Absolutely no mention of HTML or CSS so far though. I will be interested to see how it develops. So far not enough to go on as to whether it will be any good, but I wouldn't rule it out yet.
Date published: 2020-09-08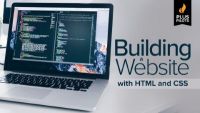 1: Building a Website with HTML and CSS
Professor Kramer demonstrates how websites have evolved from simply being a digital billboard advertising your message to now being dynamic destinations where people can learn, engage, consume, play, interact, and more. She then discusses what it takes to create an overall strategy for a successful website as she walks you through how to determine your goals, audience, message, interactive elements, platform, and other key details.