Plus Pilots: Engineering School for Everyone: Statics
Rated

5

out of

5
by
Fred 1
from
Great presenter
I was very impressed by the way the professor made the subject matter seem so easy. She was an excellent speaker and held your attention throughout the lecture. I would definitely recommend this course.
Date published: 2021-02-11
Rated

5

out of

5
by
warkittenz
from
I hope they fill out the whole course!
The plus pilot course Engineering School for Everyone: Statics was a fantastic lecture! I hope the pilot becomes a whole series! This kind of in depth look at how basic engineering works has been underrepresented in The Great Courses Plus portfolio, especially considering the level of Math that is included (which is wonderful). I only mention it because I think with would compliment the courses currently available quite well. I hope the company will finish the whole series. P.S. The professor was great in pace and spoken clarity which is a must for technical subjects in my opinion. Additionally she sprang with enthusiasm which is a great way to engage the audience. Bonus points for helping women get recognized in the field! Great stuff all around!
Date published: 2021-01-03
Rated

5

out of

5
by
ggarcia
from
Great Introductory Course
I think the professor displays not only great knowledge but great enthusiasm. I enjoyed how she applies the science of statics towards simple machines. My background is in chemical engineering and I am currently studying for my MS in mechanical engineering, and I felt that this course was great to brush up on some of the basics. I would recommend this to anyone who was interested in engineering. My only wish is that this course is expanded with her as an instructor.
Date published: 2020-12-26
Rated

5

out of

5
by
contraryJim
from
Good presentation
I am sad that this was just a pilot. The presentation was well organized and gave it's place within the knowledge field.
Date published: 2020-11-18
Rated

5

out of

5
by
InquisitiveMind
from
Looking forward to more in this series!
Instructor is passionate about the topic and articulates the material clearly and concise.
Date published: 2020-11-17
Rated

5

out of

5
by
george91
from
Great lecture!
Interesting and useful lecture. Eager to have the full course soon.
Date published: 2020-11-17
Rated

5

out of

5
by
Anonymous
from
Incredible Course for Understanding the World
This is an excellent lecture and I am eagerly waiting for the full course release. This engaging instructor taught not just the engineering/mechanics topics, but also presented the ways in which mathematics are applied in mechanical engineering. Courses like this help to blend the topics/information taught across your other offerings, increasing the overall knowledge your company seeks to provide. PLEASE fully develop courses like these for release. The STEM areas need more content and these offerings are a great way to accomplish that task.
Date published: 2020-11-06
Rated

5

out of

5
by
jimc50
from
fascinating topic
I love courses like this. looking forward to the rest of this course.
Date published: 2020-11-05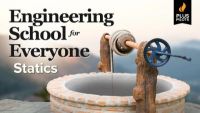 1: Engineering School for Everyone: Statics
Join Professor Haden to deconstruct a simple system—the pulley—and through this project, gain a deeper understanding and appreciation for the machines and structures in your everyday world. As you dive into simple machines, you'll see how learning the foundations of mechanical engineering—such as the laws of physics and conservation of momentum—can lead you to accomplish more complex tasks and systems. With this lecture, you're taking the first step toward greater capabilities in the analysis of mechanics.