Plus Pilots: The Great Fire of 1666
Rated

4

out of

5
by
DirkDammit
from
A very informative 32 minutes
I thought the presentation was generally good. Quite a lot covered, that might then lead people to venture into other related areas of history.
Date published: 2021-01-10
Rated

3

out of

5
by
New subscriber
from
Interesting, but...
The information provided was somewhat interesting, but leaves more questions than answers. As mentioned by a previous reviewer, the speech pattern of the speaker was almost juvenile in nature, seeming to address younger audience with language more suited to a school-age listener. The speaker was also slow and deliberate in his speech which caused the subject matter to become drawn out and tenuous. The frequent changes in direction to address different cameras were distracting and further drew out the length of a rather basic lecture. This would not be as noticeable if one were just listening, except for the pauses for those direction changes. All-in-all there were a few interesting facts, but the presentation was slow and elementary and not what I would consider a special benefit to streaming subscribers.
Date published: 2020-12-23
Rated

2

out of

5
by
nkboyd
from
Poor narration
There is good information in this lecture but the narrator talks in a monotone and speaks as though he's talking to children - slowly and deliberately. It actually feels condescending the way the information is delivered.
Date published: 2020-12-09
Rated

5

out of

5
by
Zann
from
Interesting lecture.
Until watched this pilot I knew nothing about the Great Fire, only that it occurred in 1666. The speaker gave a clear description of this event as well as the aftereffects on London.
Date published: 2020-12-03
Rated

5

out of

5
by
Mari Dallo
from
Great description
The presenter did a great job in describing the events. Really enjoyed the number of details contained in the narrative. I would love to learn more.
Date published: 2020-10-26
Rated

5

out of

5
by
JonseyP
from
Well Organized
All I can say is that I wish I had this before taking a walking tour of the Great Fire when I was in London. So informative and well presented.
Date published: 2020-10-13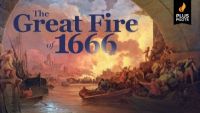 1: The Great Fire of 1666
Although by no means the first big fire London endured, "the Great Fire" of 1666 had a tremendous impact. Trace the path of destruction of this momentous event, which resulted in damages valued at 10 million pounds—2 billion pounds in today's currency. Look at both the social and cultural impact, as well as how the rebuilding efforts shaped the London we know today.