Plus Pilots: What We Know (and Don't Know) about the Big Bang
Rated

5

out of

5
by
skaar
from
Enjoyable, Informative, Easy to Understand...
Difficult topic make more understandable. The table illustration (near the end) could be make into a more engaging graphic. I watched the entire portion... keeping my eyes closed minutes at a time to determine if it works on Audio... it does. Visually.... the suit looks awkward. Embrace the pony tail hair style... clean it up... it's kool to have a tail like he has and talk physics. But the suit is visually distracting... consider a better fitting jacket/tie (or abandon it all together)... makeup to limit the shine / sweat... I enjoyed it... I don't know what other topics can be added to this lecture to make up 12 or 24 lectures... there are plenty of hot topics to discuss... the current "Crisis in Cosmology" (there are many of them)... The "are we living in the Matrix" makes more sense when applied to cosmology... whoever wrote this simulation really spent little time making the distant galaxies make sense... like the backgrounds of HALO (video game)... they're just there to give the impression of depth... don't study them too long/hard... Physics breaks down farther and farther out... who can make sense of it all? Verdict: Yes! Critic: Excellent material, visual presentation needs work.
Date published: 2020-09-10
Rated

5

out of

5
by
cvmiller1
from
Well done.
This lecture was presented logically and understandably. I EAGERLY look forward to the remaining lectures. Please release this course soon.
Date published: 2020-09-05
Rated

5

out of

5
by
Geroo
from
Very understandable
I thought this was a great lecture and would like to see more from him. He explained the Big Bang in a clear, concise manner and added really good details about what is going on now and in the future as far as we currently know. He is easy to listen to and highly engaging as a speaker. Please add more from him.
Date published: 2020-09-04
Rated

5

out of

5
by
PaulR
from
Good Explanation of What we know and Don't about t
This is a good introductory session about the Big Bang and our current knowledge of the state of the universe. Was concise and careful in claims about what is known. Would be interested in how this pilot woul dbe expanded into a full course.
Date published: 2020-09-04
Rated

5

out of

5
by
acardnal
from
This is a Course I would Take!
I liked this. I would take the entire course if/when available. The material was not too technical and the instructor had a good delivery. It was akin to watching something on PBS NOVA TV show. Graphics, imagery and video is important to any lecture otherwise I become bored - as with someone standing at a lecturn lecturing! I am a visual learner.
Date published: 2020-09-04
Rated

5

out of

5
by
Curious Jim
from
Now I Get It!
Professor Felder has finally given me an explanation of the Big Bang that makes sense and doesn't rely upon my already knowing a lot of Physics like so many other lectures. I recommend this to anyone interested in the fundamental facts about the Big Bang, and hope that Professor Felder will be given the opportunity to expand upon this brief introductory lecture.
Date published: 2020-09-03
Rated

5

out of

5
by
WaltP
from
Title hooked me and delivered honestly.
A worthwhile experience. Perfect balance between breadth of subject matter and detail of explanation. Understandable by viewers with a broad range of technical expertise and aimed especially at those of us who are not elite astrophysicists. I look forward to more lectures in this series.
Date published: 2020-09-03
Rated

5

out of

5
by
spiffyonion
from
Excellent - go to full course!
Excellent excellent excellent lecture. Engaging, easy to digest explanations for the lay person (which is HARD with this topic), and mindblowingly fascinating + sparking of a desire to keep learning more about the Big Bang and the origins of the universe! Great presenter all around - please go to full course!
Date published: 2020-09-03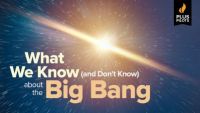 1: What We Know (and Don't Know) about the Big Bang
Chances are, what you think you know about the Big Bang is not accurate. Professor Gary Felder takes you on an eye-opening journey through time and space to reveal what we know about the Big Bang, the expansion of the universe, the possible futures for the universe, and the important way in which our understanding of the future of the universe has changed in the last few decades.