Plus Pilots: The Pirate Wars of 1718
Rated

4

out of

5
by
Yehuda Moussadji
from
Good introduction
The topic is definitely interesting. I would like the lecturer to be more excited about what he is teaching. He knows his stuff for sure, but he would benefit from showing more confidence about it (this is coming from someone with a background in theatre). I'm not sure if this is common to all pilot episodes, but I noticed it in the only other video I've watched so far, which was also a pilot episode: needs more visuals.
Date published: 2021-04-23
Rated

3

out of

5
by
aribrixo33
from
Interesting Topic - Needs More
Pirates are an exciting topic in general, but I would love for this course to be expanded to larger pirate history from the ancient world through to today
Date published: 2021-01-30
Rated

5

out of

5
by
Steve Zionsville
from
Would love to see more
We really liked how the lecturer connected the topic to the wider historical context.
Date published: 2021-01-09
Rated

4

out of

5
by
Cab512
from
Intriguing Subject
The instructor did a very good job of retaining interest in the subject matter and while you could tell it was just a Pilot episode and not fully realized, I'd gladly watch further episodes.
Date published: 2020-10-27
Rated

4

out of

5
by
bethany322
from
Is this one lecture from a longer course?
This lecture was great - if it is part of a larger course, I would definitely be interested in streaming all the lectures in this course. They may - as another reviewer mentioned - have more course materials and visuals if there are more lectures.
Date published: 2020-10-20
Rated

4

out of

5
by
Tom0686
from
Very Informative
I enjoyed the lecture quite a bit. It gives broader perspective on events that are taking place in the Americas at the time. We tend to focus on US history in this region and the interactions between Britain and the Colonies without looking at outside factors. I look forward to future lectures on this subject.
Date published: 2020-10-18
Rated

3

out of

5
by
Stug
from
Fascinating historical subject
An extremely interesting subject which places the pirate wars into historical context. I think the video would have benefited from a few images, things like maps or images of the particular types of ships that were mentioned, images would have definitely enhanced the learning experience. As an audio lecture it's okay but as a video it's hard to watch, the constant flicking between the two camera positions was a bit of a distraction and completely unnecessary. Having said all of that, I would definitely recommend this lecture to those who are interested in pirate history and the pirate wars.
Date published: 2020-09-22
Rated

5

out of

5
by
Parts
from
Great Historical Context
I liked that this course provided historical context for the age of piracy. For example, what caused it, where they operated, when, and the results. So this course was much more than just "tall tales" about pirates The lecturer was quite good but he appeared to be reading. (one of the best is Dorsey Armstrong... does she actually use a teleprompter? I'm sure she does but you wouldn't know it.)
Date published: 2020-08-27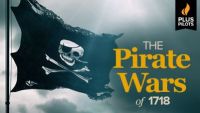 1: The Pirate Wars of 1718
Go beyond the pop-cultural portrayal of pirates and get to know the true buccaneers, bandits, and brigands who looted, burned, warred, killed, and caused mayhem for decades, while at the same time turning society as we knew it at that time upside down. Dig into the true history of the infamous Blackbeard, follow the adventures of lesser-known Richard Worley and Stede Bonnet, and discover the lasting impact the golden age of piracy had on the world at large.