Rated

5

out of

5
by
DHooch
from
First impressions can be wrong.
I have to admit, when I first opened the first lecture of this course and Professor Fleury started to talk, staring into a teleprompter, with no emotion, I thought to myself, this is not going to be good. First impressions of this course and Professor Fleury not only can be wrong, but, are wrong! After the Professor explained his disability I was a little more at ease, as to what to expect. Once I got into his course, I was pleasantly surprised at his knowledge and fine descriptions of all aspects of birds. His lectures are laid out perfectly, each one well organized and he explains the concepts very well. He even adds a bit of humor. I still laugh at the thought of his story about his son's bird "Petey" (spelling?). Anyway, the lectures are grouped in a logical order, the current one based on previous ideas. There was not a time that I thought the lectures were boring. I learned a lot about birds, over and above the things I already knew. There were very good photo examples of many types of birds. There were birds shown and described that I had never heard of. There were, also, discussions of bird behavior that I had not heard or read about. Birds ARE complex animals. The beginning lecture discusses birds and dinosaurs. I know some people do not acknowledge evolution, but, it was a fair discussion of how birds came to be. As someone else said, just move on and the rest of the course will be very enjoyable. I had preconceived ideas about this course when I first started to watch it. I was wrong in my thinking. This was one of the most enjoyable courses I have watched, out of the 54, so far. It took me about a half lecture to change my first impression and I am glad I stuck with it. I do not go out to bird watch and might never bird watch in the future. I can say that I will be more aware of birds and their behavior, when I see them. I would, however, highly recommend "The Scientific Wonder of Birds" to anyone interested (or not particular interested) in birds. It is an enjoyable course either way.
Date published: 2020-08-25
Rated

4

out of

5
by
Travel Girl
from
Intricate and Fascinating Birds
Because I am very Christian, I don't believe that birds derived from dinosaurs, so I really don't care for the first chapter or any further reference to such stuff but I enjoy the rest and am learning cool things.
Date published: 2020-08-12
Rated

5

out of

5
by
GaryS
from
Wonderful Course
I thoroughly enjoyed this course. The instructor is very knowledgeable and loves his subject. He seems like a favorite uncle explaining the world around us. With wit and humor he provides an excellent tour of the science behind the birds we see everyday. It was hard not to binge-watch his lessons. Another great offering from The Great Courses!
Date published: 2020-07-29
Rated

5

out of

5
by
cgesch
from
Brought to You with Enthusiasm and Humor
The professor starts the lecture by explaining he has MS and will not be moving around. He then proceeds with 12 lectures in which he conveys the amazing animal that is the bird. At times I thought how much he must miss being out birding, but Prof Fleury has too much respect for his subject to ever bring in his own problems. This is a joyous study of birds and flight, starting with the dinosaurs and pterosaurs. My only complaint is that there were only 12 lectures.
Date published: 2020-07-16
Rated

5

out of

5
by
judy37
from
Beautifully organized. Makes life more interesting with my new awareness of the life of birds. They are amazing.
Date published: 2020-07-16
Rated

5

out of

5
by
Bakkenguy
from
My neighbor is an avid birder and I shared information from the course that amazed even him.
Date published: 2020-07-11
Rated

5

out of

5
by
Fishman63
from
Wonderful!
I have to thank Dr. Fleury for this wonderful introduction to the beautiful and amazing world of birds. His sharing of his lifelong love and birds and his study of them felt like a personal gift to me.
Date published: 2020-06-30
Rated

5

out of

5
by
Steve J
from
Delightful summary of bird science
Concise course on range of bird topics from evolution to everyday life of birds. Clearly described with timely graphics and a touch of humor. I highly recommend to anyone interested in these fascinating creatures.
Date published: 2020-06-26
Rated

5

out of

5
by
Bk63
from
Bird brains
Professor fleury, in this wonderful course, shows again and again that bird brains are nothing to be ashamed of. Well done.
Date published: 2020-06-17
Rated

5

out of

5
by
Nanci
from
Unusual approach to bird study
I love this series of lectures. It normally talks about birds, but it talks about the dynamics of flight, how a bird has evolved, how it relates to dinosaurs, how its bones are constructed and its eyes. It's just really very interesting taught by a brilliant guy.
Date published: 2020-06-05
Rated

5

out of

5
by
sherrie42
from
The Scientific Wonder of Birds
We have loved watching Professor Fleury explain the wonders of birds. His sense of humor is wonderful. He loves birds and conveys excitement about them. We love all the pictures and the concise information. We appreciate his knowledge and credit he gives to other researchers' works.
Date published: 2020-06-04
Rated

5

out of

5
by
DrTAM
from
Scientific Wonders
The videos demonstrated how God's creation is amazing. I never had a passion for birding, but I was stimulated to pay more attention to birds when I learned that they can sing two songs at once. The professor also pointed out that birds flap their wings in a figure eight, and that being called a "birdbrain" might be a good thing. I appreciated the professor's subtle humor and dedication to the material.
Date published: 2020-06-04
Rated

5

out of

5
by
Jotape
from
Great lecturea to choose fron
I bought 3 lectores 2 weeks ago because of a special offer
Date published: 2020-05-28
Rated

5

out of

5
by
Jimbo Limbo
from
Very informative. Increased my bird watching skill
I've been an avid birder for many years and watch every bird program I can find on the nature channels. However, in this course Professor Fluery reviewed details that all those shows never covered. I am more hooked on bird watching that I was before.
Date published: 2020-05-25
Rated

4

out of

5
by
Debbie Macomber
from
This was an informative and enlightening series. Because of a physical ailment, the professor is a bit stiff,but his passion comes through and is contagious.
Date published: 2020-05-16
Rated

5

out of

5
by
annie71
from
Think you know birds??? I did.I was wrong!
This course presented by Dr. Bruce E.Fleury,is absolutely fascinating! I learned so much about the evolution of lightly-feathered dinosaurs to modern fully-feathered birds.I learned about courtship,mating,nest-building,birth,behavior and extreme intelligence. Dr.Fleury was a well-respected ornithologist,and his love of the subject is humorous,witty,and deeply obvious.
Date published: 2020-04-22
Rated

5

out of

5
by
Sorcha90
from
Awesome learning experience!!
You want to learn about birds? This is a fantastic way to do it!
Date published: 2020-04-12
Rated

4

out of

5
by
Axxell
from
Wonderful Professor presentation
Learned very much about our closest and most diverse neighbors. How Cardinals in the forests in Carbon County, PA are different and similar in their rituals to Cardinals in Philadelphia, PA. After this course my wife and I now understand better how male Robins fight with their own image in glass windows. Note on how course are delivered. This is the streaming age, you can get college and higher degrees online. Computers today don't come with DVD players a the one we have was just replaced after 3 years. We won't use Great Course offerings if only offered on DVD.
Date published: 2020-02-24
Rated

5

out of

5
by
Tiger
from
Intro to Birds: Whirlwind Tour
Came here from Dr Fleury's other course, Mysteries of The Microscopic World. Loved that course. This one is excellent, too. It's short and sweet. Captivated throughout all 12 lectures. Learned a great deal and came away with a much greater appreciation for our avian friends. Other reviewers have commented on specifics better than me, so I'll just say that the Guidebook was well written, the lectures informative, graphics illustrative, funny anecdotes, etc.
Date published: 2020-02-24
Rated

5

out of

5
by
bobbyr
from
Very Good Course, Maybe Too Short
I usually feel that the Great Courses lectures are too long, but in this case I think the series was too short because there is so much more that could have been covered. Examples are hummingbirds living at ultra-high speeds or vultures adapting to a life of scavenging or an eagle chick taking its first flight off a perch that is hundreds of feet above ground. I was very impressed with Dr. Fleury's previous series, "Mysteries of The Microscopic World." This was excellent so I had to get these lectures, and I was not disappointed. Unfortunately, Dr. Fleury's presentation is not as good now due to an issue that he explains at the beginning of these lectures. Nevertheless, I thoroughly enjoyed learning about birds. The content is loaded with facts that are entertaining as well as educational. He covers diverse areas such as metabolism, sight, hearing, breathing, digestion, et cetera. In particular, I enjoyed the lectures on bird calls, egg laying, and nests. He explains how vultures soar, how some birds can sing two different songs at the same time, how eggs pass through the same canal as body wastes, how an arctic tern migrates from the north pole to the south pole and back even though the total distance is 25,000 miles. One fact that he discussed too briefly was the mass extinction of dinosaurs in the metazoic era. He discounts this theory, but never explained why? Finally, the course is very well organized with many excellent illustrations, and as usual, the guidebook is outstanding. While at times, he seems to be reading and his pace is too fast, overall Dr. Fleury reaches the goal of an excellent course. Enjoy this course - I recommend it.
Date published: 2020-02-09
Rated

5

out of

5
by
Homebody
from
Amazing Course
I haven't reviewed a course before on The Great Courses. I've taken a boatload of courses with them, starting when it was called The Teaching Company and you got your courses on Video Tape. This course is a standout because the professor packs an amazing amount of information into only 12 sessions. He's fascinated with birds and his love of the topic is communicated constantly but I think unconsciously. I didn't realized how unique the avian physiology is until it was explained to me clearly and succinctly. I reviewed this part several times to take it all in. The professor's presentation style is affected by his medical problems, but after the first 10 minutes I didn't even notice it. The only complaint, if you can call it that, is that the course was too short. There are so many areas that could be covered in more depth and others are are avoided because of the volume of material and the shortness of time. Avians are so markedly different from other vertebrates that they deserve more courses. I for one would be sure to purchase and enjoy them.
Date published: 2020-02-01
Rated

5

out of

5
by
Dan from Buffalo
from
Enjoyed this immensely!
This was the first Great Course I have watched. I thought it was excellent and I will certainly re-watch it in the future! The instructor is amazing and has a great teaching style! Thank you Professor Fleury for a wonderful experience with a topic you clearly love!
Date published: 2019-12-18
Rated

5

out of

5
by
JeffandFaye
from
Extremely Informative!
The teacher of this course really knows his subject matter. He is most informative and has amazed us with some surprising facts. Thoroughly enjoyable and binge watchable.
Date published: 2019-12-15
Rated

5

out of

5
by
PatC
from
Exceptional Presentation
Professor Fleury assembled this course in spite of being afflicted with Parkinson's Disease, so the presentation is admittedly not for all tastes. I expected his condition to be a distraction, but was pleasantly surprised. For me, the clarity in his subdued narration made the material easy to absorb, and his enthusiasm in the subject matter was anything but diminished. The material is dense, so tightly edited that I had to mentally catch my breath after each lecture due to the volume of detailed insights. I've watched courses that took twice as many lectures to exposit a similar amount of content. I have watched about 200 Great Courses, but this is only the second one I have been moved to review. It is actually two courses in one, a great introduction to bird science, but also a Better Living course on overcoming disability to craft an inspired first-rate presentation. This is a must-have, an excellent example of the joy of learning.
Date published: 2019-12-03
Rated

1

out of

5
by
why needed
from
I bought this course to give to my son who is teaching aviation theory to middle schoolers. We agreed that the professor's delivery would not hold the attention of 12 year old boys. It certainly did not hold our attention. I have returned the DVD to Great Courses for credit./
Date published: 2019-11-30
Rated

3

out of

5
by
Vermeer
from
Good, detailed info
The information is detailed enough for anyone who wants to learn all about the subject. The monotone voice made it difficult to listen. It took persistence and stamina to get through a lecture.
Date published: 2019-11-25
Rated

5

out of

5
by
UHICP
from
Perfect
Love professor Flurry. So sad cause of his disability but he still manages to make me smile. You go Dr Flurry. You are an inspiration and really encourage my birding adventures. Pray for your peace and hope for more courses. I wan an Infection Control nurse and a birder. Our lives are similar. That's why I like you so much! Blessings and thank you.
Date published: 2019-11-23
Rated

5

out of

5
by
Shijo
from
A Win–Win–Win
I had no interest in birds, and prior to this course couldn't tell a tufted titmouse from a water buffalo. Yet this is one of the most wonderful productions in any medium. Professor Fleury gets in and out of his personal struggles in two minutes, and by the end of Lecture One it's clear why he did so. Other professors of The Great Courses have ticks and issues with their affect, usually due to their overwhelming intelligence, but they feel no need to mention them. Parkinson's is unique and complex, thus this wonderful teacher and his profound view. The idea of a TelePrompTer never entered my mind and that one bad review confuses me. Professor Fleury's locution is crisp. He can sit perfectly still as a delightful chatterbox summing his deeply meaningful career, but does risk and succeed with enough movement while making his mind-blowing points. He looks great and his voice is smooth, natural, pleasantly clear. If you want birds, you name it, Professor Fleury has it all in one easygoing course with enough science to drive the jet's shaft. If Professor Fleury needs images (named birds), video (flight, egg hatching), jargon spelled in captions, or a scientific diagram, he's got it; and in Lecture Eight the birdsong is so loud and clear I scrambled for the volume control. I forgot my interest in nest construction as a child greeting mockingbird attacks with water pistols, and he explained every twig, horse hair, cigarette butt, and other detritus that goes into them, how many hours and miles they put in, and precisely why. Every lecture could not be more satisfying. His brilliant literacy also gilds the text and imagination. And most importantly, a grief counselor once told me to listen to the birds; so whatever we're going through, they make the most beautiful music and lift our spirits. A win-win-win for the professor, the company, and the next purchaser. . . . Congratulations!
Date published: 2019-08-20
Rated

5

out of

5
by
Nell Fraser
from
Great information
Very happy with it except in all the courses I have purchased the sound is not coordinated with the instructor's lips.
Date published: 2019-07-22
Rated

5

out of

5
by
Tulsastudent
from
Great addition
He does a great job in examining the topic and have learned many new facts about our feathered friends, the bird
Date published: 2019-07-13
1: Birds and Dinosaurs: The Origin of Flight
Begin by contemplating the integral connections between birds and dinosaurs. Examine mounting evidence that birds not only evolved directly from dinosaurs, but also they are themselves dinosaurs. Consider how bipedal reptiles gained the ability to fly, becoming birds, and how the cursorial (from the ground) and arboreal (gliding) theories of the origin of flight may intersect.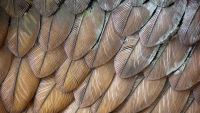 2: Birds and Boeings: The Magic of Flight
Delve into the fascinating aerodynamics of bird flight. Grasp how a bird's wings operate as an airfoil; study the forces of lift, weight, thrust, and drag, and how birds take off, land, and glide. Then explore the astonishing properties of bird feathers, as they control speed, altitude, and direction. Learn about the structure, the types, and the many roles of feathers in bird behavior.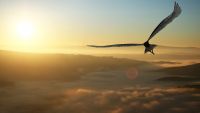 3: Burning Bright: Avian Adaptations for Flight
Discover the remarkable physiological features of birds that undergird flight. First, note how and why feathers evolved. Then, investigate the high metabolism of birds—they must burn energy at an astounding rate. See how birds are adapted for flight by many weight-reducing factors, and how their respiratory, circulatory, and excretory systems, as well as heightened senses, keep them airborne.
4: Orientation, Navigation, Migration: Bird Road Trips
Take account of the miraculous feats of navigation performed by birds, as they migrate huge distances with amazing accuracy. Uncover the ways in which birds use visual landmarks, magnetic fields, Sun position, and the position of constellations in their migratory travels. Consider why birds migrate, the diversity of their migration patterns and habits, and the perils of these epic journeys.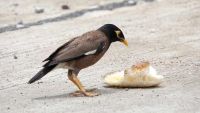 5: Bird Brains: Tool Wielders and Snack Stealers
Humans have tended to underestimate the intelligence of birds. Examine the structure of the avian brain and the extraordinary forms of intelligence birds show, such as memory, complex spatial mapping, and ingenious strategies in food foraging. Observe the role of instinct in bird behavior, their astonishing use of tools, and how bird behavior is correlated with the seasons.
6: Birds of a Feather: Flocking and Foraging
Track the intriguing behavior of birds when they form flocks or colonies. Grasp the diverse benefits of group foraging, and how birds form mixed-species foraging flocks. Investigate group roosting and breeding behavior, and study fossil evidence that suggests some dinosaurs nested just like modern wading birds. Assess why birds form colonies and investigate the advantages and perilous disadvantages of the colonies.
7: Avian Turf Wars: Defending a Territory
Witness the complex nature of competition among birds. Study "display" behavior, which sends a message regarding territory, courtship, or perceived threats. Observe the ways in which birds defend territory, for breeding and feeding, nesting and roosting. Note how territorial defense is highly ritualized and uses a series of recognized signals, and how birds' territoriality enhances survival.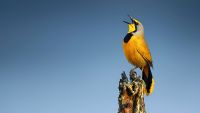 8: Bird Songs and Calls: Music with a Message
Explore the multifaceted phenomenon of birdsong, distinguishing between birds' songs and calls. Grasp the physics of song/call production, and how some birds can actually sing two songs at once. Learn about the innate versus the learned components of birdsong, how birds need to practice and perfect their songs, and the amazing variety of the individual and social functions of birdsong.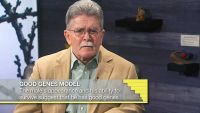 9: Avian Mating: Lady's Choice
Compare models which may explain female birds' choice of mates. Observe how females "test" potential mates and how males provide a basis for choice, through courtship displays or offering prime territory. Study the intricacies of avian monogamy and polygamy; take account of pair bonding in birds, extra-pair mating, sexual role reversal, and the avian equivalents of "adultery" and "divorce."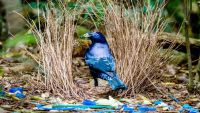 10: Avian Mating: Singles Bars and Bachelor Pads
Investigate three forms of avian polygyny, where one male mates with several females, and the factors that make it a useful adaptation. Then discover "leks," courtship arenas where males compete for mates, and witness the dramatic courtship displays of some male birds. Marvel at the Australian bowerbirds, who build elaborate, decorated structures whose only purpose is to attract a mate.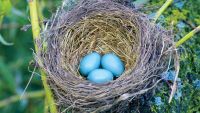 11: Nests and Eggs: A Home in the Sticks
Learn how birds mate; then examine the structure of bird eggs, how they are laid, and how laid eggs develop. Observe how nests are constructed, the diverse materials used to build them, the types and functions of nests, and the range of ingenious avian nesting behavior. Finally, explore how birds incubate their clutch, and study brood parasites, who lay eggs in the nests of other birds.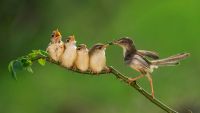 12: Parental Care: Bird Family and Friends
Close with a look at the hatching process and the contrasting conditions for altricial chicks (born naked and helpless) versus precocial chicks (born ready to leave the nest). Delve into how birds feed their young, and the process of educating fledglings for life in the wild. Study the adaptations of siblicide (nestlings killing each other), unmated young who help raise broods, and avian communal breeding.
Bruce E. Fleury
What made this course special for me was how much I learned in the process of teaching it. You're never too old to learn.
ALMA MATER
Tulane University
INSTITUTION
Tulane University
About Bruce E. Fleury
Dr. Bruce E. Fleury (1950–2020) was a Professor of the Practice in the Department of Ecology and Evolutionary Biology at Tulane University. He earned a BA from the University of Rochester in Psychology and General Science and an MA in Library, Media, and Information Studies from the University of South Florida. His career as a college reference librarian led him to Tulane University, where he became head of the university library's Science and Engineering Division. He went on to earn an MS and a PhD in Biology, both from Tulane. Professor Fleury was the author of numerous articles and newspaper columns, both popular and professional, and a reference book on dinosaurs. He taught between 600 and 700 students a year, and his courses included ornithology, introductory general biology and environmental biology, the history of life, and evolution in human health and disease. His teaching awards included two awards for outstanding teaching from the Tulane chapter of the Mortar Board National College Senior Honor Society and a Mortar Board "Last Lecture" Award, in which favorite professors are invited to give a lecture as if it were their last. Professor Fleury served as an advisor for Warner Brothers' space epic Green Lantern, working on several classroom and laboratory scenes and serving as a "consulting xenobiologist" on alien life.