Black Capital: African Americans in Washington, D.C.
Rated

4

out of

5
by
TonyMac
from
In Touch with your People
This short review of Blacks in Washington, D.C. was inspiring. I was born and raised in Northwest DC (14th and Columbia Road). I joined the Army in 1969 and from time to time I would return being stationed in the Pentagon which enabled me to see my family. I am truly proud of my hometown and its people as illustrated in this course. It is evident that we are dedicated people to our family and the city.
Date published: 2021-03-21
Rated

4

out of

5
by
Bill Donald
from
Black artists helping others in DC - W.W. DONALD
I found this program uplifting and informative, but not properly labeled. It's really about three Black artists (a poet, a painter, and a musician) helping others lead better lives through the arts. It highlighted their efforts in Washington, DC, and featured information on how their upbringing influenced their efforts with a range of ages, from small children to college students and older.
Date published: 2020-09-09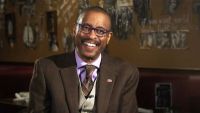 1: Not All Poets Rhyme
E. Ethelbert Miller is an African-American poet, teacher, and literary activist, based in Washington DC for the last 50 years—a location that has had a profound influence on his writing, his outlook, and his life. Take an exceptionally unique look at the history of DC through the eyes of an African-American poet who came of age during a time of revolution. See the impact the city made on him, as well as the impact he made on the city.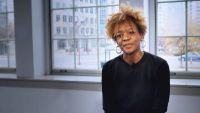 2: From the Look of Things
D.C.-native, award-winning artist Nekisha Durrett has spent the last two decades changing the definition of art while shaping the culture of her community. She creates large-scale public art installations that challenge viewers and send poignant messages about history and society, even when constrained by specific requirements set for the commissioned pieces. Her work is a love letter to her home and heritage, prominently featured in iconic D.C. locations, such as the U.S. Botanic Garden, West End Library, Martin Luther King Jr. Memorial Library, Flashpoint Gallery, and Arlington Arts Center. Get to know this amazingly accomplished artist, hear the stories that inspired her most well-known pieces, and dig into a slice of D.C. culture that many residents take for granted.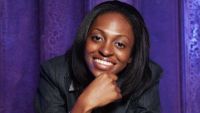 3: Little Drummer Girl
"There are so many unsung heroes that are from the African-American community that have shaped us without us even realizing that we would be shaped," said Dr. Thomas D. Tyler, minister of worship, evangelism, and discipleship at Shiloh Baptist Church. This touching and unforgettable lecture introduces you to some truly amazing unsung heroes as you hear the story of a celebrated percussionist, Dianne Grainger, and the origin of The MusicianShip—a D.C.-based nonprofit organization that uses music as a vehicle to change lives. A profoundly personal and moving story, it may change your life as well.