Rated

5

out of

5
by
Zizi123
from
Great class!
I followed the instructions and made a chocolate cake with piped flowers and leaves. It was great fun! I highly recommend Jenny's classes.
Date published: 2020-09-09
Rated

4

out of

5
by
FrankHW
from
Solid instruction and demonstrations
This course essentially competes with hundreds, even thousands of free "instructional" videos on YouTube. So why bother? First, this course is genuinely *instructional* and not an attempt at a Food Network show. The pace is methodical, the directions articulate, and the camera work serves only to help the instructor demonstrate, not get likes and shares. There's no time-lapse photography of the whole project, no banter about the vlogger's personal life, and no meaningless ooh-ing and aah-ing over the food. The instructor instead reminds you that the results will not be perfect on the first try, and provides an abundance of hints and shortcuts while you work. That's a good thing. Second, the course is genuinely geared towards novices, even people that feel uncomfortable with baking. There are countless YouTube or blog recipes and tutorials out there labeled as "foolproof" or "for beginners" but are in fact anything but. Trying to self-teach that way can be equally demoralizing and frustrating. This course will get someone with no experience or comfort with frosting and decorating desserts feeling much more confident in the kitchen. If there's a downside to the course, it's that the basic cake recipe provided in the guidebook isn't very good. I'm not sure if the cooking time is too long (the recipe calls for 45-55 minutes when most cakes bake for 30-35) or the ingredient mix isn't quite right. Of course, cake recipes are ubiquitous, and even a packaged cake mix will work fine...it's the frosting and fondant that are the stars of the course, not the cake. The course doesn't earn full marks as compared with the fantastic Culinary Institute courses. But it's an easy recommendation if you're a newcomer (as I am) to cake decorating. Simply getting comfortable with Swiss meringue buttercream instead of the stuff we all grew up on is worth the price of admission.
Date published: 2020-02-04
Rated

4

out of

5
by
elli
from
Simple and exact ;0)
Course was a bit too beginner for me. Saying that it is a good course for anyone who knows nothing about making cakes. The icing recipe needs to be redone. It tastes awful! Not sure what is wrong with it?.... wrong measures??
Date published: 2018-04-01
Rated

2

out of

5
by
love to learn
from
Love the information but bombarded with emails
Love the information but asked to be removed from the email list of solicitations due to almost daily emails. Was warned from a previous review about the amount of emails but did not heed the warning. When I am ready to order more courses I will consider a different source. Very sad since I enjoy the products offered from Great Courses.
Date published: 2018-02-14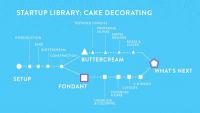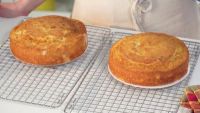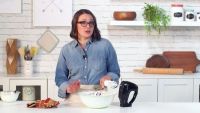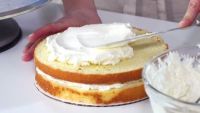 4: Constructing a Single-Tier Cake
Trim your baked cakes so they're uniform and level every time. Find out how to stack up the layers, fill them with frosting, and frost the entire cake with a crumb coat. You'll add a final coat for a sharp-edged flat finish that will get you ready to start decorating.
5: Buttercream: Textured Finishes
Discover three techniques for texturing cakes with buttercream: horizontal ridge, vertical stripe and a simple-yet-beautiful brushed finish. These finishes are not only beautiful and on trend, they're also great at covering up anything that's less than perfect.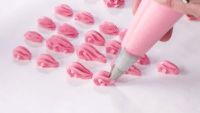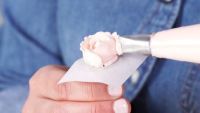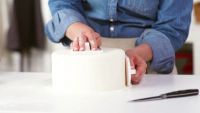 Jenny McCoy
I describe cake decorating as the art of taking a delicious cake and transforming it into a work of visual art.
About Jenny McCoy
As a pastry chef with more than 10 years of experience in some of the country's finest kitchens, Jenny McCoy has learned to transform classic techniques into inventive and exceptional desserts, many of which you'll find in her book, Desserts for Every Season. Jenny's philosophy on baking is simple: By combining the best ingredients available and a personal creative touch, anyone can expand their repertoire to create expertly refined recipes and original pastries with ease. A truly approachable expert, Jenny's detailed lessons are both inviting and inspiring.