Coronavirus Outbreak: What You Need to Know
Rated

1

out of

5
by
WWGG
from
Too out of date to be useful, suggest a current update or remove it I rated this poor based on current date
Date published: 2021-02-19
Rated

5

out of

5
by
Dragonfly777
from
Great video
Where I live, masks are optional almost everywhere you go. Our economy is strong, everything stayed open and now our unemployment is less than it was when this thing started. Our state has proven masks do not stop transmission. Avoiding crowds, washing your hands and staying home when sick are the most important practices.
Date published: 2021-01-25
Rated

3

out of

5
by
Dmols
from
Good basic information and history of covid
I was unable to find a date that this was produced, but obviously is not current. In light of the fact that masks have now been shown to be effective in slowing the spread, this video needs to be updated or deleted from offerings. Good basic info on how it started. I just strongly object to the statement that masks won't help if you're healthy, at this point in time.
Date published: 2021-01-18
Rated

4

out of

5
by
yrellac
from
Covid19 in Brief
The explanation of this pandemic is quite informative but now (Oct17 2020) a little dated as things have changed dramatically. The response of the leaders of different countries was not alluded to. The superpowers have shown a wanton disregard for the world population in the face of this pandemic. The medical community was not prepared. I am disappointed with politicians taking control of something as important as this. The WHO and the various local public health organizations should have been in charge. Not politicians. The mistakes we have made are not easily fixed. I do not agree that masks are useless. We don't have a lot of easy resources that would help as well. Sorry to be so negative.
Date published: 2020-10-17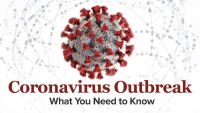 1: Coronavirus Outbreak: What You Need to Know
As cases of the coronavirus disease 2019 (COVID-19) spread, conflicting messages from the media make it hard to gauge what level of danger we are potentially facing. Join Dr. Roy Benaroch as he takes a penetrating look at this intimidating virus. He will not only take you through a detailed timeline of events for the epidemic, but he will also distill fact from fiction and provide extremely beneficial tips of how to stay healthy.