Rated

5

out of

5
by
smdixon
from
Very good basic crochet but does not waste your ti
Kim is a great teacher. She is personable and easy to listen to. She is clear in her instruction and calm in her manner.
Date published: 2020-09-07
Rated

5

out of

5
by
lastcat
from
Wonderful instructor!
I'm so glad that I ordered this class. I'm an experienced knitter, but have never tried crochet. I knew I would need to start with the basics, so I took a chance on this course. I love it! I've taken lots of classes over the years, both in person and online. Kim is one of the best instructors I've ever had. She's very cute and personable, thorough without being tedious, kind and gentle ("mistakes are normal!"), and clearly enjoys sharing her love of crochet. I ordered this course in duplicate: one for me and one for my daughter. We're both going to learn a lot, and have fun doing it!
Date published: 2020-06-06
Rated

5

out of

5
by
GmaDi
from
Love this course !!
I'm an absolute beginner to crochet and having these videos to replay over and over, so that I can get the basics down pat is exactly what I needed. Kim Werker is a delightful instructor, she's very knowledgeable and her instructions are easy to follow, love her bright and bubbly personality too!
Date published: 2020-04-01
Rated

5

out of

5
by
Jerry the multiplier
from
Easy to Folloe
Bought this for my wife. She finds it easy to follow with great hints and nice instructions
Date published: 2018-10-23
Rated

5

out of

5
by
Joree
from
Great presentation for refresher or beginner
I just completed this course and it was very helpful. I learned a couple of things that had been bothering me in my work.
Date published: 2018-05-10
Rated

5

out of

5
by
alfsteria
from
Excellent Course for Beginners
I bought this course and have been working through it. It is excellent - clearly showing how to do the stitches, what common mistakes are, how to position your work, etc. I had crocheted a little when I was a kid, but could not remember how to do any of the stitches and this course is very well structured; it allows you to practice between sessions and easily flip back if you need a refresher on any individual stitch or lesson. The instructor is very clear and easy to understand. I highly recommend this for anyone looking to start crocheting.
Date published: 2018-03-05
Rated

5

out of

5
by
ILmomof2
from
Great class for learning basics!
I know how to crochet but I learned what each stitch is called so now I can follow the directions. Great for reviewing also.
Date published: 2017-12-27
Rated

5

out of

5
by
Ginch
from
The BEST!!
I have surfed the net and watched many videos on how to basic crochet. This course is so much better than any other I have viewed. Thank you.
Date published: 2017-12-26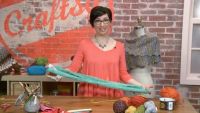 1: Getting Started
Meet your instructor, Kim Werker, as she introduces you to the world of crochet. Learn about yarn, hooks, and other tools and start with the most basic crochet stitch: the chain stitch. Kim will offer advice for how to hold your hook and show you the way she tensions her yarn.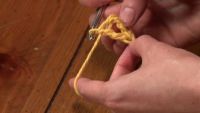 2: The Basic Stitches
Now that you feel comfortable using a hook and creating a basic chain stitch, move on to the fundamentals of crochet: the single, half double, double, and treble crochet stitches. Kim will walk you through each stitch, one at a time, and show you exactly how it is formed. Examine the anatomy of each stitch and learn to recognize and prevent common mistakes.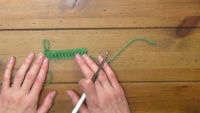 3: Working in Rows
Build your stitches into fabric as you learn to create the foundation chain, the beginning of any piece worked in rows. Learn how to work into the chain and keep crocheting as you turn your work to create rows of beautiful textured fabric. Then, finish your first swatch as you learn to fasten off and weave in your ends.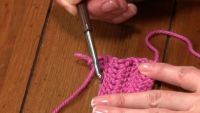 4: Troubleshooting Row Work
Did your swatch not turn out exactly as you had expected? No problem. This lesson is all about discovering what can go wrong and how to avoid making the same mistake in the future. Witness how losing or adding stitches and improper hook insertion affect the shape of your fabric as Kim shows you how to fix mistakes and offers tips for keeping them from happening again.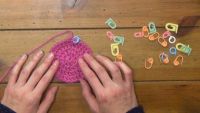 5: Working in the Round
Now that you're comfortable working in rows, expand your crochet abilities to include round projects as well! Kim will show you how to create fabric that spirals out from the center as you learn three ways to start rounds: chain ring, expanding slip knot, and magic adjustable ring. Learn to increase stitches and calculate how many you'll need to add from one round to the next to create a flat circle.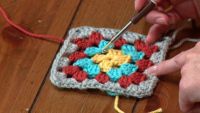 6: How to Read a Pattern
Get a crash course on pattern reading as Kim takes you through the written directions for a granny square blanket and also shows you how to read a crochet diagram. Learn common pattern abbreviations and how the stitch symbols in a diagram help you visualize your stitches. Then, Kim challenges you to make your first granny square using the pattern only!
7: The Granny Square
How did that granny square turn out? Need a little more help? Don't worry. Kim will diagram the elements of a granny square then walk you stitch by stitch through each round as you watch her square form before your eyes. Learn how to turn the corner and join each round, and how the granny square pattern builds on itself to create a relaxing item to crochet.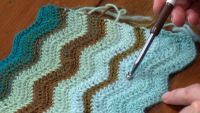 8: Rounding Out Your Knowledge
Finish your exploration of crochet with the essential techniques that will take your stitches to the next level. Learn how to change colors in the middle of a round and at the end of a row. Discover how to measure gauge so that your projects always end up the right size and learn how simple changes in the way you make stitches can create fabric with a completely different look. Finally, learn how easy it is to decrease and witness the curvy, flowing fabric that can be created quickly and easily in crochet!
Kim Werker
All of my work in crochet is driven by my desire to show this craft off at its best.
About Kim Werker
Kim Werker is a writer, editor, instructor and maker who has tapped into the immense power of the internet through blogging, teaching and running the online magazine-turned-social-media-network Crochet Me. Aside from her Web-based endeavors, Kim was also the editor for Interweave Crochet from 2006 to 2008. You might recognize her from her multiple books, including Make It Mighty Ugly, a project about shrugging off the negative internal voices that hamper individual creativity.