Rated

5

out of

5
by
GailN
from
Very Helpful DVD
I've been quilting for about three years now, and this DVD has really helped me to learn how to expedite the cutting and measuring process. I've watched it a few times and will continue to reference it whenever I need to refresh. Very good, very helpful, well presented, and I'm happy I purchased it.
Date published: 2019-01-16
1: Getting Started
Meet your instructor, quilting teacher, and author Debbie Caffrey, as you learn how to set up your crafting space to prepare for the techniques you'll learn in class. Debbie starts by demonstrating the best ways to hold your ruler to ensure stability and safety. Then she explains how to start measuring and cutting fabrics neatly and efficiently, ending with perfectly sized diamonds, chevrons, rectangles, and more.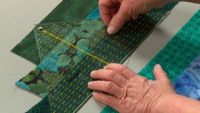 2: Striply Speaking
Discover ways to cut triangles efficiently, resulting in almost no wasted fabric! Learn how to use pre-cuts, including ways to select and store your pre-cut fabrics. Debbie walks you through a wide variety of triangle tools and the best uses for each before demonstrating how to measure and cut your fabrics in an assembly line.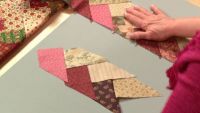 3: Working on Your Traps
Move from triangles to trapezoids as you create darling tree blocks. Debbie covers Tri-Recs tools, a pair of triangle tools that allow you to create triangular or trapezoidal units (and more)! You'll learn how to measure, cut, and sew your units with Debbie's troubleshooting tips along the way. Explore a diverse range of design options before learning how to assemble Debbie's tree blocks!
4: Shape Up Your Fat Quarters
Continue to develop fast and efficient cutting skills as Debbie walks you through a block that is a perfect fit for fat quarters. You'll learn how to use paper templates to create a Diamond in the Rough block that will feel right at home in Debbie's Journey Home quilt, or any other quilt of your choice. Debbie walks you through each step of calculating the measurements you'll need before measuring and cutting your fat quarters with ease.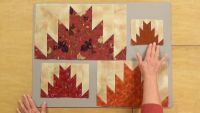 5: Delectable Mountain
Dive into a Delectable Mountain block that can be customized to your liking! Layer, cut, and square up your pieces before assembling units ranging from small Hill blocks, denser Appalachian Mountain blocks, or steep and narrow Rocky Mountain blocks. Choose the ones you like best to make a block or border for your next project!
6: It's Hip to be Square
Discover even more fun ways to work with squares as you take half-square triangles and cut them into dark, light, and mini-half-square triangles. The design possibilities are endless with your new mini-units, and Debbie explains helpful tips along the way for measuring, cutting, and piecing. Next, take on a split nine-patch block using similar mixing and matching methods for your units. You'll finish by learning Debbie's secrets for creating a gorgeous Leaf block that incorporates all of your new cutting skills!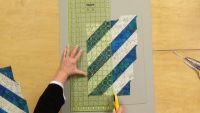 7: It Might Be Biased
Finish the class as you work with fat quarters again—this time to create bias-strip half-square triangle units. Debbie walks you through ways to measure and cut units that look complex but can be a lot of fun in the making. Finish the class with a final round of design ideas that will leave you excited to start your next quilting project!
Debbie Caffrey
Quilting is my passion, and I want it to be yours!
About Debbie Caffrey
Debbie Caffrey has been teaching quilting nationwide since 1983. She's taught at events such as International Quilt Festival (Houston, Rosemont and Long Beach), Minnesota Quilters Conference, The Road to California and many more. Debbie is the self-published author of 14 books on quilting, the designer of dozens of quilt patterns and more than 250 mystery quilt patterns. She has also contributed many articles to publications such as Traditional Quiltworks magazine, as well as appearing on both HGTV's Simply Quilts and QNNtv.com's Quilter's Coffee.