Plus Pilots: Do Computers Understand English?
Rated

5

out of

5
by
Anonymous
from
Wonderful
This talk motivated me to write my first review for Great Courses-- a clear review of a fascinating and complex topic. More like this, please!
Date published: 2021-01-22
Rated

5

out of

5
by
Anonymous
from
Crystal-clear basic computer comprehension
I am a software engineer interested in creating AI expert systems. I learned a great deal from this pilot lecture that will be relevant to my future work. I wish this had been a full course. The professor, whose name was not listed, did an amazing job of using examples that made his points crystal clear.
Date published: 2020-11-25
Rated

5

out of

5
by
Anonymous
from
Interesting and well presented
While I use computers and technology in my everyday life, I am often overwhelmed by it. Computers weren't readily accessible when I was in college. This professor spoke clearly and understandably about the subject matter, helping me to both understand the intuitive computer language that I use daily as well as sparking interest (instead of overwhelming me with jargon) in the subject. Very nicely presented. A lovely voice and calm countenance. I would happily watch more lectures.
Date published: 2020-11-01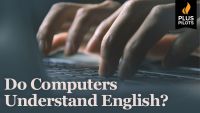 1: Do Computers Understand English?
Get a thorough introduction to what artificial intelligence researchers call the language model. The statistical model allows a computer to understand that if someone is typing "I'm almost…", then a reasonable prediction for the next word could be either "there" or "done," while discerning that "camel" is not reasonable, without having insight or context as to what those words mean. Follow Professor Raghu Ramanujan as he builds a language model, breaks down how computers recognize spam, and dives into the problems that computers routinely deal with involving language.