Rated

5

out of

5
by
Bombshell
from
Much Appreciated Expert Advice
Not a bad pandemic fitness plan. Though some reviews mentioned it is a bit tough for someone 80, not too bad for 60's. My set of 20 set-ups I often do will fit with this whole body workout. Some workout videos I found online target particular muscles. This whole body work out will help for more comprehensive strength training. One reason for seeking a greater level of muscle strength is for personal security, as I have seen indications of a stalker, etc. A higher level of fitness is foundational to self-defense. I have had strong quads in the past, but need stronger overall muscle strength. At the Y I had been evaluated as having flexibility and basic strength as great as someone about twenty years younger when working out there and I had taken a complementary fitness test. I can still palm the floor. I had been able to leg press eight weight increments on the leg press machine there, but light weights in upper body strength. I can build more upper body strength following this expert's advice. His approach is probably vital for self-defense as he has expertise in the karate field.
Date published: 2021-02-14
Rated

5

out of

5
by
Farwest
from
No Bull, Just Facts
I really liked this course, it was no-bull coverage of the basics of strength training combined with some solid warmups and workouts. This is how it should be covered.
Date published: 2020-07-14
Rated

4

out of

5
by
Golfdix
from
Great workouts for serious athletes
A bit too much for an 80 year old man. Parts helpful especially in the warm us/cool down sections
Date published: 2019-12-15
Rated

2

out of

5
by
bill j
from
Pales beside average GC course
It's hard to imagine anyone with ANY previous interest learning anything new. Very basic level, and unimaginatively taught. Exercise segments are laughable.
Date published: 2019-11-11
Rated

5

out of

5
by
JimBrown
from
Everyone should take this course
This is a very easy to understand course that could and should affect the lives of everyone who takes it. The instructor is outstanding as is his presentation. There is nothing that someone could not do to improve their health unless they have a physical condition that would prohibit them from performing the exercises. GREAT COURSE!
Date published: 2019-09-20
Rated

1

out of

5
by
simonne
from
Warning to mature women
I enjoyed this course and followed the routine for a couple of months. However, I then developed pelvic floor problems and have learnt the hard way that menopausal women should not be doing the kind of lunges and squats as instructed. I really wish the instructor had warned of the dangers to one's pelvic floor rather than simply saying 'brace your core' thus suggesting everything will be fine. Can I also please add that menopausal women are not a special minority group with peculiar problems - we are mainstream and should expect to be adequately addressed as much as anybody else.
Date published: 2019-09-15
Rated

5

out of

5
by
Bjnatl27
from
Great features
I bought this months ago, thinking it was a sitting free weights deal I could do with my debilitating injury, This is my old workout! It is intense! If you want a full body workout with weight aerobics, this is for you! The instructor is engaging as well as informative. If you are able to move up and down, side to side on a step, mat and more, You will reach your goal, feel and see results in no time.
Date published: 2019-09-11
Rated

5

out of

5
by
Boundless
from
Exemplary l!
Big bang for my buck. I've learned allot. I'll be going to it many more times ahead. It's an elixer
Date published: 2019-04-06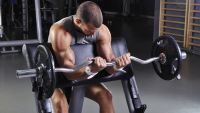 1: Strength Training-Past, Present, and Future
Take a fascinating look at the history and origins of strength training so you understand what strength training really is and why it's relevant to your life. Then, explore some of the training tools available, including medicine balls, kettlebells, barbells, and resistance bands. Finally, investigate the many ways strength training can treat specific health conditions.
2: How Strength Training Benefits Your Body
How do your muscles work when you perform simple motions (such as sitting in a chair) or when you lift weights? How does strength training increase your bone density and lower your risk of osteoporosis? What factors determine how much strength you generate from a specific muscle movement? What are the specific guidelines for beginning and advanced strength trainers? What role should strength train...
3: Strength Training for Weight Loss
Learn the importance of fat in overall health as well as its hidden dangers. You'll investigate what makes for a healthy rate of weight loss, explore the best ways to successfully lose weight through strength training, examine the inner workings of specific joints and muscles, and more. By the end, you'll see why strength training is the most potent weapon in your arsenal when it comes to the war ...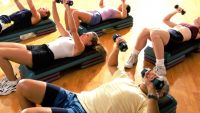 4: Functional Strength Workout
Focus on total functional strength as Mr. Hodgkin guides you through a series of exercises designed to maximize your body's strength and range of motion. Using a body bar, a medicine ball, an Olympic barbell, dumbbells, kettlebells, and a mat, you'll learn how to correctly perform exercises including squat presses, front and rear lunges, cyclones, single-arm presses, gecko rows, side planks, abdom...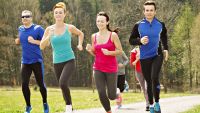 5: Weight Loss and Maintenance Workout
Start building a foundation for maintaining and losing weight through strength training with this challenging and engaging workout. Using just a few simple exercise tools, you'll master the squat jump, the dumbbell curl, the dead lift, the bridge twist, and more. Plus, you'll learn effective ways to combine these exercises and get even more out of your workout.
6: Partner Workout
Grab a partner for this dynamic workout that features exercises to cover all your major muscle groups, including legs (calf raises), chest (wheelbarrow press), back (double standing arm row), shoulders (double reverse fly), arms (biceps curl), and abs (standing medicine ball toss).
Dean Hodgkin
Teaching people how the body works and how exercise can be of benefit is my mission in life, hence I'm so grateful for the opportunity to work with The Great Courses.
ALMA MATER
University of Portsmouth
INSTITUTION
University of Portsmouth
About Dean Hodgkin
International fitness expert Dean Hodgkin has presented master classes and seminars to fitness instructors in more than 30 countries. Voted Best International Fitness Presenter at the One Body One World awards in New York, he has appeared on numerous television and radio programs worldwide. A three-time World Karate Champion and a two-time European Karate Champion, Hodgkin earned a B.Sc. honors degree in Mathematics and Management Studies from the University of Portsmouth. He continued his education at Leicester College, where he was awarded the Certificate in Exercise and Health Studies by the Physical Education Association of Great Britain and Northern Ireland, the leading qualification in the field at the time. Since then he has accrued a wide and impressive array of vocational qualifications and is a regular attendee at conferences focused on the latest health and fitness research findings. At the 2012 International Fitness Showcase-Europe's largest group exercise event, attracting more than 7,000 participants-Hodgkin received a Lifetime Achievement Award for his services to the fitness industry.