Rated

5

out of

5
by
CaptainRon1
from
Amazing images, stupid audio effects.
I am really enjoying this course, the presenter does a wonderful job of describing astronomic objects and phenomena. There is a lot to learn here. The producers who added in the awful audio effects and jingles and jangles should be fired. Very distracting and completely useless. My only other criticism is that sometimes the banners with names of objects obscures the amazing images shown. Please shift these banners off to the side and down to stop blocking the images. After all, this course is about images, so blocking them is counter to the effort.
Date published: 2021-01-18
Rated

5

out of

5
by
Enstrom
from
Incredible
This course kept me spell bound! I had a course in astronomy in college and have always been fascinated with universe. I never dreamed that I would be exposed to as much new information about our universe! I have got to watch this again and again.
Date published: 2020-08-24
Rated

4

out of

5
by
Uncle Larry
from
wonderful imaging
I bought this course for the images of outer space possible only due to the hubble telescope and I was not disappointed. Displayed in 4k splendor on my 75" smart TV it was no less than spectacularly displayed after streaming the course from "the great courses". I was also especially taken with the explanations and information provided by the course to expand my limited knowledge of the Universe.
Date published: 2020-06-13
Rated

5

out of

5
by
johanzel
from
So informational
lst 2 episodes Hubble excellent. Combined with photos and graphs to yield real insight.
Date published: 2020-05-18
Rated

5

out of

5
by
Pat S
from
Wonderful
Professor is so interesting! You can tell he loves the subject.
Date published: 2020-05-07
Rated

5

out of

5
by
Janyth
from
Very Good
I did not view this one myself so I am rating it based on what I was told. I bought the series as a Christmas gift for a friend who is very much into Hubble and other space exploration studies (he has many books on the subject). He thought it was very interesting... at a challenging level, but understandable. I am sure he would recommend it.
Date published: 2020-03-01
Rated

3

out of

5
by
Geidc
from
Too Detailed
I bought the course expecting a lot of images with short explanations The images that were shown were spectacular. Just too much theory. I am not an astronomer and much of it was way over my head. The instructor knew what he was talking about and had a passion for the subject. I wanted more images less science. Then I get to the end and find the course was created prior to 2009. So for me it was not what I expected. From the reviews I am in the minority.
Date published: 2019-07-07
Rated

5

out of

5
by
TAGood827
from
Wonderful Intro to The Hubble Space Telescope
This was the first course I bought from The Great Courses and I really love this course! Dr. Meyer did a fantastic job with his presentation and his enthusiasm for The Hubble Space Telescope shone through in every lecture. He was able to clearly present a logical progression of lectures that explained The HST from its beginning to its maximum capabilities. I highly recommend this course and a good study of the course guidebook as well for all the books listed as recommended reading. I was led to many wonderful books that I was able find for bargain prices that further enhanced my enjoyment of this course.
Date published: 2019-06-18
1: The Rationale for a Space Telescope
Begin your exploration of the scientific stories behind 10 of the most fascinating images made by the Hubble Space Telescope. In this lecture, learn about Hubble's design and how its operations were almost cut short by a flaw in its mirror, a problem corrected during a space shuttle servicing mission.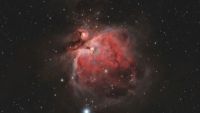 4: The Star Factory inside the Eagle Nebula
Explore the most iconic Hubble photo of all: the glowing pillars of gas and dust at the core of the Eagle Nebula. Resembling a fantasy landscape, this view shows young stars emerging from their cocoons of gas and dust in an interstellar molecular cloud.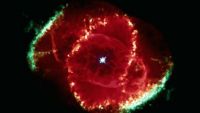 5: The Cat's Eye Nebula-A Stellar Demise
Turning from star birth to star death, get a preview of the sun's distant future by examining the Cat's Eye Nebulae. Such planetary nebulae (which have nothing to do with planets) are the exposed debris of dying stars and are among the most beautiful objects in the Hubble gallery.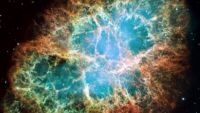 6: The Crab Nebula-A Supernova's Aftermath
Stars more than eight times as massive as the sun take a radically different path at the end of their lives, disintegrating in a colossal explosion known as a supernova. Hubble's image of the famous Crab Nebula shows the expanding cloud of material from a supernova that was witnessed on Earth in the year 1054.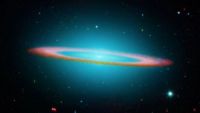 7: The Sombrero Galaxy-An Island Universe
In the 1920s, astronomer Edwin Hubble discovered the true nature of galaxies as "island universes." Some 80 years later, the telescope named in his honor has made thousands of breathtaking pictures of galaxies. Focus on one in particular-an edge-on view of the striking Sombrero galaxy.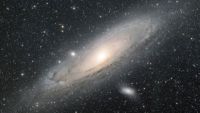 8: Hubble's View of Galaxies Near and Far
Hubble's image of the nearby galaxy NGC 3370 includes many faint galaxies in the background, exemplifying the telescope's mission to establish an accurate distance scale to galaxies near and far-along with the related expansion rate of the universe. Discover how Hubble's success has led to the concept of dark energy.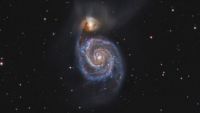 9: The Antennae Galaxies-A Cosmic Collision
A pair of interacting galaxies called the Antennae represent Hubble's most dramatic snapshot of a galactic collision. Learn how such events unfold over the course of millions of years and how the nearby Andromeda galaxy will have a similar encounter with our own Milky Way in the far distant future.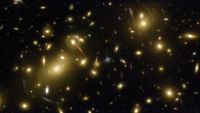 10: Abell 2218-A Massive Gravitational Lens
One of the consequences of Einstein's general theory of relativity is evident in Hubble's picture of the galaxy cluster Abell 2218. Investigate the physics of this phenomenon, called gravitational lensing, and discover how Hubble has used it to study extremely distant galaxies as well as dark matter.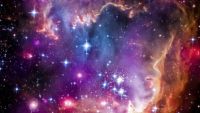 11: The Hubble Ultra Deep Field
Completing your tour of 10 remarkable Hubble images, plunge into the Hubble Ultra Deep Field, the deepest optical image of the cosmos made to date. This extraordinary view shows 10,000 galaxies extending far beyond the Milky Way and back to the epoch of galaxy formation.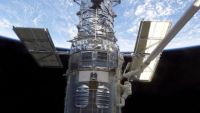 12: Hubble's Legacy and Beyond
Finish the course by looking at the future of Hubble and the next generation of space telescopes. Focus in particular on the search for extrasolar planets, how they are found, and the role Hubble and other telescopes play in extending our knowledge of possibly earthlike worlds.
David M. Meyer
I have found no better way to communicate the joy of discovery in astronomy than through the beautiful cosmic images obtained by the Hubble Space Telescope.
ALMA MATER
University of California, Los Angeles
INSTITUTION
Northwestern University
About David M. Meyer
Dr. David M. Meyer is Professor of Physics and Astronomy at Northwestern University, where he is also Director of the Dearborn Observatory and Co-Director of the Center for Interdisciplinary Exploration and Research in Astrophysics. He earned his B.S. in Astrophysics from the University of Wisconsin, and his M.A. and Ph.D. in Astronomy from the University of California, Los Angeles. He continued his studies as a Robert R. McCormick Postdoctoral Fellow at the University of Chicago's Enrico Fermi Institute before joining the Northwestern faculty. Professor Meyer's research focuses on the spectroscopic study of interstellar and extragalactic gas clouds-work carried out over the past 15 years with the help of the Hubble Space Telescope. Along with his collaborators, Professor Meyer has conducted 20 research projects with Hubble, resulting in 25 peer-reviewed publications. He has also served five times on the committee that annually selects the most deserving proposals for Hubble observing time. During his career at Northwestern, Professor Meyer has specialized in designing and teaching introductory undergraduate courses in astronomy, cosmology, and astro-biology for non-science majors. His many teaching awards include the Charles Deering McCormick Professorship of Teaching Excellence, Northwestern's highest teaching honor. Beyond campus, Professor Meyer has delivered popular talks on Hubble to young and old in settings as far-flung as a transatlantic crossing.