Rated

2

out of

5
by
Psh26
from
While The Sites are Good to See-
While the Sites are good to see- The man taking us on this tour should do what Rick Steves does: Stick to speaking Only English. The programs voiced by Rick Steves are well photographed (as are these) but since he only speaks English, this narrator & presenter does not detract from the visual message, by trying to speak in a language in which he is not fluent. To listen to him try to speak Spanish annoys the listener. Then in addition, this presenter has the tendency to 'speak' over (interrupt- which is both unattractive and disrespectful behavior) the Native Speakers (which we are listening to) and are either educating the audience watching and the Spanish speakers, who have purchased this program to learn from - For this and many other reasons I would NOT recommend this as a video I would say to anyone: buy this video and makes the 'rating' only 'fair'. Additional information for the film crew: It is not necessary to focus in on this speakers face or his belly, quite so much. Otherwise, I find my other program purchases with Great Courses, excellent programs.
Date published: 2021-04-12
Rated

5

out of

5
by
anajay74
from
A Unique and Fun series!!
I have just finished watching this series for the 2nd time! It was great fun to follow Dr. Barnhart through his favorite locations in the Yucatan. I loved that it focussed on the ancient Maya but also on the traditions and lives of the living Maya. Dr. Barnhart's love for the people and his intense interest in the connection between the ancient and the modern makes this a very unique and though provoking set of lectures. I like the format of being on location and would love to see him do more of these Travel series.
Date published: 2021-03-27
Rated

5

out of

5
by
neophyte2021
from
Great Guide, Fantastic Photography & community
I absolutely love this course and will watch it again. The photography was great, the guide was very personable, the trips to big sites and little restaurants, and the wildlife were are terrific. The cultural information and examples are spot on. It gives me a warm feeling to know that my mom had Mayan ancestry and makes me eager to visit for myself.
Date published: 2021-03-14
Rated

3

out of

5
by
RandiandSusan
from
Great Prof in other courses, not this one
We hate to make a bad review, but this was so disappointing. We got to know Professor Barnhart from one on ancient civilizations of North America (which really was limited to the USA). Mayan culture is his specialty. You can imagine how excited we were to find this one given how expensive his courses usually are and on his favorite subject. It turns out to be a travelog, visiting his friends, eating at various restaurants, and looking at the current status of locations. It is really more about Mayan descendents that history.
Date published: 2021-02-20
Rated

5

out of

5
by
Esther P
from
Loved it!
A friend loaned me the set and I ended up binge-watching the whole thing as it was so good, I couldn't stop watching it. This is a wonderful and informative introduction to eight of the main Mayan sites in the Yucatan. It appealed to me as I have been to many of the sites and it was wonderful to reminisce; and it would also be a great introduction for someone planning to travel to the Yucatan. Each of the 8 chapters is approx 30 minutes, and with its wide appeal, it would make a wonderful series for PBS.
Date published: 2021-02-18
Rated

4

out of

5
by
Finn6973
from
Very interesting and well done
This was my first class of The Great Courses. I enjoyed it very much especially because my daughter-in-law is from Merida and I've never been there. I think Edwin was a very good narrator, and very knowledgeable about the Mayan Culture and the Yucatan. If there was anything I would add to the class it would have been some discussion about the how the Mayan were actually able to build the structures. That is why I gave it a four. It was well done in terms of the video quality. I really liked it!
Date published: 2021-01-24
Rated

4

out of

5
by
ELeung
from
EDWIN or ETWIN ?
In Episode 4, the professor wrote his first name in Mayan. He showed it as ETWIN. But the prof's first name is actually Edwin. Why the ETWIN when it is written in Mayan? Yes, it is true that those looking for academic contents, this course was not designed for you.
Date published: 2021-01-06
Rated

5

out of

5
by
gonzo183
from
Greatest Presenter & Fun
We have watched 3 other courses by Dr. Barnhart, and this will be the fourth. He is one of the best presenters, enthusiastic and knowledgeable about his material. He has a love for the mayan culture and people, which he communicates well to the viewer.
Date published: 2020-12-28
1: Mérida
Start your adventures in the Maya world with a trip to Mérida: the capital of Yucatán and the cultural capital of the entire peninsula. You'll visit a factory in a run-down hacienda where they're reviving the industry that made the Yucatán so rich more than 100 years ago; explore the mega-mansions lining Merida's Paseo de Mont; and go shopping for the perfect hammock and guayabera shirt.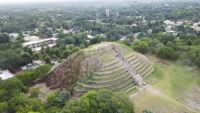 2: Chichén Itzá
First, travel to Izamal, the "yellow city" named after the Maya sky god. Here, you'll tour the city's rich history—including a hike up a pyramid as high as a 10-story building and a walk through the Convent of St. Anthony of Padua, designed as a Christian teaching tool for the Maya. Then, venture on to Chichén Itzá, where you'll get up close and personal with magnificent achievements of Maya architecture, including an observatory, a ceremonial ball court, and a sacred cenote.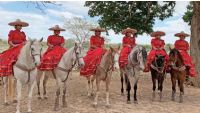 3: Ek' Balam
Join Dr. Barnhart for a trip to two of his favorite places in the Yucatán: Valladolid and Ek' Balam. The first is a city established on the foundations of a Maya city called Zací and offers travelers a chance to see a traditional agave distillery and an all-female troop of competitive horseback riders. The second is the well-preserved ruins of what was once a Maya capital, and it's where you'll witness fantastic stucco facades and reenactors demonstrating musical instruments and the Maya ball game.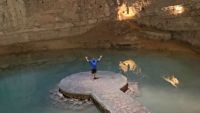 4: Tihosuco
More fun in the Maya world awaits in this fascinating episode where you'll accompany Dr. Barnhart as he writes his name in Maya hieroglyphs, talks to howler monkeys, plunges into a geological cathedral, and more. It's all part of his journey to Tihosuco, home to perhaps the largest episode in world history of an oppressed people fighting for their independence. Sites you'll visit include the Cenote Suytun, Punta Laguna National Park, the Caste War Museum, and the Iglesia de Santo Niño Jesus.
5: Mayapán
Around 1250, Mayapán replaced Chichén Itzá as the new capital of the Yucatán—and one founded on a league of representational government. In this episode, you'll get a chance to explore the rich history and culture of the site and its surrounding region. Learn about the infamous destruction of sacred Maya codices during public acts of faith held by the Spanish friar Diego de Landa, sample delicious dishes of grilled pork and ground pumpkin seeds, and spend some time looking over the shoulder of a ceramic artist working to keep Maya artistic traditions alive in the 21st century through reproductions of ancient pottery.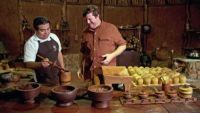 6: Uxmal
Discover what makes Uxmal such a marvel of Maya urban planning. Dr. Barnhart walks you through archaeological features, including the Pyramid of the Dwarf, the Palace of the Governors, and the Nunnery Quadrangle. Plus, spend some time exploring the Loltún Caves: a site that was once used for religious meditation and rituals, and where you'll find handprints dating back 10,000 years. Cap off your adventure with a sampling of hot chocolate—made the traditional Maya way.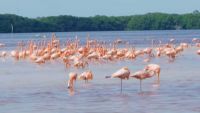 7: Celestún
Your first stop in this episode is Kabáh, the second-largest ruin featuring the Puuc architectural style, where you'll find over 200 faces of Chaac the rain god and a rare example of literate public art. Next, visit Bécal, famous for producing some of the best jipijapas (or, as tourists call them, panama hats) in the Yucatán. Finally, take a trip to the Celestún biosphere, a wetland reserve spanning some 150,000 acres that's famous for the thousands of flamingos that flock there.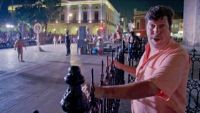 8: Labná
Labná, the last of the ancient sites you'll hit on this trip, is an architectural wonder crowned by the three buildings everyone comes here to see: the Palacio, the El Mirador pyramid, and the Labná Arch. After decoding the cultural messages in these famous works, travel back to Mérida, where your journey began. Here, you'll follow Dr. Barnhart through the Gran Museo del Mundo Maya, watch him sample modern takes on traditional Maya cuisine at a boutique hotel and spa, and catch an evening revival of a Maya ball game in Mérida's central square.
Edwin Barnhart
In my own experience as an explorer, it's almost always the case that the locals knew where lost places were all along. The discoverer is just the first person to ask the right questions.
ALMA MATER
University of Texas, Austin
INSTITUTION
Maya Exploration Center
About Edwin Barnhart
Dr. Edwin Barnhart is director of the Maya Exploration Center. He holds a Ph.D. from the University of Texas at Austin and has over 20 years of experience in North, Central, and South America as an archaeologist, explorer, and instructor. In 1994, Professor Barnhart discovered the ancient city of Maax Na (Spider-Monkey House), a major center of the Classic Maya period in northwestern Belize. In 1998 he was invited by the Mexican government to direct the Palenque Mapping Project, a three-year effort to survey and map the unknown sections of Palenque's ruins. The resultant map has been celebrated as one of the most detailed and accurate ever made of a Maya ruin. In 2003, he became the director of Maya Exploration Center, a nonprofit organization dedicated to the study of ancient Maya civilization. The center leads study-abroad courses for college students and tours for the general public in the ruins of the ancient Americas, among its other research and educational activities. Professor Barnhart has taught archaeology and anthropology at Southwest Texas State University, and currently teaches University of Texas travel courses for college professors on ancient Andean and Mesoamerican astronomy, mathematics, and culture. Over the last 10 years, he has appeared multiple times on the History Channel, the Discovery Channel, and Japanese NHK Public Television. He has published over a dozen papers and given presentations at eight international conferences.