Fighting Misinformation: Digital Media Literacy
Taught By Multiple Professors
Rated

5

out of

5
by
Rockinon
from
Helpful resources
This helped give me perspective and steps to help with my own learn to discern. The resource list was invaluable and something I will continue to use.
Date published: 2021-05-07
Rated

1

out of

5
by
sonoftherock
from
Very Disappointing
After listening to the first six lectures, I feel IREX (whatever that is) should be paying me to advertise on my PC. I found this course too Americentric to be of interest to anyone in the United Kingdom. This a complaint I have about many of 'The Great Courses'.
Date published: 2021-02-28
Rated

3

out of

5
by
Captain Ron
from
Some good, some bad...
So much of this should be common sense, cross checking, investigating sources and biases, following the money, etc. I liked the bit on "label to disable", so many headlines are designed to produce strong emotion. Today 1-16-2021 a NY Post online headline read "23 die in Norway following COVID vac". Of course the headline doesn't say that most were over 80 YO and over 52,000 had been vaccinated to produce that number. Foolish me, I clicked to read it and sent them a payday via advert dollars. My bad. It was quite interesting and funny that in lecture 7 the writers attempted to diagnose a problem with a car failing to start. First they suspected the battery because there was no lights, dash gauges or other effect when the key was turned, which was most likely correct. Another possibility could have been a poor connection at the battery terminals, another common problem or if in NYC, the battery was probably missing from theft. Next they suggested the alternator, which is completely wrong. A car will start if the battery is charged, even with the alternator removed or disconnected. The battery provides the electrical energy to spin the engine over using the starter motor, then the internal combustion now powers the engine, continuing it spinning. The alternator then uses the chemical energy in the gasoline, being burned to drive the car and also spin the alternator which takes over the electrical needs of the car, and also recharges the battery for the next starting attempt. The alternator has exactly zero to do with the actual starting of the car engine. This was quite humorous as the lecturers has spent time during a previous session discussing stereotypes and how inappropriate they can be, then providing a perfect example of why they exist. This discussion of the car not starting reminded me of a Toyota radio commercial many years ago that started with a sound of a car turning over quickly and repeatedly, but not starting. Moments later a voice over stated "Battery troubles? Stop in to your Toyota dealer for a replacement." The irony of that commercial is priceless. I shudder to think of how many in management heard that commercial during development and it still was aired. Getting angry over media content, whether it is professional or social, is the ultimate irony. Every time one of us clicks on some clickbait, false news story, or stupid facebook post, you create wealth for the perpetrators. You (we) are TRAINING them to produce more fake news and clickbait. This is the same phenomena that keeps spammers and phishing attacks coming, if we all stopped falling for the bait, these things would stop overnight. Good luck with all that.
Date published: 2021-01-17
Rated

5

out of

5
by
Patrick J
from
Badly needed
Excellent! This is a very timely course. A program like this needs to be required in high schools and universitiesit's.
Date published: 2021-01-13
Rated

5

out of

5
by
nortxhawk
from
Great Information for Everyone!
The three instructors present a cogent program that goes into the various modes and types of misinformation and disinformation and methods of how you may be able to discern them for what they are. I recommend it.
Date published: 2020-12-17
Rated

5

out of

5
by
Fred18
from
Important work!
"Fighting Misinformation" is vitally important in today's world. With an administration and representative congress finding it easier to lie to an uninformed Public than to provide needed information for decision-making - well, our Future is at risk as well as our very way of Life! Each of us must strive for personal honesty and, rather than siding with confirmation bias, we must support our Founders' Vision! This DVD offering is important. Please view it!
Date published: 2020-12-01
Rated

4

out of

5
by
bluebanshee
from
Enjoyed It
Presenters gave some actionable steps to identify and fight misinformation. I would like to see more fact-checking resources reviewed & used.
Date published: 2020-11-24
Rated

2

out of

5
by
Robert22063
from
Limited Value
Disappointing. Much motivational speaker psycho-babble. Blaming "psychologists" for lack of critical thinking is taking the easy way out. Using the term "people" so freely is close to stereotyping. Several websites are mentioned without applying their own rules for validation. Case studies are weak. The choice of the"Trudeau disdain" photo (which was a staged photo-op), may be mystifying to Americans without the context of Trudeau's pro-China, anti-US rants and the conflict of interest that is declared, briefly, in a different lecture. (I agree taking a still from a video is a cheap shot, but as I write this, Trudeau is refusing to meet Trump and Mexico's AMLO about USMCA.) The Emma Gonzalez fake photo is a good choice and analysis of more such photos is needed. The discussion on dating and location of source documents is useful but not fully explored. Use of Google for photo search is worrisome in view of earlier comments about search engine bias. The written checklists are too verbose and vague for quick evaluation, not rigourous enough for detailed analysis. Of some value, but particularly as an exercise of "spot the misinformation in this course".
Date published: 2020-07-17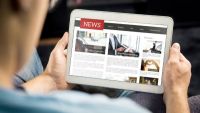 1: The Misinformation Threat
Democracy depends on a well-informed, discerning electorate, equipped to judge the validity of the information available. In this first lecture, Ms. Susman-Peña and her esteemed colleagues at IREX delve into the concepts of misinformation and disinformation, and explain the critical ways in which falsehoods, slander, prejudice, and bad ideas can threaten American democracy.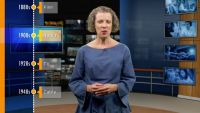 2: The Evolution of Media and Misinformation
Options for news sources have expanded exponentially in the digital age. Content is at our fingertips from traditional news sources, but anyone can now be a publisher of information on the internet, and computer algorithms are influencing what you see every day. How do we sort the legitimate news from false, misleading, or opinion content? Travel with your instructors through the history of communication technology as you learn how to separate the wheat from the chaff.
3: Misinformation and the Brain
Humans often fail to critically evaluate the world around us. Take a close look at the machinations of misinformation, and how it can be used in conjunction with our natural cognitive biases to lead us astray. Learn about the role of reality distortion, the "Barnum effect," selective recall, and confirmation bias in misinformation, and how techniques like "Label to Disable" and "Care before You Share" can help.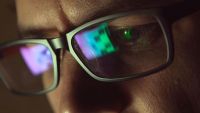 4: Seeing Through Visual Misinformation
Visual images have been selected, edited, reframed—even manipulated—before they reach us, often in ways designed to elicit an emotional response. Explore the impact of reuse and mislabeling, photo selection effect, and deliberate alteration or forgery to affect how we see and feel about an image. Then, employ Label to Disable to diffuse the threat of visual misinformation.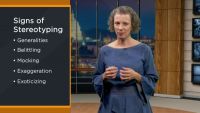 5: Countering Fakes and Stereotypes in Media
How do fake information and stereotypes combine to produce an especially damaging type of misinformation? Fake information, including fake social media accounts, fake chat messages, and fake reviews, can infiltrate our electronic lives. See how stereotypes can magnify the damage done by fake information, and consider the difficult questions presented by the human tendency toward bias.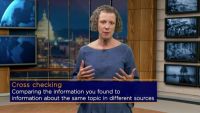 6: Journalistic Verification Skills
Your ability to differentiate between fact and opinion and to judge the quality of media content is vital to a functional democracy. You do not have to go it alone. Learn how the professionals test and verify information, as well as what websites, plug-ins, and tactics can help you determine journalistic integrity and accuracy of information.
7: Assessing Science and Health News
How can we make good decisions about important health and science issues if we cannot trust the news we get about them? Scientific knowledge, by its very nature, is always changing, but using some simple methods described in this segment, you can ascertain the validity of health and science information.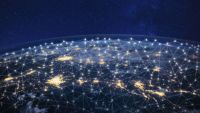 8: Technology, Misinformation, and the Future
The rise of new technology has led to a simultaneous, exponential increase in misinformation—locally, nationally, and even internationally. Learn how artificial intelligence and augmented reality programs are being used to spread misinformation, and how media literacy, Label to Disable, and Care before You Share can be used to combat its spread.
Tara Susman-Peña
My goal is to help people of all ages develop healthy habits for engaging with information, online and offline. 
ALMA MATER
Yale University
Mehri Druckman
We work through libraries to train citizens on media literacy skills because people go there already for information and librarians are trusted curators of information.
About Mehri Druckman
Mehri Druckman is a media literacy and training development expert who combines deep knowledge of anti-propaganda programming, effective media support, community engagement, and the application of technology to improve development outcomes with field-tested training methodologies. In 2015, she designed and managed IREX's innovative Learn to Discern project, a citizen media literacy initiative that reached more than 15,000 Ukrainians. Learn to Discern has since been featured in The New York Times, The Washington Post, The Christian Science Monitor, The Wilson Quarterly, The World Economic Forum's Global Agenda, Project Syndicate, Columbia Journalism Review, and in reports by the Center for European Policy Analysis and the Legatum Institute.
A skilled facilitator and trainer accustomed to operating in rapidly changing political and social environments, Ms. Druckman is a leader in IREX's global efforts to build resilience against misinformation and disinformation. She is also a leader in IREX's effort to apply global information, communications technology, and new media toward individual and organizational capacity building, community development, public access to information, and citizen engagement.
Nina Oduro
My hope is to explain why misinformation has such a powerful influence on the brain, equip people with valuable research tools to trace sources, and deepen understanding of misinformation's ever-changing nature.
About Nina Oduro
Nina Oduro develops and facilitates training for young leaders, educators, and community organizers. She is currently a lead trainer for IREX's Learn to Discern U.S. initiative and supports curriculum design and delivery alongside IREX's partners. Ms. Oduro developed IREX's first comprehensive training guide, drawing on 50 years of the organization's experience with training as well as industry best practices. Using the guide to support training-skills development throughout IREX, she built a cadre of expert trainers around the world. She has provided technical training support for various programs.
Ms. Oduro began her career in youth leadership development and training at Columbia University; the Posse Foundation; and the United States Embassy in Accra, Ghana, where she advised and trained young leaders for academic success and positive individual and community impact. As a leading consultant with Microsoft, she developed and facilitated training for U.S.-based educators in K-12 schools that enabled them to effectively leverage technology to achieve positive learning outcomes.