Fighting Misinformation: Digital Media Literacy
Taught By Multiple Professors
Rated

5

out of

5
by
ketcheverria
from
Important subject and well covered!
I loved this course--I've been recommending it to friends and family. Even though I am a librarian, I learned new tips and tricks for verifying information on the internet. Also, the course is helpful in examining my own biases and how I feel about misinformation I receive. So timely!
Date published: 2020-05-22
Rated

3

out of

5
by
John7H
from
Good as far as it went
This course is a well-presented thoughtful review of techniques and resources to allow news consumers to avoid accepting internet-acquired news at face value. The presentations could have benefited from editing to reduce unnecessary repetition. The course could have been more valuable if the presenters had also included examples from the traditional newspapers and television news networks that are equally prone to the same techniques used by internet misinformation sites, such as hyperbole, alarmist headlines and teasers, one-sided reporting, and the long-standing practice of burying corrections. The most valuable elements of the course were the worksheets for evaluating articles and science/health news, although I expect that the large majority of Great Courses viewers likely already use similar processes almost out of habit. As a retired physician, I was pleased to find the strongest presentation was the segment on Health and Science Reporting. The Testing Scientific Validity list of items is a good outline to use when viewing or reading such news reports, as typical newspaper and TV reporting commonly falls into these errors. I will recommend this course to friends who forward dubious items to my inbox. It probably does not contain much new information for the consumer who is already life-long learner. I consider this course average for the Great Courses, but it would be a 5-star presentation on network TV.
Date published: 2020-04-18
Rated

4

out of

5
by
Whitebeard
from
Very Informative
The course was very informative. It provided quite a few resources available to aid in recognizing and investigating misinformation. It also provided some examples of ways to kick in rational thought when presented with tantalizingly provocative items in the media. I recommend this to anyone who wants to learn why people circulate misinformation and how to spot it.
Date published: 2020-03-18
Rated

4

out of

5
by
johoman
from
Good info
I learned that there is a LOT of bad in fo out there
Date published: 2020-01-19
Rated

5

out of

5
by
Cannot
from
A vital, timely course with actionable solutions
I lead student study groups at my local community college. For four years I have helped students to develop tactics for discerning truth from disinformation in relation to news about science, health, and science agencies. The same channels and methods used by snake oil salesmen to fleece the vulnerable have now been employed by those who wish harm to the democratic process both here and abroad. This course compiles and condenses current materials implemented by IREX in its overseas fight to empower educators and citizens against propaganda and other disinformation campaigns. It is presented in a non-partisan way, so as to not scare off those who most need this course. Get it, use it and share it. I have already upgraded some of my own tactics using the suggestions provided, and intend to implement some of the checklists provided in the course book in the study groups I lead. THANK YOU GREAT COURSES, THANK YOU IREX!
Date published: 2020-01-19
Rated

5

out of

5
by
Econman
from
Very Informative and Engaging
This course exceeded my expectations in every way. it was fair, impartial but at the same time hard-hitting and provided very practical advice about how to combat misinformation in the media. What was remarkable about it was that it was not political at all but did not turn away from the tough issues. All three of the professors in this series did an excellent job presenting the material in a way that was very relevant and timely. As a professor myself I intend to use this material to help my students to better evaluate what they read and hear in the media,
Date published: 2020-01-18
Rated

1

out of

5
by
MaryAD
from
Misinformation is correct.
I bought this at the beginning of the month. It was timely delivered but a waste of money. It is primarily an infomercial about IREX. Not a lot of content. It put me to sleep.
Date published: 2020-01-18
Rated

3

out of

5
by
JerryC
from
Contains some misinformation
I watched this course on the Great Course Plus and just bought it mainly for the course outline. The course contains numerous sources for evaluating claims on the internet, with resources that will find the origin of photos, audio and video that are used for misinformation. In this regard, the course was excellent. There were a few examples of misinformation but I expect they shied away from anything controversial on purpose. No mention of Trump tweets, no mention of the Russian hoax though they go after Russia in places but not necessarily for the 2016 election. The term "fake news" came up a few times but little was done to explore it. In this regard, the course was deficient. My guess to do so would have been polarizing. One of the presenters is actually Ukrainian and the Ukraine is mentioned in a couple lectures. But they provide misinformation when they do. For example, they talk about the Russian annexation of the Crimea from the Ukraine but fail to tell you that the Crimea had been part of Russia for over two centuries and only administratively assigned to the Ukraine during the Soviet period about 50 years ago. It has always been the home of the main Russian fleet. They talk briefly about the Euromaidan revolution in the Ukraine without mentioning that the person being overthrown, Viktor Yanukovych, was the elected president of the country. They made it sound like he was a Russian puppet and that was why he was overthrown. Now I am no fan of the Russians but why distort what happened. Very strange for a course on misinformation especially in the first lecture. This is a useful course for the sites they recommend for finding out the origin of controversial social media stories. But there are better ways to find out the truth. One can best understand distortion in the news or internet by visiting a few reliable sites that cover issues from both sides.
Date published: 2020-01-16
Rated

4

out of

5
by
Dale_713
from
Current, contemporary & enormously useful
FIRST; with 45+ years as a computer tech and 25+ years in video (production & post-production) and well-versed in brain quadrant psychology - this course was right down my alley. SECOND; the three instructors were specialists in their field - all participating in the same chapter. The main speaker (Tara) was excellent & exceptional. The 2nd specialized in technology with the 3rd speaker in practical application regarding REAL issues and REAL people (in the Ukraine) and indicated this type of course will be a REQUIREMENT in their education system there. Unfortunately IMHO that's not likely here in the US. THIRD; The course is LOADED with useful information on exactly WHAT we're being hammered with (various flavors of CLICK BAIT) and offering us a psychological defense & solution for dealing with our emotional "jerks" that are thrown at us. In particular, how to technically verify & spot fraud and to cross-examine things we hear and see - and further, how to use our mental trashcan daily & not pass it on. ANALYSIS: In my view, the course focused entirely on the internet (phones, tablets, computers) but left out 50% of the "misinformation" issues on TV which comes across the same "digital" wire in our homes. To lump TV together with the rest is not realistic as TV is mostly video and the other is mostly text & still pictures. For this reason I gave the course 4-stars instead of 5. TO ELABORATE: Lawyer-101 is "lie by OMISSION". If being informed by one news channel presenting important issues of folks paying their bills, putting food on their table & security for their family -- while the other channel briefly mentions that but focusing on the number of ducks swimming in the pond hundreds of miles away -- that is (as the course title puts it) "misinformation" -- making the listener a garbage receptacle of useless information when it comes to "news"……and technically, both are correct. AS AN EXAMPLE: about a decade ago, the keynote speaker of a presidential campaign was delivering his speech (LIVE broadcast). As the camera panned the audience, there was standing room only with everyone going wild. Flipping the channel, the other news channel showed a previously recorded video clip (hours prior) of a small section of the auditorium during a break - showing many empty chairs and two people taking a nap. The so-called "news anchor" said quote: "well, it looks like not everybody is interested in the keynote speaker's address", unquote. Then she turned to the round table with other "commentators" to discuss the earth-shattering issue of the campaign hat & what the colors on it meant. Flipping back, the keynote speaker & audience were going strong……and technically, both are correct. As a veteran video editor, I see things most people don't as they're being psychologically sucked in (as the course puts it) by psychologists who are PAID to fabricate this. Commercials that TILT the image so your attention tries to subconsciously straighten it out with sub-second "jump back" video clips to snare you….including subliminal "hidden messages" your conscious didn't see. We do see slow motion commercials with totally lower-right brain (emotional) appeal of a sweet darling little child having fun with a parent - while the required legal disclaimers [yuck] are being read in a monotone voice. How much of WHAT are you going to remember? POLITICAL CANDIDATE THEY LIKE: (actual) Clip-1: rainbows in the sky with children singing in the flowered fields. Clip-2: their favored candidate: sol-mo, smiling, warm orange filter, cool music, with additional irrelevant video track of cheering superbowl crowd in the background Clip-3: sunshine & bunnies, there is no evil, life is wonderful POLITICAL CANDIDATE THEY HATE: (actual) Clip-1: disastrous oil spill, dying birds & seals - gloom, doom, excessive misery. Clip-2: their hated candidate: shot from below to show a look-down-their-nose at you, green-grey filter (color of death), high contrast filter (show every blemish), bass reduced sound with augmented treble (screechy voice), no background cheering crowd, instead a playing funeral dirge. Clip-3: a nuclear melt down - radiation everywhere - end of the world. At my attendance of the yearly NAB (National Broadcasters Convention) in Las Vegas where 150k people attend, I saw a demo of the improving MOTION CAPTURE technology where two guys in shorts & T-shirt go at it with broomsticks. In the monitor showed Darth Vader & Luke Skywalker going at it with light sabres . At the click of a mouse, it changed to Daffy Duck and Bugs Bunny going at it. The point: forget the "spy" camera as they can fabricate any video of anybody doing anything they want -- down to the peach fuzz on their nose. The course mentioned how current technology can easily fabricate "fake audio" and also "fake video" however (when it comes to TV) they never showed CONTRASTED misinformation as mentioned above. To do that IMHO, that might affect course sales since we are (as the course puts it) already "polarized". I still recommend this fine course for thoroughly covering the internet issues.
Date published: 2020-01-13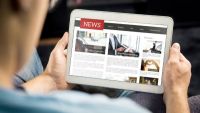 1: The Misinformation Threat
Democracy depends on a well-informed, discerning electorate, equipped to judge the validity of the information available. In this first lecture, Ms. Susman-Peña and her esteemed colleagues at IREX delve into the concepts of misinformation and disinformation, and explain the critical ways in which falsehoods, slander, prejudice, and bad ideas can threaten American democracy.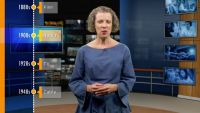 2: The Evolution of Media and Misinformation
Options for news sources have expanded exponentially in the digital age. Content is at our fingertips from traditional news sources, but anyone can now be a publisher of information on the internet, and computer algorithms are influencing what you see every day. How do we sort the legitimate news from false, misleading, or opinion content? Travel with your instructors through the history of communication technology as you learn how to separate the wheat from the chaff.
3: Misinformation and the Brain
Humans often fail to critically evaluate the world around us. Take a close look at the machinations of misinformation, and how it can be used in conjunction with our natural cognitive biases to lead us astray. Learn about the role of reality distortion, the "Barnum effect," selective recall, and confirmation bias in misinformation, and how techniques like "Label to Disable" and "Care before You Share" can help.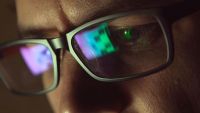 4: Seeing Through Visual Misinformation
Visual images have been selected, edited, reframed—even manipulated—before they reach us, often in ways designed to elicit an emotional response. Explore the impact of reuse and mislabeling, photo selection effect, and deliberate alteration or forgery to affect how we see and feel about an image. Then, employ Label to Disable to diffuse the threat of visual misinformation.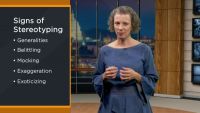 5: Countering Fakes and Stereotypes in Media
How do fake information and stereotypes combine to produce an especially damaging type of misinformation? Fake information, including fake social media accounts, fake chat messages, and fake reviews, can infiltrate our electronic lives. See how stereotypes can magnify the damage done by fake information, and consider the difficult questions presented by the human tendency toward bias.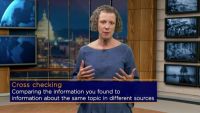 6: Journalistic Verification Skills
Your ability to differentiate between fact and opinion and to judge the quality of media content is vital to a functional democracy. You do not have to go it alone. Learn how the professionals test and verify information, as well as what websites, plug-ins, and tactics can help you determine journalistic integrity and accuracy of information.
7: Assessing Science and Health News
How can we make good decisions about important health and science issues if we cannot trust the news we get about them? Scientific knowledge, by its very nature, is always changing, but using some simple methods described in this segment, you can ascertain the validity of health and science information.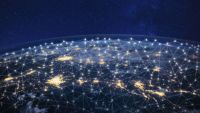 8: Technology, Misinformation, and the Future
The rise of new technology has led to a simultaneous, exponential increase in misinformation—locally, nationally, and even internationally. Learn how artificial intelligence and augmented reality programs are being used to spread misinformation, and how media literacy, Label to Disable, and Care before You Share can be used to combat its spread.
Tara Susman-Peña
My goal is to help people of all ages develop healthy habits for engaging with information, online and offline. 
ALMA MATER
Yale University
Mehri Druckman
We work through libraries to train citizens on media literacy skills because people go there already for information and librarians are trusted curators of information.
About Mehri Druckman
Mehri Druckman is a media literacy and training development expert who combines deep knowledge of anti-propaganda programming, effective media support, community engagement, and the application of technology to improve development outcomes with field-tested training methodologies. In 2015, she designed and managed IREX's innovative Learn to Discern project, a citizen media literacy initiative that reached more than 15,000 Ukrainians. Learn to Discern has since been featured in The New York Times, The Washington Post, The Christian Science Monitor, The Wilson Quarterly, The World Economic Forum's Global Agenda, Project Syndicate, Columbia Journalism Review, and in reports by the Center for European Policy Analysis and the Legatum Institute.
A skilled facilitator and trainer accustomed to operating in rapidly changing political and social environments, Ms. Druckman is a leader in IREX's global efforts to build resilience against misinformation and disinformation. She is also a leader in IREX's effort to apply global information, communications technology, and new media toward individual and organizational capacity building, community development, public access to information, and citizen engagement.
Nina Oduro
My hope is to explain why misinformation has such a powerful influence on the brain, equip people with valuable research tools to trace sources, and deepen understanding of misinformation's ever-changing nature.
About Nina Oduro
Nina Oduro develops and facilitates training for young leaders, educators, and community organizers. She is currently a lead trainer for IREX's Learn to Discern U.S. initiative and supports curriculum design and delivery alongside IREX's partners. Ms. Oduro developed IREX's first comprehensive training guide, drawing on 50 years of the organization's experience with training as well as industry best practices. Using the guide to support training-skills development throughout IREX, she built a cadre of expert trainers around the world. She has provided technical training support for various programs.
Ms. Oduro began her career in youth leadership development and training at Columbia University; the Posse Foundation; and the United States Embassy in Accra, Ghana, where she advised and trained young leaders for academic success and positive individual and community impact. As a leading consultant with Microsoft, she developed and facilitated training for U.S.-based educators in K-12 schools that enabled them to effectively leverage technology to achieve positive learning outcomes.