Rated

4

out of

5
by
Parisews
from
Clear instructions but some detail lacking
I'm about half way through the lectures in this course and I absolutely love the instructor. Her explanations are clear, to the point and highly accessible for beginners. This has really helped me to understand some of the alterations you can make to a pattern, before even making a toile to check fit. The one drawback (and the reason I gave this 4 stars instead of 5) is that some of the more complex alterations are not covered. For example, the video on how to widen and narrow a top covers shoulders and side seams, which is great, but doesn't talk about full bust adjustments or how to reposition darts which are both extremely common alterations and something I would love to see demonstrated by Linda because she's got such a great teaching style and she does everything with such clarity and precision.
Date published: 2020-09-17
Rated

3

out of

5
by
BettyM
from
Helpful
This gave me some things that I could use to make garments fit better. This course is not as in depth as I expected from Great Courses although it gave some helpful techniques. It is worth the price. If you are looking for a comprehensive course, this is not it.
Date published: 2019-04-01
Rated

5

out of

5
by
robertmd
from
Fitting Mystery Solved
This course lifted the veil of confusion on how to make body measurements relate to pattern measurements. I feel that I can now confidently create form fitting cloths from any pattern. As a person new to the skill of sewing I was very confused by patterns but now that I have watched this course I feel that i can tackle any project. I learned how to adjust patterns to match my measurements which was a huge mystery to me before. I also learned there are several important measurements that I would not of thought to collect before watching this course. Great course and a must for anyone who wants to sew garments.
Date published: 2018-03-17
Rated

5

out of

5
by
Sherry R
from
Excellent Instructor
I have been sewing garments for many years, but I learned techniques from this course that I wish I had known years ago. The instructor's actual demonstration of fitting the muslin on herself took the mystique out of proper fitting and pattern adjustments. Great course and excellent instructor.
Date published: 2018-02-05
Rated

5

out of

5
by
pjay
from
So far so good.
I'm about halfway through the course and am absolutely delighted. I love the presentation and am learning invaluable techniques for my trade. So glad I decided to take a chance on your courses.
Date published: 2016-09-26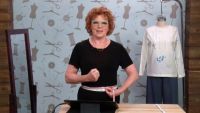 1: Measuring Your Body
Meet sewing instructor and Craftsy veteran Linda Lee and learn how to accurately measure yourself and make basic pattern adjustments on your own for the best-fitting garments. Linda demonstrates her tricks and techniques for solo measuring and identifies aids to measure correct numbers.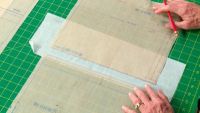 2: Comparing Body & Pattern Measurements
Learn how to compare your body's measurements to the pattern's measurements. Linda teaches you the nuances behind ease and how to accurately add ease into your calculations. Finally, find your starting size and learn Linda's method for using the full bust measurement.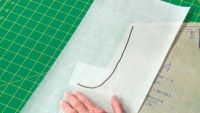 3: Adjusting The Top: Lengthen & Shorten
Lengthen or shorten a top for your best fit. Linda demonstrates how to lengthen and shorten at the waist to keep the pattern accurate. Grab your straight and curved rulers and learn how to add or reduce length at the waist, as well as total garment length and sleeve length.
4: Adjusting The Top: Widen & Narrow
Narrow the shoulder but still preserve the original armscye with Linda's inventive trick! You'll learn how to restore pattern lines when you need to add or subtract width to fit your shape. Then, make side seam alterations to finish adjusting the top pattern.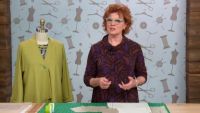 5: Making a Fitting Muslin: Top
Learn how to make a muslin to refine the fit of your top. Linda reviews what to include and what can be left out of a fitting muslin, as well as how to mark adjustments and transfer the muslin to the pattern. Finally, see how the muslin reveals essential shoulder adjustments and how to make them.
6: Adjusting Pants or Skirt Pattern
Pants can be challenging to fit, but Linda makes it easy to do even when fitting solo. You'll learn to make both length and width adjustments for pants, how to find the knee placement if it's not marked on the pattern and how to approach basic fitting for skirts.
7: Making a Fitting Muslin: Pants or Skir
Construct a fitting muslin for your pants. Linda will try on her own muslin and show how she evaluates the fit, marks the muslin and transfers the changes to the pattern. Then, learn to adjust for a fuller tummy and a fuller rear and reset the waistband for comfort.
Linda Lee
When asked why I sew, I try to describe the feeling that I get when I am squirreled away in my sewing room, sometimes late into the night, with the rest of the world tuned out. It's me and the cloth and the rhythm and hum of my sewing machine. It's play time in the truest sense.
About Linda Lee
Linda Lee has loved fabric for as long as she can remember, so it's no surprise that she's spent her career working in fashion and interior design. She's the owner of The Sewing Workshop Pattern Collection, where adventurous sewers can find patterns for distinctive garments created with innovative techniques. She has written several sewing books and contributed to magazines including Threads and Sew News. Linda has also appeared as the sewing expert for segments on HGTV's Today at Home and Our Home, as well as Sew It All, It's Sew Easy and Sewing With Nancy.