Rated

1

out of

5
by
Strike83
from
Not what I expected
I was thoroughly disappointed with this attempted guilt trip. I listened to this hoping to learn more about things like masonry heaters and dollar water heaters and how to build them. Instead the last six lessons were all about how wonderful socialism is. I'm interested interested in sustainable living because I want to do it not because it should be forced on the world.
Date published: 2021-03-20
Rated

5

out of

5
by
Yazmina
from
Must-see!
Excellent course, provided by this amazing professor, well explained and very informative.
Date published: 2021-01-14
Rated

5

out of

5
by
Michelle77
from
Broad, in-depth, and engaging
This is a fantastic course. The lectures covered a wide range of topics related to sustainable living - both at the personal level and the wider society. The lecturer is quite knowledgeable and has ample examples of personal experience to share. While I already was familiar with many of the topics, I learned a lot, and ended up with a list of further reading to learn even more.
Date published: 2021-01-01
Rated

5

out of

5
by
Not really
from
Knowledgeable Professor
Since I am interested in this topic and thinking I would check out what has happened in the last 50 years, I purchased this course due to the great price. I was thinking I might pick up a few tips, but not really expecting to learn much new. How wrong was I! This professor is over the top knowledgeable of the material and was a great source of follow up recommendations for particular topics to be reviewed for much more detail. The recommendations for further reading and leads for organizations promoting sustainable living make the price of the course worth it. Many thanks. The course bounced around a bit between very detailed (making a compost pile) and rather lofty (philosophical) in material which helped keeps up the interest. The course covers a lot of topics and if you are only focused on a small subset of the material provided, you may come away feeling a bit under whelmed and will need to follow up with some of the recommendations. The length of the course is too short to do justice to some of the topics being covered. If you are considering purchasing this course, I suggest you look at the topics before you purchase to make sure you are getting what you are want. For example, the section on gardening often refers to other Great Courses and this is one area that I thought could (maybe should) be expanded--because we can all do something in this area and have an effect. So if this is all you really want to focus on, then you might be better served by checking out the gardening courses and skip on this one--my humble opinion. Some topics are beyond the scope of this course. For example if you are thinking about constructing a sustainable home, then this course will give you some ideas, but the important details about location and detailed design features needed for your location take way more work to get right. The course does cover some ideas about how to approach constructing a home and some broad considerations you might be thinking about. Bottom line, I am glad I purchased and watched this course. I will probably review again as I know I missed some of the finer points.
Date published: 2019-12-30
Rated

5

out of

5
by
Checkitout
from
Reducing your ecological footprint!
Professor Gamble walks the talk from eco-cities to sustainable design and renewables to permaculture and four season gardening there is something here for everyone. He has an engaging and enthusiastic presentation style that makes you want to explore the concepts of self sufficiency and sustainability in greater detail. His references were very useful. Great value! You won't be disappointed!!
Date published: 2019-02-19
Rated

5

out of

5
by
Milo Dodds
from
A Critical Course Everyone Should Experience
Many of the topics covered I knew about, however the course is going to help me design an off grid home that I really want to design and build.
Date published: 2019-02-02
Rated

5

out of

5
by
Laurence123
from
Excellent series!
I thoroughly enjoyed this series. I particularly liked that it was not just theory, but that the lecturer had personal experience putting his ideas into practice, and that he gave references of where to turn for more information. I think his point of view is spot on. I rarely write reviews, but was so inspired that I look forward to telling my friends and family about this course. Thank you Professor Gamble for sharing your insights with us!
Date published: 2018-01-14
Rated

5

out of

5
by
John07
from
Fundamentals of Sustainable Living
Excellent overview of alternative energy systems. The segment on greenhouse/winter gardening was insightful for the novice like myself. The accompanying booklet has useful reference material for further research and planning. Well done!
Date published: 2017-12-14
1: Making Your Lifestyle Footprint Regenerative
What does it mean to live sustainably? How can we better live within the biophysical limits of the planet without engaging in self-denial? Begin to answer these questions here as you consider how your choices of home, food, transportation, energy, and more promote a sustainable lifestyle. ...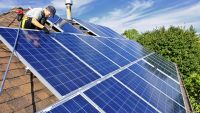 2: Sustainable Energy Options
Every day, the sun delivers 14,000 times more energy than the human economy uses. Discover how solar energy in all its forms can be harnessed and used in efficient ways, in addition to the financial benefits that come from using it. Learn how you can use energy wisely in your home....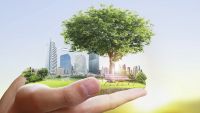 3: Sustainable Building Choices
Buildings and cities have a huge impact on our well-being, sustainability, and ecological footprint. See how architects design green buildings that are regenerative-giving back more energy than they take-by using natural daylight, nontoxic materials, and superior levels of air quality and thermal comfort, all for about the same cost as conventional building....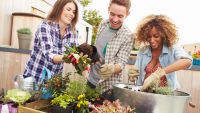 4: Cultivating Sustainable Landscapes
If we make our landscapes beautiful and functional, many of our needs can be met where we live. That's the idea behind sustainable landscapes, the benefits of which you'll explore here, from the surprising abundance of edible plants and household materials that can be produced, to the valuable services they can perform. ...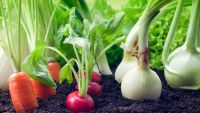 5: Fresh Food from Your Own Garden
Explore the benefits of local, sustainable food production and find realistic ways you can become more involved with your food, from seed to fork. Learn simple methods for growing fruit, vegetables, and herbs-even if you live in a city apartment-and about revolutionary gardening philosophies and gastronomic movements, including Slow Food....
6: Winter Gardening
Local produce is readily available year round when you know tricks for off-season gardening. Learn the advantages of and methods for planting during the "second spring," including tips on building a simple, inexpensive structure that creates a microclimate, making it possible to harvest fresh food all winter long....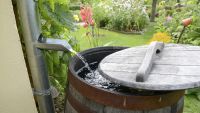 7: Sustainable Water Use
Sourcing clean water and using it wisely are key to sustainable living. Consider how systems can be designed to sustainably provide water for drinking, washing, irrigation, and other uses, and find smart ways to get the same or better services using less. Also, examine ecological approaches to handling storm water....
8: Transportation Alternatives and the Ecocity
Turn your attention to how settlement patterns-from rural to suburban to urban-and their existing infrastructures affect sustainability by defining how people can travel within and between locations. How can cities transition to ecocity design? What are the greenest modes of travel? How can we continue to drive cars and still live sustainably? Find out here. ...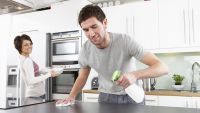 9: Sustainable Products for the Home
Learn how you can live a greener lifestyle and establish a regenerative ecological footprint through the choices you make every day as a consumer, whether you're shopping for groceries or replacing your carpeting. Find out why organics cost more, how you can make safe and effective cleaning products at home, and more....
10: Green Economics: Living Well
What does a sustainable economy look like? Take an in-depth look at the core concepts necessary for an economy that meets people's material needs while respecting the hierarchy of sustainability and working in service to humanity and nature. Such ideas include a steady state economy and the movement for degrowth....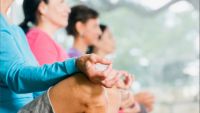 11: Inner Dimensions of Sustainability
Move from outer elements of sustainability-such as solar energy, ecocities, and organic agriculture-to inner dimensions of sustainability: spirituality, holistic health, and well-being. Learn what faith-based organizations have to say about sustainability, investigate meditation, and delve deeper into the Slow Food Movement....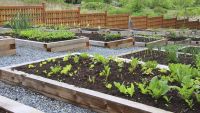 12: Shifting to a Sustainable Worldview
Integrate everything you've learned in this course with a high-level review. Look closely at permaculture and its ethics; consider the customs of the Tlingit, a self-sustaining people indigenous to the Pacific Northwest; and discover biomimicry, an emerging discipline that uses nature as a model for technological design....
Lonnie A. Gamble
Rather than being passive consumers, we can become co-producers of food, energy, building materials, and more.
ALMA MATER
North Carolina State University
INSTITUTION
Maharishi University of Management
About Lonnie A. Gamble
Professor Lonnie A. Gamble is a founding faculty member and Co-Director of the Sustainable Living program at Maharishi University of Management, where he has taught since 2003. He holds a Bachelor of Science degree in Electrical Engineering from North Carolina State University and has completed additional studies in renewable energy, cognitive science, and computer science at the University of Maine; Maharishi University of Management; and the University of California, San Diego. Having lectured around the world, Professor Gamble has received numerous teaching and service awards, including the teacher-of-the-year award at Maharishi University of Management; an award from the Iowa Chapter of Sierra Club; a mayoral award for his work in Fairfield, Iowa; and a fellowship and award from the Agrestal Fund. He has received $250,000 in grants from a wide range of foundations in support of his work. Professor Gamble is a co-founder and former board chair of the Sustainable Living Coalition, and one of the founders of the emerging field of deep sustainability. He has founded half a dozen companies in the areas of renewable energy, telecommunications, sustainable building and development, and sustainable agriculture, in addition to a consulting practice in the design of high-performance buildings and renewable energy systems.