Rated

5

out of

5
by
MtLogan
from
The Historian as Raconteur
I'm no Egyptologist, so it's entirely possible that historical flaws sailed right over my head. All I know is, this course was fun. First, Professor Brier drops fascinating tidbit after fascinating tidbit: about what Egypt was, about daily life, about religion, about art (and the Egyptian concept of "art"), about the peculiarities of royal marriage and succession, and more. Second, Professor Brier is skilled at the art of storytelling. He constructs compelling narratives, understands "hooks" (trivial but attention-grabbing details), and likes to end lectures on a cliffhanger. He even explores a fascinating if (as he freely acknowledges) far from settled potential murder mystery. Third is Professor Brier's style. This may put some people off, but for me it was a major plus. Despite being a highly regarded and credentialed authority, he comes across as that jovial Jewish uncle from Manhattan whose visits you lived for as a kid. His lecture style is friendly, warm, enthusiastic and often humorous. His voice has a smile in it. With only twelve lectures covering more than three thousand years of history, this is of necessity an almost ridiculously cursory glance over a vast historical landscape. That's why I'm glad Prof. Brier focused on a handful of key personalities and eras. I can't speak to the visuals because I bought the audio version. But with Prof. Brier, the joy is in the listening anyway. So look at it as a fun introduction to ancient Egypt, sit back, and enjoy the ride.
Date published: 2021-04-10
Rated

5

out of

5
by
TyroneAxeMeDis
from
Brier is a joy to listen to
An animated and expressive speaker, Brier is a very refreshing rarity for a lecturing professor in contemporary times. His passion for the topic shines through - with little or no 'social justice dogma' to push on the audience (a very refreshing novelty these days of SJW and Marxist indoctrination in academia).
Date published: 2021-02-08
Rated

5

out of

5
by
jamjam57
from
Excellent lectures
Excellent lectures with great choice of topics to present a fascinating overview of Ancient Egypt
Date published: 2021-01-14
Rated

5

out of

5
by
TomandHeather
from
I really liked this. I learned a lot and found the different Pharaohs to have been selected for very appropriate reasons. My only regret was that there were not more Pharaohs discussed.
Date published: 2020-09-15
Rated

5

out of

5
by
Beach bum
from
The beginning of civilizations was here
Professor Brier is passionate about his topic and It's fun to listen and watch his presentation.
Date published: 2020-07-07
Rated

5

out of

5
by
By my so potent art
from
Excellent class, excellent professor
I found this to be a great survey of Egyptian history told through the stories of significant kings and queens. Prof. Brier's knowledge base is vast and he conveys it with a light touch. I thought this was an outstanding value and one of my favorite courses.
Date published: 2020-07-01
Rated

5

out of

5
by
Fitzjr
from
Egypt
We have a trip planned to Cairo next year, COVID willing, and the course was therefore very enlightening.
Date published: 2020-06-13
Rated

5

out of

5
by
Deneese2
from
Awesome presentation!
I absolutely enjoyed this course. The professor is very knowledgeable about Ancient Egypt's rulers.The way he weaves the narrative will have you sitting at the edge of your seat. It was an eye opening and very informative presentation. I finished these lectures in two days. It was so good.
Date published: 2020-06-06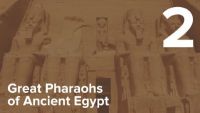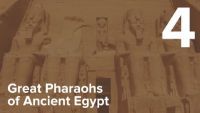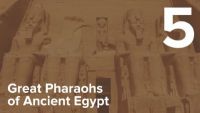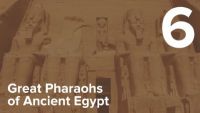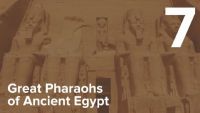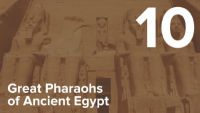 Bob Brier
To a great extent, the fun of history is in the details. Knowing what kind of wine Tutankhamen preferred makes him come alive.
ALMA MATER
The University of North Carolina, Chapel Hill
INSTITUTION
Long Island University
About Bob Brier
Dr. Bob Brier is an Egyptologist and Senior Research Fellow at the C.W. Post Campus of Long Island University. He earned his bachelor's degree from Hunter College and Ph.D. in Philosophy from The University of North Carolina at Chapel Hill. Professor Brier has twice been selected as a Fulbright Scholar and has received Long Island University's David Newton Award for Teaching Excellence in recognition of his achievements as a lecturer. He has served as Director of the National Endowment for the Humanities' Egyptology Today program. In 1994, Dr. Brier became the first person in 2,000 years to mummify a human cadaver in the ancient Egyptian style. This research was the subject of a National Geographic television special, Mr. Mummy. Dr. Brier is also the host of The Learning Channel's series The Great Egyptians. Professor Brier is the author of Ancient Egyptian Magic (1980), Egyptian Mummies (1994), Encyclopedia of Mummies (1998), The Murder of Tutankhamen: A True Story (1998), Daily Life in Ancient Egypt (1999), and numerous scholarly articles.