Rated

5

out of

5
by
LeWolf
from
Great Introduction to Buddhism
I enjoyed this course very much. I feel I have a good basic understanding of the various forms or "secs" of Buddhism. Considering how rich and detailed Buddhism is I felt this course and instructor gave a great foundation to understand this Religion. Definitely worth my time.
Date published: 2021-03-26
Rated

3

out of

5
by
Ruodrik
from
INTERESTING CLASS BUT A LITTLE COMPLEX
While I enjoyed this class I thought the topic was not broken down well in the 30 minute lectures. I was not very knowledgable on this subject and even after 24 lectures I can say I learned as much. The professor was a little dry and at times he almost sounded like a tour guide more than a educator.
Date published: 2020-09-18
Rated

4

out of

5
by
EngineerinVA
from
Worthwhile
This is one of the series of five comparative world religion courses called Great World Religions. This series is worthwhile for anyone seeking to understand how religions, in general, influence world history and current events and how these religions compare and contrast with each other. This series succeeds in its objective. Note that this course is only 12 lectures long. The course starts with the historical development of Buddhism starting with the Buddha himself, proceeding through his disciples, and ultimately to various branches of Buddhism. The course explains how Buddhism varies somewhat among China, Southeast Asia, Tibet, and Japan. The course explains the basic tenets of Buddhism. It always projects a healthy but detached respect. I respect Dr. Eckel's understanding of the subject and how he explains it without selling it. I used the audio version. I believe that the video would not have added much.
Date published: 2020-04-02
Rated

2

out of

5
by
Mr Phil
from
Not what I thought I was getting
Did not explain anything about what Buddhism believed, only about some praqctices
Date published: 2019-10-17
Rated

3

out of

5
by
B Ford
from
Good historical / philosophical overview
Before taking this course I thought I had a pretty good grasp on all I need to know about Buddhism, but suspected there was more to learn. I hoped this course would piece together my fragmentary knowledge, provide context and history, clear up confusion I had between Indian/Japanese/Chinese names and interpretations, and fill in some gaps. Professor Eckel's "Great World Religions: Buddhism" course did some of that. I was familiar with the basics, but this course made me aware there's so much more to know about Buddhism's history, expanding geographical range, development, meaning and purpose, and nuanced distinctions between Buddhist sects. And this was only a 12 lecture course! Although Professor Eckel's delivery was generally low key, sometimes bordering on droning as he slouched with his hands in his pockets as his attention seemed to wander, and there were times his sense of humor seemed a bit smug or inappropriate, I look forward to seeing what further insights are revealed by his 24 lecture course on Buddhism. This course was made in 2003, so Eckel's admiration and praise for the politics of Myanmar's Aung San Suu Kyi in Lecture 9, although popularly shared at the time, seem slightly outdated or misplaced now: Eckel credits her for uniting Buddhism and democracy through tolerance and non-violence, but she's recently received much criticism worldwide for failing to condemn or stop violence against Myanmar's Muslim Rohingya population and refugees and persecution of journalists. I suppose that's politics,…and Eckel did conclude the lecture with a discussion of the Sri Lankan government where he said Buddhist countries are not necessarily free from political violence (although the Tamil Tigers he mentions were defeated about ten years ago). In any event, like all valuable belief systems, Buddhism certainly has much to teach people about how to be happy and get along.
Date published: 2019-10-17
Rated

2

out of

5
by
tommyd555
from
Did Not Capture My Attention
I had originally purchased and listened to the professor's other course ("Buddhism") but I just could not get into it. I felt like there was too much "talking" (and a little bit of fluff) and not alot of teaching or explanation of the differences of the various types of Buddhism. So I purchased this course thinking with half the time allotted the professor would likely cut out alot of the stories and focus only on the key discussion points of Buddhism. Unfortunately, alot of what was said in the other course was repeated here (including his personal anecdotes) and it had a similar effect on me: I found myself drifting away unable to stay focused on the lectures. If I wasn't driving I could easily fall asleep because my attention was never grabbed and held hostage. Alot of times it felt like a grandfather telling random stories with some history sprinkled in but not alot of explanation. Don't get me wrong: his presentation style isn't all bad and his style may very well work for you and you may learn alot. He comes across as a very affable person who is knowledgeable and dedicated to this field of study. I just wish there were deeper discussions of how the various types of Buddhism differed from one another. I don't feel like that was conveyed very well. Lectures 3 and 4 took me the closest to an understanding of the core of this great tradition and placed me in deep reflective thought. But it didn't last from there. If you're interested in the basics of Buddhism, for my money I would suggest courses like "Cultural Literacy for Religion: Everything the Well-Educated Person Should Know" and "Great Minds of the Eastern Intellectual Tradition".
Date published: 2018-10-08
Rated

4

out of

5
by
XenophonAnabasis
from
Similar to his other course but worth buying
As other reviewers have noted, this is in some ways a shorter version of his other course, Buddhism. But sometimes it is helpful to hear the same material in a different way. In both courses, he spends very little time on Theravada Buddhism. He covers that topic by discussing the current (when the course was recorded) political situation in Sri Lanka, Thailand, and Myanmar. We have been to Thailand and Cambodia and would have liked to learn how Theravada differs from Mahayana, and were disappointed. Maybe he doesn't know much about Theravada. I found it odd how the he treats the Dalai Lama with such reverence and awe, quoting him often, as if his opinions were the the height of wisdom. Unless you buy into the reincarnation story, that man, the Dalai Lama, is just someone who was randomly selected as a child to take that role. There is no reason to think he is particularly intelligent or has great wisdom.
Date published: 2018-04-22
Rated

5

out of

5
by
Randy49
from
Great breadth of subject and excellent professor.
Having studied many writings on Buddhism I find that this is a good review of some of what I know and has many new points for learn. I am very pleased.
Date published: 2017-07-30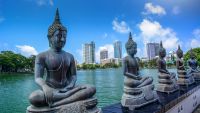 1: Buddhism as a World Religion
During its 2,500-year history, Buddhism has grown from a tiny religious community in northern India into a movement that now spans the globe. This lecture describes its lasting and present influence, the ways it is not a religion, and its practitioners' ultimate goal....
2: The Life of the Buddha
This lecture tells the story of the beginnings of Buddhism in India in the 6th century B.C.E., with the birth of Siddhartha Gautama. His life has given rise to a rich tradition of stories that tell us not only about Buddhist origins but also about Buddhist aspirations for a life of wisdom, freedom, and peace....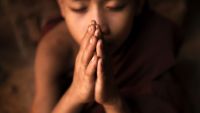 3: "All is Suffering"
After the Buddha had experienced his awakening, he taught a group of ascetics about it. This event is known as the first "turning of the wheel of Dharma," or teaching. The lecture goes on to show how Buddhism presents a realistic assessment of life's difficulties and how that can lead to a sense of liberation and peace....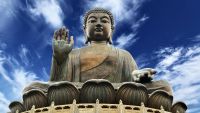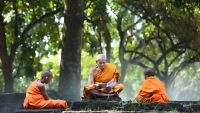 5: The Buddhist Community
Due to a long and productive teaching career, the Buddha attracted many disciples and laid the foundation for Buddhist monasticism, including orders of monks and nuns, as well as a sophisticated tradition of lay devotion and support. Buddhist art and architecture shows us not only how Buddhists came to view the Buddha himself but how they gave ritual and artistic expression to his teachings....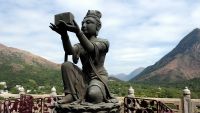 6: Mahayana Buddhism-the Bodhisattva Ideal
This lecture describes the movement called the Mahayana, which promotes the ideal of the bodhisattva who does not attempt to achieve nirvana but vows to return again and again to seek the welfare of other living beings. Practitioners of the Mahayana develop the contemplative virtue of wisdom, together with the active virtue of compassion....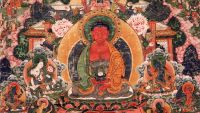 8: Emptiness
This lecture looks at the paradoxical concept of Emptiness in Mahayana texts and doctrines that gave rise to a radically new way of viewing the Buddha. In Tantric Buddhism, the Buddha can be visualized not just as the peaceful figure we know from earlier Buddhist art, but also as a wrathful deity and as the intimate union of male and female....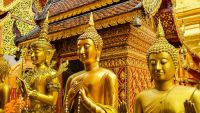 9: Theravada Buddhism in Southeast Asia
During the reign of the Buddhist king Asoka (c. 268-239 B.C.E.), missionaries left India for Sri Lanka. From this effort grew the Theravada Buddhism that now dominates all the Buddhist countries of Southeast Asia except Vietnam. Throughout the history of Theravada Buddhism, there has been a close relationship between the Buddhist Samgha and Buddhist political leaders. This relationship is evident ...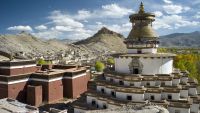 10: Buddhism in Tibet
The early history of Tibetan Buddhism was shaped by models borrowed from India. Eventually, Tibetan Buddhists developed a tradition of four schools, the Nyingma, Sakya, Kagyu, and Geluk, each with is own distinctive characteristics. Today, the Tibetan tradition is best known in the figure of Tenzin Gyatso, the fourteenth Dalai Lama, recipient of the Nobel Peace Prize in 1989 for his peaceful campa...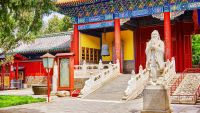 11: Buddhism in China
This lecture discusses the spread of Buddhism in China, which began in the 2nd century C.E., when China was suffering from political turmoil and cultural decline. The earliest Buddhist translators used Taoist vocabulary to express Buddhist ideas. Through a long process of interaction with Taoism, Confucianism, and Chinese popular religion, Buddhism took on a distinctively Chinese character....
Malcolm David Eckel
When I made my course on Buddhism, I had no idea who would be listening my lectures. It has been immensely satisfying to see the course help so many people enjoy the variety, complexity, and depth of this beautiful tradition.
ALMA MATER
Harvard University
INSTITUTION
Boston University
About Malcolm David Eckel
Dr. Malcolm David Eckel is Professor of Religion and Director of the Core Curriculum at Boston University. He holds two bachelor's degrees, one in English from Harvard University and a second in Theology from Oxford University. Professor Eckel earned his master's degree in theology at Oxford University and his Ph.D. in the Study of Comparative Religion at Harvard University. He held teaching positions at Ohio Wesleyan University, Middlebury College in Vermont, and the Harvard Divinity School, where he served as acting director of the Center for the Study of World Religions. At Boston University, Professor Eckel teaches courses on Buddhism, comparative religion, and the religions of Asia. In 1998, Professor Eckel received the Metcalf Award for Teaching Excellence, the university's highest award for teaching. In addition to writing many articles, Professor Eckel has published two books on Buddhist philosophy: To See the Buddha: A Philosopher's Quest for the Meaning of Emptiness and Buddhism: Origins, Beliefs, Practices, Holy Texts, Sacred Places.