Rated

5

out of

5
by
DaGeek
from
Passionate, knowledgeable professor
I'm a Born Again Agnostic… I was raised Southern Baptist, but never felt comfortable there. After much study I am comfortably agnostic. My wife is 99% Eastern European Jew (DNA test) who occasionally goes to a reformed synagogue. We paid for an annual subscription to the Great Courses and thought resurveying the world religions would be interesting. One thing the professor said in the 12th lesson was that time allotted, twelve 30 minute sessions was not adequate to do the subject justice. I would have to agree. He worked diligently to cover it the best he could. He is very passionate and knowledgeable about his subject and a very good speaker. I did however feel like it had a very Catholic leaning to it, but then most of the history of Christianity is that of the Roman Catholic church, especially in Europe and North America. Interestingly enough, we had to pause the video several times as my wife had questions about Christian practices, beliefs, etc that were just barely being touched on. While living a society that is basically Christian, her experience has been very Jewish. We are comfortable in our "mixed" marriage, but it is still nice to have these conversations inspired by the video. However, she stills remains somewhat mystify by the Jesus phenomenon. Again, we enjoyed the presentations and found them worth our time.
Date published: 2021-03-25
Rated

5

out of

5
by
David5
from
Another superb course
By a scholar whose narratives enhanced the underlying subject for me.
Date published: 2021-03-13
Rated

5

out of

5
by
ainsi parlait
from
this can be a course you were looking for
I chose to watch this course because some of the readings in philosophy I undertook recently were constantly making references to the Bible, Christian theology and the history of the church, and I found myself more ignorant about these subjects than I thought I was. In one instance, I came across a statement which went like, "Nietzsche said Christianity was Platonism for the people. But it would probably be more accurate to say it was Gnosticism for the people." The author certainly provided ample commentaries on Gnosticism and how it can be viewed in relation to Christianity but, if you do not have any prior exposure to topics like these, you would want to know how they are presented at the introductory level, to have a proper beginning, as it were. This course introduces the audience to some of the key aspects of Christianity. With its length (just 12 30-minute sesssions), it can't be extensive, nor in-depth, but you can have a sense that you did take an overview of Christianity in its two-millenia long history. There are more than a few references to Gnosticism (Dr. Johnson's view is that Christianity became what it was in response to the challenges posed by Gnosticism; I think there is room for interpreting this as saying that Christianity is Gnosticism for the people) -- references that worked as an orientation on the topic for me. If you do not know much about Christianity (its scripture, history, theology) but need some grounding in it, this course can be a good place to start. I am planning on checking out more courses on related topics, including History of Christianity, also by Dr. Johnson.
Date published: 2021-02-14
Rated

1

out of

5
by
Alex V
from
Concerning Historical Errors
Disclaimer: I am writing this after having watched Lectures 1-6, unsure if I will continue due to several historical errors, especially prevalent in Lecture 6, but also occurring before. The most obvious and alarming error is the repeated assertion that Constantine made Christianity the official Roman religion, an assertion upon which the professor builds several other erroneous claims. This is untrue, while Constantine legalized the religion it wasn't until the emperor Theodosius that Christianity became the official Roman religion. This is a basic historical fact of the Roman Empire, ignorance of which is a major red flag. Then the professor made several errors (and somewhat flippantly I might add) regarding early Christian practice of the Sacraments. He stated that only the clergy were considered "real Christians", an elitism that certainly was not present in the early church, as attested to by the writings of many if not all the early church fathers, who often laud all members of the faithful. He claimed that the Eucharist was celebrated with variations of bread and wine, or bread and water, or even bread and fish, and that this only changed after Constantine's declaration. This is, however, refuted by the writings of St. Justin Martyr, who writing in the 100s AD (well before Constantine was even born) described the Eucharist as consisting specifically of bread and wine mixed with water (see his First Apology). There is no indication that this was disputed or different anywhere in the early church. He compares early masses to "eating at a card table" and says again that this only changed after Constantine. While Christianity was able to worship in public spaces after Constantine, it is attested to especially by archaeological evidence that early Christians during the times of persecution sought to gather in long rooms (usually in a wealthier members' home) similar to the later basilicas and that the performance of the mass in basilicas after Christianity's legalization was a natural progression from the former performances in private homes. He implies that baptism was informal and homely prior to Constantine, and only afterward did it get the ritual treatment. However, by again reading St. Justin Martyr's First Apology and seeing the very ritualistic language that he uses to refer to baptism, and also the First Council of Nicaea, it's clear that baptism was always approached with ritualism and sanctification. Though the Council did occur in the reign of Constantine (it was impossible to have major councils prior to Christianity's legalization) the Council had one canon setting minimum education for catechumens prior to baptism and another canon that specified the necessary requirements of a valid baptism, showing that this was an issue both immediate and which they held in very high regard. Further he states that relics are a later invention and derisively compares them to "good-luck charms." While he is free of course to hold this view privately, to misrepresent what Christians (the ones who still venerate relics) believe about relics in a course that's meant to explain it to interested individuals is very concerning. And further, there is writing from the time of Polycarp (I am specifically referring to the document The Martyrdom of Polycarp, written during the lifetime of St. Justin Martyr, and therefore again much earlier than Constantine) affirming early Christian veneration of relics! Again I am writing this at the end of Lecture 6, so I can't speak to the lectures following, but this many historical errors, and ones that should be well-known to a scholar of Christianity, are deeply troubling. And the belittling way in which the professor presents them is also disturbing. I hope this review will prevent people from being misled into historical inaccuracy by this course.
Date published: 2020-11-11
Rated

5

out of

5
by
Ducommup76
from
Superb teaching
This is my second course with this lecturer and I am totally impressed with the style and content of his presentations. His descriptions are precise, coherent and a pleasure to hear and there is no "dumbing down" of the content. I highly recommend his courses.
Date published: 2020-09-14
Rated

1

out of

5
by
Danlen975
from
He clearly does not respect Christian or christian
Johnson ridicules christian practices throughout the lecture using terms like; Jesus is a failed Jew, Jesus uses the outrageous term Amen, Christian services are bells and whistles, Constantine's conversion to Christianity was an accident, and others. Why did the Great Courses company choose this "failed priest?" They chose a respected Rabbi to conduct the Jewish course. A man who explained Jewish history and practices in a professional and respectful way. I regret ever purchasing the Johnson course. The Great Courses should be ashamed.
Date published: 2020-01-07
Rated

2

out of

5
by
123455
from
very disappointing
possibly useful as a primer for someone looking to be employed in a Christian setting, but otherwise deadly boring. considering that the majority of Great Courses users are from USA, it's amazing that there was little to no coverage (& the little was useless) of the church's role in fostering slavery; the development of Evangelicals & their political involvement; the differences between Italian/Irish/Hispanic Cathalocism; the multitude of Protestant divisions; ....
Date published: 2019-06-12
Rated

4

out of

5
by
Perseverance
from
Helpful
During the 2018 Easter season I was interested to take up Prof. Johnson's presentation. Prof. Johnson's poses 2 questions to consider at the end of his lectures. First, what do the recent tendencies toward unification and separation reveal about the contemporary challenge to Christianity as a world religion? His presentation indicates that Christianity is still struggling with the same issues raised in original Christianity in the first stage of approximately 250 years. Christianity is again forced to negotiate its identity in a pluralistic world without the support of culture or the state. Second, in light of its history to this point, how realistic is it to speak of Christianity as entering, not the end of its story, but a new and positive stage in its story? Prof. Johnson indicates that contemporary Christianity is struggling to become a true World Religion, and is largely at the end of its story for most people in the world today. Prof. Johnson looks back nostalgically at early Christianity before Jesus became God. And for good reason. A large part of the historical Jesus was lost and has not yet been revealed to most truth seekers. The story of how Jesus became the Christ needs to be revealed and made a part of a new Biblical canon. E.g., Prof. Johnson made an incorrect statement when he said that the prayer beads known as the Rosary are derived from the ancient Islam prayer beads. To my knowledge, the Rosary derived from the Hindu mala of 108 beads which are used to repeat a mantra given by a Guru to a disciple. This is one clue that Jesus went to India between about the age of 12 to 28 and learned metaphysical meditation techniques from India's greatest rishis which he taught to his disciples when he returned to Jerusalem and Galilee. I would encourage Prof. Johnson to check his facts and broaden his scope to learn original Christianity - the yoga of Jesus.
Date published: 2018-04-15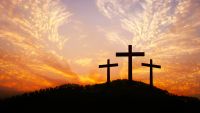 1: Christianity among World Religions
This first lecture introduces Christianity by locating it among other world religions and providing basic facts: its number of adherents, their geographical distribution, the variety of lifestyles they follow, and the length and complexity of its history. Christianity is compared to other major religious traditions with respect to its founder, form of community, sacred texts, doctrine, ritual, mor...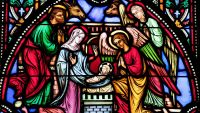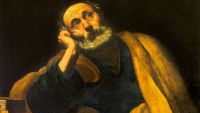 4: The Christian Story
Christianity is both deeply historical and mythical in its way of seeing the world. The Christian story provides a comprehensive narrative that extends from the creation of the world to the end of time. The basis of this narrative is found in Scripture, made up of the Old and New Testaments....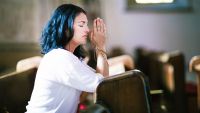 5: What Christians Believe
Belief, or doctrine, is more important to Christianity than to other religious traditions, such as Judaism or Islam, in part because of Christianity's origin as a sect within Judaism. This lecture sketches the origins and development of the creed, touches on its continuing controversial place in Christianity, then focuses on the central tenets of faith expressed by the 4th-century Nicene-Constanti...
6: The Church and Sacraments
One of the results of Christianity becoming the imperial religion under Constantine in the 4th century is that its structures expanded to meet its new place in the world. The church grew from small local assemblies into a worldwide organization with a hierarchical structure, extensive material holdings, and substantial social obligations....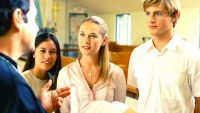 7: Moral Teaching
Every religious tradition demands of adherents a manner of living consonant with its understanding of the world. Unlike Judaism and Islam, however, Christianity has struggled to formulate a consistent moral code. This is partly due to its ambivalence concerning law and partly to its emphasis on internal transformation. Over time, elements from Scripture have been supplemented by other sources, suc...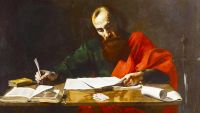 8: The Radical Edge
From the very beginning, the tension between conservative and radical tendencies can be seen in the ministry of Jesus, in the writings of Saint Paul, and in the Book of Revelation. As Christianity in both the East and West adapted itself to the structures of society, certain Christians maintained the radical edge in their manner of life: the martyrs, the monks, the missionaries, and the mystics....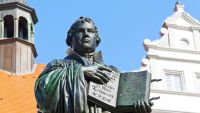 9: Catholic, Orthodox, Protestant
Despite its ideal of unity, Christianity has always experienced divisions from within, some of which persist to this day. This lecture identifies the historical circumstances of the two greatest moments of division: the schism between Orthodox and Catholic in the 11th century and the Protestant Reformation of the 16th century....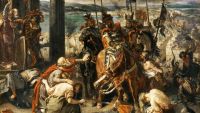 10: Christianity and Politics
Christianity began as a minority intentional community that was socially marginalized and persecuted by imperial power. Over the centuries, it became closely associated with state power, and the shadow of the Constantinian era continues until today. The American, French, and Russian political revolutions ushered in the Post-Constantinian era, which poses fresh challenges to Christians....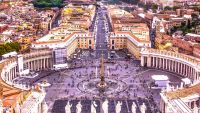 11: Christianity and Culture
At its beginning, Christianity rejected philosophy and was regarded by the sophisticated as a form of superstition. This lecture describes how, through the centuries, Christianity shaped and was shaped by every development in culture. The secularization of culture that began with the Enlightenment has progressively severed culture from Christianity, and modernity increasingly challenges the ration...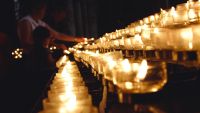 12: Tensions and Possibilities
Christianity faces a number of challenges. Especially in the First World, Christians are deeply divided about how to respond to modernity, politics, and the intellectual life. A variety of religious impulses throughout the world indicate that, despite many premature obituaries, this ancient and complex religious tradition remains lively and, for many, life-giving....
Luke Timothy Johnson
I strive to make philosophy accessible and lovable to everyone. If everyone embraced philosophy, the world would be a much better place.
ALMA MATER
Yale University
INSTITUTION
Emory University
About Luke Timothy Johnson
Dr. Luke Timothy Johnson is the Robert W. Woodruff Professor of New Testament and Christian Origins at Emory University's Candler School of Theology in Atlanta, Georgia. Professor Johnson earned a Ph.D. in New Testament Studies from Yale University, as well as an M.A. in Religious Studies from Indiana University, an M.Div. in Theology from Saint Meinrad School of Theology, and a B.A. in Philosophy from Notre Dame Seminary in New Orleans. A former Benedictine monk, Professor Johnson has taught at Yale Divinity School and Indiana University, where he received the President's Award for Distinguished Teaching, was elected a member of the Faculty Colloquium in Teaching, and won the Brown Derby Teaching Award and the Student Choice Award for teaching. At Emory University, he has twice received the On Eagle's Wings Excellence in Teaching Award. In 2007 he received the Candler School of Theology Outstanding Service Award. His most recent award is the 2011 Louisville Grawemeyer Award in Religion for the ideas set forth in his 2009 book, Among the Gentiles: Greco-Roman Religion and Christianity. Professor Johnson is the author of more than 20 books, including The Real Jesus: The Misguided Quest for the Historical Jesus and the Truth of the Traditional Gospels and The Writings of the New Testament: An Interpretation, which is widely used as a textbook. He has also published several hundred scholarly articles and reviews.