Rated

5

out of

5
by
DaGeek
from
Well Presented, Good Teacher
Mark W. Muesse, Ph.D. strikes as a bit of nerd, but he is an excellent teacher. His material is well organized and he presents it professionally and effectively. Like some other teachers in this series he did talk about twelve 30 minute sessions being too short a time period. Hinduism is a very ancient and complex religion, and would concur that most of the courses in this series should have been longer. I suppose a marketing decision. So far we have watched the courses on Judaism, Christianity, Islam and now Hinduism. The first three of these have approached the subject from an historical point of view and not spent a lot of time dealing with the nuts and bolts of the religion. Muesse did do a nice historical survey, but he did spend some time daily practices of the religion. Working in IT for many years I have had many Indian coworkers. I would occasional come across Hindu icons in their offices and I have had a few religious/philosophical discussions with them. This course was nice as it gave me a bit of a deeper understanding of their culture. We really enjoyed it.
Date published: 2021-04-11
Rated

4

out of

5
by
Scott Kilner
from
An Intelligent Introduction to Hinduism
This course offers an intelligent discussion of the contours of a world religion far removed from the Western tradition. Prof. Muesse begins by placing Hinduism in its historical and geographic context, noting that the religion has always been confined to the Indian subcontinent. Hinduism considers India in its entirety to be sacred; there has never been an evangelical/proselytizing tradition to export it elsewhere. Following a discussion of the ancient Indus Valley civilization of Harappa, Muesse moves on to the Aryan migrations from the north that brought with them the Veda and its traditions. An examination of "Classical Hinduism" forms the core of the course. Muesse focuses on the Hindu view of life as a never-ending series of reincarnations (samsara=wandering of the soul) until one can escape the cycle by achieving mokśa, that is, release. He also does a good job trying to help listeners understand the almost limitless number of Hindu gods and goddesses, many of whom can seem very bizarre to the Western mind. Interestingly, he insists that Hinduism is both monotheistic and polytheistic. Most depressing is the discussion of Hinduism's caste system and the views toward women in India. Muesse does not pull any punches or provide excuses, but simply describes how things have been. Such traditions may be changing today, but only very slowly.
Date published: 2021-03-06
Rated

5

out of

5
by
Oleksandra
from
Clear and fascinating
I loved the course. It is an excellent very short introduction to Hinduism. One can grasp the basic notions of Hinduism as they are provided in a very clear and fascinating manner. Also, the professor outlines some issues and limitations one can face while trying to understand Hinduism. As the course is very short, I think it is aiming mainly to kindle our interest in the subject for our own further exploration. Personally I loved to learn about Lalla, a Kashmiri poet who was greatly devoted to Shiva. After listening to the lecture, I read her poetry and found it deeply moving. Also, I genuinely enjoyed the lecture on monotheism, polytheism, and what is idolatry. I am truly grateful for the opportunity to listen to this course!
Date published: 2020-11-14
Rated

5

out of

5
by
LouisM
from
Loved this course!
I really like Dr. Muesse's style of teaching. As he says at the end, 12 lectures can not do Hinduism justice but can wet the appetite to learn more. I learned so much about Hinduism and the practices in this lecture series. I wholeheartedly recommend this to anyone wanting to learn more. The video definitely is worth it because some of the Hindu words are very hard to understand and they show up in video on the screen.
Date published: 2020-09-12
Rated

4

out of

5
by
EngineerinVA
from
Worthwhile
This is part of the Great World Religions series including Christianity, Judaism, Islam, Buddhism, and Hinduism. Each course is a short (12 lectures) introduction into the religion. This is good for someone who wants an introduction into comparative religion. Dr. Muesse has a challenging task: How to describe a "religion" that is really a family of widely varied religions including what god(s) to worship. He does manage to convey that diversity including the pantheon of gods and the different approaches to practice: The Way of Action (imperatives), the Way of Wisdom (philosophy), and the Way of Devotion (worship or cult practices). He considers Hinduism as a social structure as well as a "religion". Unfortunately, Dr. Muesse's presentation style is well below average by The Great Courses standards. I get the impression that he is reading without an audience present. I took the audio version. I doubt that the video would have added anything.
Date published: 2020-04-11
Rated

1

out of

5
by
nagu
from
why a woman's photo and not hindu man's photo?
First of all how much knowledge a western british christan man has about the world's oldest religion is questionable and he is likely to be biased against non-abrahamic religions. secondly why did he put a hindu women's photo as thumbnail and not a hindu man's photo or some other thing's photo relevant to hinduism such as om or swastik? all other religion videos have either man's photo or some other thing. Why they did not put some white christan british women's photo in christanity for e.g thirdly hinduism's original name is sanatam dharm and it is very complex for a western man to understand and interpret it correctly. Even many hindus do not understand it properly. there are many more points but i wanted to make it short. hope they publish my review. Let's see.
Date published: 2019-04-16
Rated

4

out of

5
by
Dugan
from
Fine introduction to Hinduism
I know little about the subject and was constantly surprised by the complexity of this family of religions it is far more diverse than Christian religions. I enjoyed it and will be listening to it again.
Date published: 2019-04-07
Rated

4

out of

5
by
Peter S
from
Very illuminating
An excellent, revealing overview of the huge expanse of history that is contained in Hinduism.
Date published: 2019-03-22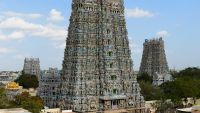 1: Hinduism in the World and the World of Hinduism
Reflection on the subject and the methods used to examine it are very important when one begins the study of Hinduism, a very old and complex religion. This inaugural lecture describes how Hinduism will be studied in this series. We examine the words "Hinduism," "religion," and "India," discussing why they are problematic yet useful for the study of our subject....
2: The Early Cultures of India
Hinduism is an amalgamation of elements from several cultural sources. This lecture focuses on two major contributors, the Indus Valley civilization, and the Aryans. The discovery of the Indus Valley civilization in the 19th century revealed a sophisticated and long-forgotten culture. In this lecture, we examine the artifacts left by this civilization and contemplate their import for its inhabitan...
3: The World of the Veda
In this lecture and the next, we explore the Aryan contributions to the emergence of Hinduism. Our guide is the rich collection of Aryan texts known as the Veda, today regarded by Hindus as their most sacred and authoritative scripture. We shall examine how these texts envisioned the world and its creation, some Vedic gods and goddesses, and the Veda's understanding of the nature and destiny of hu...
4: From the Vedic Tradition to Classical Hinduism
This talk discusses the emergence of classical Hinduism and its views. We examine the place of ritual in Aryan life, their purposes, and their performers. In the central centuries of the first millennium B.C.E., remarkable changes raised doubts about the time-honored Vedic tradition. These doubts spurred the emergence of Hinduism. We see how philosophers came to see the human as an immortal soul e...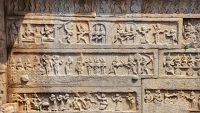 5: Caste
In addition to new ideas about life, classical Hinduism is defined by evolving social arrangements. This lecture and the next discuss the social foundations of Hinduism. We observe how Aryan society is transmuted into an exceedingly complex caste system. Rules regulating behavior within and between castes were developed and joined to the emerging ideas about the soul. These regulations had-and hav...
6: Men, Women, and the Stages of Life
Like caste, patterns of behavior became a fact of life during the emergence of classical Hinduism. We examine the roles of women and men and the social mores governing relationships. We see how regulations formed in classical Hinduism prescribed particular stages of life to be followed by men and women of caste. We give special attention to the householder stage, marriage, the patterns of family l...
7: The Way of Action
Classical Hinduism established the central problem of human existence for Hindus-samsara, the cycle of continual transmigration of the soul. Hinduism offers three ways to deal with this problem. This talk focuses on the first: the path of action, the most important religious discipline for most Hindus. The principal features of the path of action are performing meritorious religious deeds, includi...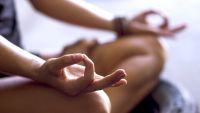 8: The Way of Wisdom
Changes that precipitated classical Hinduism also caused transformation in Indian religious practices. Numerous movements rose in response to these developments. This lecture will discuss the sages who tried to continue the Vedic tradition by maintaining the authority of the Veda. These sages produced practices and philosophies to address transmigration and karma. We explore the new solutions from...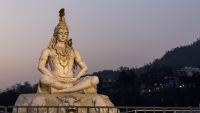 9: Seeing God
Early Western interpreters regarded Hinduism as a crude and hopelessly idolatrous religion. In this lecture we explore the dynamics of Hindu theism in theory and in practice. We see how the pantheon of Hinduism and devotion to images avoid idolatry, and we explore some of the rituals associated with worshiping the god(s). We focus on Siva, one of the most widely revered Hindu deities....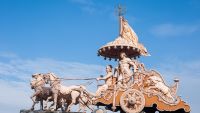 10: The Way of Devotion
Hinduism affirms the multiplicity of the divine as well as the multiplicity of paths to divine reality. In this lecture, we will look at the path of bhakti, or devotion. Oriented toward faith in a personal deity of choice, the path of devotion is a widely traversed road to god among Hindus. Our entry to bhakti practice will be through one of the most important and beloved of Hindu texts, the Bhaga...
11: The Goddess and Her Devotees
In this lecture, we study features of Goddess worship, a long-established tradition in India known as Saktism. We examine manifestations of the Goddess as consorts to the great gods and as autonomous devis. We learn that the feminine energy revealed by the Goddess is essential to Hindu theology. The lecture also explores the practices and concepts of Tantra, an esoteric yogic discipline with origi...
12: Hinduism in the Modern Period
Modern Hinduism has been challenged by Islam and Western culture. Both incursions into India have left profound and lasting imprints. In this lecture, we discuss Islam's effects on Hinduism; we discuss how theological differences have formed tense relationships between Hindus and Muslims that frequently erupt into violence. We consider the effects of British expansion into India and religious resp...
Mark W. Muesse
Mindfulness allows us to become keen observers of ourselves and gradually transform the way our minds operate.
ALMA MATER
Harvard University
INSTITUTION
Rhodes College
About Mark W. Muesse
Dr. Mark W. Muesse is W. J. Millard Professor of Religious Studies, Director of the Asian Studies Program, and Director of the Life: Then and Now Program at Rhodes College in Memphis, Tennessee. He earned a B.A., summa cum laude, in English Literature from Baylor University and a Master of Theological Studies, a Master of Arts, and a Ph.D. in the Study of Religion from Harvard University. Before taking his position at Rhodes, Professor Muesse held positions at Harvard College, Harvard Divinity School, and the University of Southern Maine, where he served as Associate Dean of the College of Arts and Sciences. He is a recipient of the 2008 Clarence Day Award for Outstanding Teaching, Rhodes College's highest faculty honor. Known for his experiential teaching style, Professor Muesse was honored for his effective use of imaginative and creative pedagogy as well as his ability to motivate his students toward lifelong study. Professor Muesse has written many articles, papers, and reviews in world religions, spirituality, theology, and gender studies and has coedited a collection of essays titled Redeeming Men: Religion and Masculinities. He is currently compiling an anthology of prayers from around the world. Professor Muesse is a member of the American Academy of Religion and the Society for Indian Philosophy and Religion and has been Visiting Professor at the Tamilnadu Theological Seminary in Madurai, India. He has traveled extensively throughout Asia and has studied at Wat Mahadhatu, Bangkok, Thailand; the Himalayan Yogic Institute, Kathmandu, Nepal; the Subodhi Institute of Integral Education, Sri Lanka; and Middle East Technical University, Ankara, Turkey.