Rated

3

out of

5
by
DaGeek
from
A bit pedantic for me
A bit pedantic for me, plus the presenter and the teleprompter were not on good terms. I felt like he read rather than lectured. I had watched the course on Judaism and the one on Christianity. I was expecting another adherent of the religion, instead there was an American (I am assuming Christian) professor of the subject of Islam. On the other hand he was very knowledgeable on Islam and expressed great empathy for the religion. This is more a survey of the history of Islam than a deep dive into the nuts and bolts of the religion.
Date published: 2021-04-01
Rated

2

out of

5
by
KelpiesRule
from
Boring Man
The lecturer was a bore, no idea how to make an audience interested in a subject, and seems like it never crossed his mind that that might even be relevant.
Date published: 2021-02-12
Rated

1

out of

5
by
ChrisMac
from
Please Remove This Course and Replace It
For this to be Great Courses' only dedicated course on Islam is unacceptable. The need for a deeper understanding, a more nuanced presentation, and a deeper dive into tough issues has grown immensely in the 18 years since Professor Esposito recorded this. I appreciate generally what he was trying to do at that time, but it is simply outdated. What may have been a satisfactory introductory course in the past, simply comes across now as insufficient, clumsy, and painfully American-centric. Furthermore, there are simple edit problems with this video - not the least of which is misspelling "b-Ismi Allah, ar-Rahman ar-Rahim" which is frankly an egregious mistake. Professor Esposito's inability to pronounce this properly, (along with nearly every other term in Arabic which he mutilated through his powerful New York accent) further degrades the quality of the course. Some of the other professors teaching related topics would excel at teaching an introductory course like this and I recommend highly that Great Courses Plus makes this happen as soon as possible. In the meantime, I request that it is retired from the panoply of courses in the name of damage control.
Date published: 2021-02-01
Rated

5

out of

5
by
truthseeker777
from
A fair academic portrayal of Islam
I think that both Muslims and non-Muslims can benefit from this course. With over a quarter of the world's population identifying as Muslim, this course is a MUST SEE for anybody!
Date published: 2020-10-16
Rated

5

out of

5
by
Roy1948
from
A very good lecturer, a good summary of Islam
I'm currently teaching a geography class entitled the Islamic World: North Africa and Southwest Asia so this course was useful.
Date published: 2020-09-24
Rated

5

out of

5
by
Ecclesiastes
from
Take this course!
If you were to ask me What one Teaching Company course would I recommend above all others? I would say, without hesitation, "World Religions: Islam." I particularly recommend this course for Americans. Islam is not well understood in the United States and is often unfairly maligned. The truth is most Americans live in an ahistorical environment. We have little knowledge of our own history much less the history of Muslim civilization. "World Religions: Islam" does much to dispel myths and misunderstandings about Islam, the second largest religion in the world. John Esposito has an encyclopedic knowledge of Islam and, in only twelve lectures, takes us from the life and times of Muhammad--his receiving of the Qur'anic revelations, and his transformation from businessman to statesman--through Islam at the dawn of the twenty-first century. Along the way, we learn about the two major schools of Islam, Sunni and Shia, the flourishing of Islamic civilization during what were the Dark Ages in the Christian West, the spread of Islam throughout the world, Sufism (Islamic mysticism), Algebra, the Five Pillars of Islam, Islam in America, and more. Particularly of interest to me, was Esposito's discussion of the Nation of Islam as well as other forms of Islam practiced by African Americans. Esposito treats his subject matter with care. Though Muslims have had their fundamentalists, Esposito reminds us that Jews and Christians have had their fundamentalists too. He does an excellent job of allowing his audience to see the world from Muslim points of view. This is a lesson in multiculturalism that we can all benefit from. "World Religions: Islam" was recorded around 2003. Since much has transpired over the past seventeen years, one will need to supplement Esposito's course with knowledge gleaned from other sources. For example, at the time Esposito recorded his course, Ilhan Omar and Rashida Tlaib had not yet been elected to Congress. I watched this course after watching Martyn Oliver's course "Introduction to the Qur'an," which is itself an excellent course. The two courses complement each other so you might want to watch both of them. Definitely watch "World Religions: Islam."
Date published: 2020-08-09
Rated

1

out of

5
by
Mpdu
from
POOR
Very disappointing. Spoke too fast and not enough arabic words written on screen. Lack of enthusiasm.
Date published: 2020-07-30
Rated

4

out of

5
by
EngineerinVA
from
Worthwhile
This is one of the series of five comparative world religion courses called Great World Religions. This series is worthwhile for anyone seeking to understand how religions, in general, influence world history and current events and how these religions compare and contrast with each other. This series succeeds in its objective. Note that this course is only 12 lectures long. This course is largely a historical retrospective of Islam. It outlines the Five Pillars of Islam as an introduction but then largely tracks the unfolding from Muhammad to his successors to the divisions between Sunni and Shi'a. The course does survey the variety within Islam including schools of law and mysticism. The course emphasizes the peaceful nature of Islam but it leaves open the question of how the West can (or should) address more radical and militant elements of Islam, which is an important and unavoidable issue in modern Western society. I used the audio version. I believe that the video version would not have added anything significant.
Date published: 2020-04-11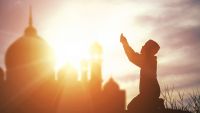 1: Islam Yesterday, Today, and Tomorrow
The diversity of cultural and religious practices of Islam is reflected by the geographic expanse of the Muslim world. Islam's more than 1 billion followers live in 56 countries around the world, yet many in the West know little about it and are familiar only with the actions of a minority of radical extremists. This lecture outlines the second-largest and fastest-growing of the world's religions,...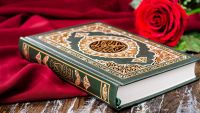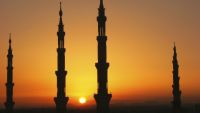 3: Muhammad-Prophet and Statesman
Muhammad's significance is the result of his dual roles as God's messenger and as the perfect living model of the Quran's teachings. After 10 years of persecution and resistance in Mecca, Muhammad and the early Muslims moved to Medina, where Muhammad served as prophet, political ruler, military commander, chief judge, and lawgiver....
4: God's Word-the Quranic Worldview
Muslims believe that the Quran represents both the original and final revelation of God to humankind, making Islam the oldest, rather than the newest, of the monotheistic faiths. The Quran reveals the compassion and justice of God, the role and responsibilities of human beings, and relations between men and women....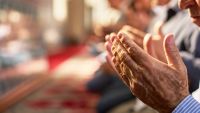 5: The Muslim Community-Faith and Politics
The development of Islam and Muslim history enables us to appreciate the remarkable political and cultural achievements of the Golden Age of Islamic civilization and to understand the sources of sectarianism, religious extremism, and conflict between Islam and Christianity, epitomized by the Crusades....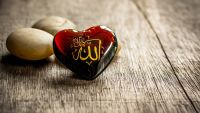 6: Paths to God-Islamic Law and Mysticism
Piety and the desire for reform resulted in the development of Islamic law (the Shariah) and Islamic mysticism (Sufism). Islamic law reflects Islam's emphasis on orthopraxy (correct practice), rather than orthodoxy (correct belief). Sufism emphasizes personal spirituality and devotion and has aided the spread of Islam through missionary activities....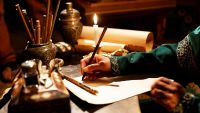 7: Islamic Revivalism-Renewal and Reform
From the 17th to the 20th centuries, the Muslim world experienced both internal disintegration and upheaval and the external aggression of the European colonial era. Muslim responses to these challenges varied from jihad against European colonialism to acceptance and blind adoption of the West. Islamic modernists called for a synthesis of Islam and Western thought in order to achieve legal, educat...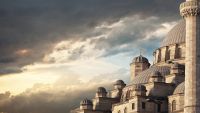 8: The Contemporary Resurgence of Islam
In the last decades of the 20th century, a series of political events and economic realities led to the desire of many Muslims to achieve greater authenticity and self-definition through a revival of Islam. Reformist movements have worked within mainstream society for change, but extremists have resorted to violence and terrorism to achieve their goals....
9: Islam at the Crossroads
Like members of other faith communities, contemporary Muslims face the challenge of defining the role, meaning, and relevance of Islam. At the heart of the "struggle for the soul of Islam" between conservatives and reformers, mainstream Muslims and extremists, is the question of who should interpret Islam and how reform should be achieved. Major issues include the relationship of religio...
10: Women and Change in Islam
The status of women in Islam is a hotly contested issue, both in the Muslim world and in the West. Muslim women are often viewed through Western stereotypes or the policies of extremists, such as the Taliban. Although some critics claim that Islam oppresses women, others view Islam as a source of women's empowerment. Even the wearing of the veil has diverse meanings for wearers and observers....
11: Islam in the West
Islam is now the third largest religion in the United States and the second largest in Europe. Muslims in Europe and America represent a cross-section of national, ethnic, and racial backgrounds and socioeconomic classes. They, like religious minorities before them, face issues of faith and identity, integration and assimilation....
12: The Future of Islam
At the close of the 20th century, it appeared that the future of Islam could be one of new opportunities for peace, democracy, expanded human and women's rights; political, social, and economic empowerment; and an increasing acceptance in Western societies of the Judeo-Christian-Islamic tradition. The September 11, 2001, hijacking of Islam by militant extremists shattered the hopes and dreams of m...
John L. Esposito
Once I began to study Islam, I discovered a religious tradition with close affinities to Judaism and Christianity, with a rich religious, historical, and civilizational legacy that I had never been told about before.
ALMA MATER
Temple University
INSTITUTION
Georgetown University
About John L. Esposito
Dr. John L. Esposito is University Professor, Professor of Religion and International Affairs, and Professor of Islamic Studies at Georgetown University. He earned his B.A. at St. Anthony College, his M.A. at St. John's University, and his Ph.D. at Temple University. Professor Esposito is Founding Director of the Center for Muslim-Christian Understanding: History and International Affairs in the Walsh School of Foreign Service, Georgetown University. He has served as President of the Middle East Studies Association of North America, and the American Council for the Study of Islamic Societies. A specialist in Islam, political Islam, and the impact of Islamic movements from North Africa to Southeast Asia, Dr. Esposito serves as a consultant to the Department of State as well as multinational corporations, governments, universities, and the media worldwide. In 2005, Professor Esposito won the American Academy of Religion's prestigious Martin E. Marty Award for the Public Understanding of Religion. This award honors a scholar who has been exemplary in promoting the public understanding of religion. A prolific writer, Professor Esposito is the author of over 25 books, including What Everyone Needs to Know About Islam, The Islamic Threat: Myth or Reality?, and Unholy War: Terror in the Name of Islam. He is also the Editor-in-Chief of The Oxford Encyclopedia of the Modern Islamic World, The Oxford History of Islam, and The Oxford Dictionary of Islam.