Rated

5

out of

5
by
logicalpositiv
from
Excellent
Need a complete course. Great job teaching and informative
Date published: 2021-05-10
Rated

5

out of

5
by
bluebanshee
from
Need More .......
We need more classes like this that span topics from IT security and civic engagement!
Date published: 2020-11-23
Rated

4

out of

5
by
MemyselfandI
from
Much Needed Information
What I did like re: this lecture was the process of which the professor provided the information. Now in this time of Presidential election it is needed to get this information out to the public. Excellent lecture!
Date published: 2020-10-19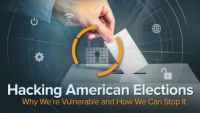 1: Hacking American Elections: Why We're Vulnerable, and How We Can Stop It
Nothing is more singularly significant in American government than the ritual of voting; if the electorate were to lose confidence in the integrity of our elections, it would be a tragedy. Yet, since allegations of hacking and manipulation surfaced during the 2016 election, just how much value a vote has in our system has been in doubt. Join Professor Paul Rosenzweig from The George Washington University Law School to unpack the infrastructure of our voting system and its vulnerabilities, the controversy surrounding the 2016 elections, and how we should respond to this grave threat to our democracy.
Paul Rosenzweig
If you've learned anything in this course, I hope it is that cyberspace is remarkable and useful precisely because it is open and unstructured.
ALMA MATER
The University of Chicago Law School
INSTITUTION
The George Washington University Law School
About Paul Rosenzweig
Paul Rosenzweig is a Professorial Lecturer in Law at The George Washington University Law School. He earned his JD from the University of Chicago Law School and then served as a law clerk to the Honorable R. Lanier Anderson III of the United States Court of Appeals for the Eleventh Circuit. He was chosen as the 15th annual Sommerfeld Lecturer at The Judge Advocate General's Legal Center and School and was awarded a Carnegie Fellowship at Northwestern University's Medill School of Journalism. In his nonacademic endeavors, Mr. Rosenzweig is a senior fellow at the R Street Institute, a public policy think tank in Washington DC. He is also the founder of Red Branch Consulting PLLC, a homeland security consulting company, as well as a senior advisor to The Chertoff Group. Mr. Rosenzweig formerly served as Deputy Assistant Secretary for Policy in the US Department of Homeland Security, and he is currently a distinguished visiting fellow at the Homeland Security Studies and Analysis Institute. He is also an advisor to the American Bar Association's Standing Committee on Law and National Security and a contributing editor of the Lawfare blog. Mr. Rosenzweig is the author of Cyber Warfare: How Conflicts in Cyberspace Are Challenging America and Changing the World, coauthor of Winning the Long War: Lessons from the Cold War for Defeating Terrorism and Preserving Freedom, and coeditor of both National Security Law in the News: A Guide for Journalists, Scholars, and Policymakers and Whistleblowers, Leaks, and the Media: The First Amendment and National Security. Mr. Rosenzweig's other Great Courses are Thinking about Cybersecurity: From Cyber Crime to Cyber Warfare and The Surveillance State: Big Data, Freedom, and You.