Rated

5

out of

5
by
Pat In VA
from
Very Good Starting Instruction
If you are interested in hand embroidery this is a very nice introduction. Ms. McTee is clear with her instructions. She covers what you will need, different fabrics, threads, and notions that are helpful. She covers quite a few stitches, showing examples on a test piece then applying them to the pattern she is using. The videos are a nice length to sit and watch and then practice. The PDF of the course has several patterns/motifs and useful information. Thank you for this class.
Date published: 2021-02-20
Rated

5

out of

5
by
Jeans10
from
Very informative
I recently purchased this course because I wanted to start a embroidery project that I have had for awhile. It really helped me get started with basic embroidery knowledge!
Date published: 2020-05-01
Rated

5

out of

5
by
lastcat
from
Wonderful teacher!
I'm really enjoying this course. I used to do quite a bit of embroidery years ago, so I'm not really starting at zero, but it's so much fun learning to do it again. The reason it's so much fun is this instructor. She's not only a brilliant textile artist, but also a warm, funny person who clearly wants everyone to enjoy doing embroidery. The class is well-structured and easy to follow, with the course broken up into categories that make it simple to jump in at any point. I'm delighted that I bought this course!
Date published: 2019-06-08
Rated

5

out of

5
by
happycrafter
from
compleat and informative
I taught myself to embroider as a teenager and I have been embroidering for years. I bought this course to see if I was embroidering right and if I could gleam any new tips. I loved the way the course was presented and organized. I have learned things I did not know and some techniques that have improved my mastery of embroidery. (French knots in particular)
Date published: 2019-04-08
Rated

5

out of

5
by
rtrev2130
from
I'm learning a lot
Very easy to follow and very informative and the teacher know her stuff
Date published: 2019-01-28
Rated

5

out of

5
by
brit0728
from
Great idea for a course!
Gave to a friend who wanted more face time in a recent one-off embroidery class, and she was delighted to have the opportunity to watch these sessions and pause, rewind, etc. Perfect gift!
Date published: 2018-04-18
Rated

3

out of

5
by
ElleMN
from
Great Teacher, Issue with Printouts from Craftsy
Watched the video and like the instructor very much. I am a knitting instructor and videographer by trade and found the information she presented was interesting and helpful and that the production values were good-- good lighting and close-up shots. My issue with this course was the same as the reviewer prior to me-- the Downloadable Sampler Pattern and the same pattern in the book with the DVD (which comes directly from Craftsy) needed enlarging to be usable, however, no where in this course, not on the video or in the book, did it instruct you to do this. The instructor states that it will be as simple as printing the two separate pages and taping them together. Clearly the source image had to have been changed post production and not followed up with by Craftsy. So when you go to try and enlarge it there is no sense of what percentage, just guessing. Also, if you try to tape the two pieces together they don't fit properly. I called Craftsy first to ask them and they wouldn't help by telling me the percent to enlarge. They actually told me that they couldn't help me because I didn't buy it through them. Crazy, since it is an omission in the course material booklet that they made and put their name on. Great Courses was very polite on the phone and has offered to try and contact Craftsy for me, as this is an ERROR in the production of the materials and there is no way that they would know the answer. I am Hoping to get an answer within a week. This course could be 5 stars if Craftsy would double check their course materials and also treat all of the people who purchase what they produced with respect. So in the end I would buy courses from Great Courses again, but probably not Craftsy courses.
Date published: 2018-01-31
Rated

4

out of

5
by
Linda bsche
from
Good embroidery lessons
I bought this course to learn embroidery and a range of common stitches. As background, I have done sewing and limited needlework from kits using just tent stitch following already printed pattern. The lessons in this course explain what I would call "freehand" embroidery on plain cotton fabric (for the example lessons). The lessons are very well presented and quite clear in how to make the stitches and how to use the stitches in a variety of ways. The lessons are structured in a way to encourage creativity in using the information. A lot of pitfall warnings are also included. The course explains everything to the novice such as choosing needles, hoops, threads, etc. The included booklet is really necessary to review how to do a stitch while working the included project. My only issue was with the booklet's project pattern used for transfer to cloth. As printed from the PDF booklet, it appears to be about half the size of the one done by the teacher in the video. There was no warning to expand the size to match the video work. When I realized my project was so small, I had to reduce the number of threads used or restart the whole thing with an enlarged pattern. Also, the two halves of the pattern did not fit correctly when assembled. The pattern problem, however, does not take away from the overall usefulness and content of the lessons. I feel confident to tackle more projects with the knowledge from this course.
Date published: 2018-01-17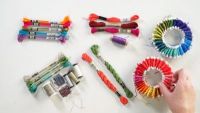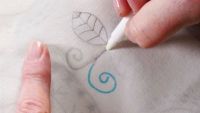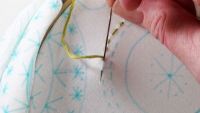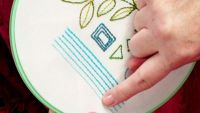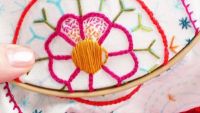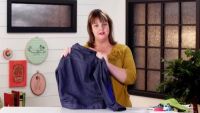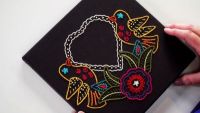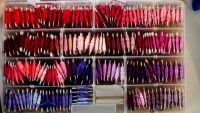 Kat McTee
Embroidery is really like painting with thread. It's incredibly creative and pairs well with all of your other crafts.
About Kat McTee
Lifelong artist and maker, Kat McTee resides in Austin, Texas. She teaches embroidery, surface design, silkscreening and color theory to students at the Austin Museum of Art School, Dougherty Art Center, Studio 1408 and The Stitch Lab. Her textile work has been exhibited at the Houston International Quilt Show, Minnesota State Quilt Forum, Rockport Center for the Arts, and Textures Gallery in San Antonio. Kat is a graduate of the Surface Design program at the Southwest School of Art & Craft.