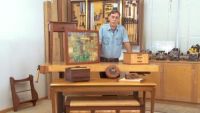 1: Introduction to Handheld Routers & Bits
Meet your instructor Paul Anthony: woodworker, author, and Woodcraft Magazine senior editor. Learn about the different handheld routers available and see the variety of ways this workhorse tool can help you in all of your woodworking projects. Paul offers buying advice for bits, sharing his picks for what should be in every woodworker's toolbox.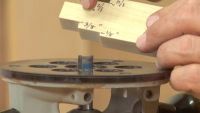 2: Setup, Safety & Lighting Tips
Learn how to secure your bits into a variety of routers and preview the options available for safety equipment to protect your eyes, lungs, and ears from the use of woodworking machinery. Finally, shed some light onto your work as Paul discusses the importance of proper lighting. He'll give you tips for making a simple helper post, perfect for holding lights, a dust collection system, and more!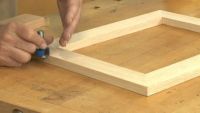 3: Profiling Edges
Tackle profiling edges as you learn how to create clean edges with cuts free of tearout. Discover the proper cut order to minimize tearout if you're profiling all edges, and learn how adding a helper piece can help you eliminate tearout on end pieces. Add climb cutting to your technique tool belt as Paul shows you how to make these cuts in the opposite direction. Then, discover how to use an offset baseplate and other guides when profiling round or very narrow pieces.
4: Flush Trimming
Use a router to get trim and edges that perfectly line up with your body pieces. Learn how to adjust your router and techniques for flush cutting a face frame on a cabinet or using an outrigger jig to flush cut narrow edging on a frameless cabinet. Learn how to construct and use a riser jig if you need to flush cut a wide edging or you want to trim plugs and splines to lie flush to your joints.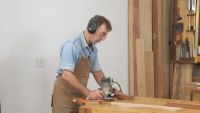 5: Router Joinery
Make dado cuts without a table saw-perfect for joinery and quick assembly of carcasses or other projects! Learn three different ways to measure and mark your cuts: with a simple straight edge, spacers, or a dedicated t-fence. Then, learn how make your dado to the exact width you need. Turn your router into a jointer as Paul shows you a nifty trick for squaring small pieces of lumber. Make mitered joints extremely strong by reinforcing them with splines; the groves custom cut with your router! Finally, you don't have to invest in a biscuit cutter; let your router do the work for you. Paul will show you how!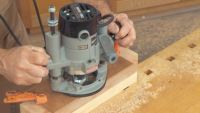 6: Mortising
Delve into creating mortises with your router. Learn how you can attach an edge guide for perfect mortises every time. Or, create an easy mortising jig, perfect when you want to make a mortise and tenon joint with a loose tenon. Discover how to make through-mortises in thick stock with a custom template, and cut precise hinge mortises. Finally, hanging pictures and light cabinets will be a cinch if they're fitted with keyhole slots, easily made with a router and a dedicated custom jig.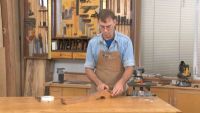 7: Shaping
Finish your immersion into router techniques with a final lesson on shaping. Learn how to cut out perfect circles and arcs using a commercial or homemade jig. Then, make table legs that are all exactly the same as you use a template to flush cut your rough-shaped pieces into exact copies of one another. Finally, see how to template rout thick stock, for sturdier legs or other projects.
Paul Anthony
Today's top woodworkers share their techniques, tricks and approaches for choosing, using and tuning power tools to bring out the best of your woodworking talents. Whether you're new to the craft or on your fifth router, this book is bound to help vault you forward in the world of woodworking. More power to you!
About Paul Anthony
Paul Anthony has been working with wood for most of his life, and ran his own custom woodworking business for 20 years. He's written close to 200 magazine articles for all the major woodworking magazines, as well as three books, including Smart Workshop Solutions and The Complete Illustrated Guide to Tablesaws. During his career, Paul has taught classes at woodworking shows across the country and at a variety of schools. He is also the senior editor at Woodcraft Magazine.