Rated

4

out of

5
by
None cc
from
Knitting faster DVD: Course
Delivered & watch course. Instructions me how to work needles knitting to left. A little aware changes step my beginner want to absorb more ... My questions are. Threads , patterns step discussion abbreviations .... also create on knitting needles...... Thank You ,sincerely student customer
Date published: 2018-10-19
Rated

5

out of

5
by
Grandma in Kansas
from
Easy to Understand
The demonstration of Continental Knitting is simple and easy to understand. The slow placement of the yarn and the use of a pen to show the direction of yarn placement makes it easy to pick up the Continental stitch. And, of course, you can always talk to the instructor and ask questions.
Date published: 2018-04-15
Rated

5

out of

5
by
Theresa5of8
from
My sister noticed my knitting is more even now ...
I have been knitting for years, but keep it basic because I know my knitting ability is not up to the more challenging patterns (yet) but have made numerous baby outfits, socks, mitts, scarves, hats etc. .. I try to keep things smaller because my hands ache after knitting too long. I love this instructor! She is clear, moves along at a great pace for me, recommends how much "homework" to try to get used to stitching, encourages relaxing the hands with her words and actions to relieve strain, and shows how to fix common problems. She doesn't show casting on in this video but directs us to her website where she has a youtube link .. this course is continental knitting .. casting on is not necessarily continental style so I'm fine with it not being included in the course (especially if she offers the instruction without charge). I was also able to download the lectures so that I could watch them while offline. As an added bonus, I've discovered that I have not been increasing properly .. after watching that lecture, it makes so much more sense now! I am 3/4 through the course and have already noticed less strain and more even stitches. I have picked out my next pattern to try .. I absolutely would (and have) recommend this course.
Date published: 2017-10-01
Rated

3

out of

5
by
Eglantine
from
Beginning Level, Good, but needs diagrams
I'm a long-time English style knitter and wanted to learn Continental style. The video is good, but some basic diagrams in the accompanying literature would make it much better. It is hard to follow moving hands, and it would be much easier to be able to study a diagram of how the stitches are made supplemented by video. I would suggest getting a book on knitting instead.
Date published: 2017-09-27
Rated

5

out of

5
by
forelizzie
from
Excellent course
The instructor in this course presents the materials in a very clear and well-organized program, and I find her instruction and explanations very easy to understand and follow. My only issue is that this course is not available in download streaming, so I cannot play it on my iPad while working on my project, but have to work near a dvd player which is very awkward.
Date published: 2017-04-12
Rated

4

out of

5
by
Atlantarunner1
from
Good but left out one critical step
Although the instruction was good, it's supposed to be for beginners -- so why didn't she show how to cast on stitches???? All her demonstrations already had the stitches on the needle -- it fell short of being an otherwise perfect video.
Date published: 2017-03-24
Rated

5

out of

5
by
ParrotZach
from
Great course
I have been a longtime knitter with the Continental style. I picked up some tips about holding the yarn differently and getting better tension control. My speed improved and the stitches are nice and even. I really enjoyed this course. Instructor's pace is good, speaks clearly. Camera shots are excellent. Highly recommended.
Date published: 2016-11-13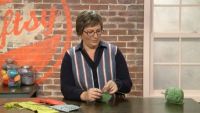 1: The Knit Stitch
Meet Lorilee Beltman and get started on learning the knit stitch, Continental-style. Whether you're a new knitter or a longtime English-style knitter, you'll appreciate Lorilee's clear instruction for tensioning and positioning the yarn in your hands and making knit stitches flow along your needles with maximum comfort and efficiency.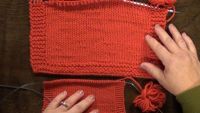 4: Time Savers: Using Knit & Purl Together
Knitting Continental really comes in handy when you have to alternate frequently between knits and purls, such as in ribbing or seed stitch. Getting the working yarn to the front or back of your knitting is simply a matter of shifting your right hand. Lorilee shows you how to achieve this efficiency and how to keep the transition smooth.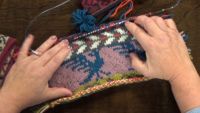 6: Using Continental for Your Favorite Fabrics
Whether your favorite fabric includes lace, cables, linen stitch or even two-handed colorwork, Lorilee's got you covered. She shares her tips for tackling each with Continental knitting, including how to cable without a cable needle. Linen stitch and colorwork, especially, will be so much easier if you know how to hold the yarn with your left hand.
7: Troubleshooting & Practice
The way you hold your knitting might be causing you some pain. Lorilee shows some common pitfalls to avoid so that you can continue to enjoy your knitting. Similarly, you might find yourself struggling with keeping your tension and your stitches even. Lorilee shares troubleshooting strategies. Finally, learn about some small, fun projects you can work on as you practice your newfound Continental knitting skills!
Lorilee Beltman
My experiences as a yarn shop owner taught me the value of delivering an honest answer with kindness. Through teaching, I learned I love helping knitters push through their roadblocks.
About Lorilee Beltman
Lorilee Beltman is a Craft Yarn Council certified instructor and a TNNA designer and teacher who has taught at national events around the country since 2009. It was once Lorilee opened her own knitting business, City Knitting, that she realized her passion for spreading knowledge and helping knitters past their roadblocks. You can find some of her articles in respected magazines such as Twist Collective and Interweave Knits.