Rated

4

out of

5
by
ForestWalker1
from
Good Overview
Good overview of contract law. Professor is engaging and provided great examples.
Date published: 2020-11-24
Rated

5

out of

5
by
eroy99
from
excellent
covers the subject in sufficient detail, a real bargain
Date published: 2020-08-24
Rated

4

out of

5
by
JJayJ
from
Contract Law Basic Survey
The instructor was excellent and the course was conducted with energy. However, I have difficulty deciding how much I may have gained in the course. Law is the epitome of the immaterial world and while I can recall elements of contract law, consideration, and the tension between common law and the UCC, my reference points are indeterminate. I suppose I expected to gain something more substantial and ended up grasping a lesser prize. It's possible that the course just went by too fast in just 12 lectures. One thing that seemed to disappear quickly was the Latin phrases. The course guidebook has no reference to any Latin phrases, so that's one thing that I would have used to measure my retention--retention being the measuring rod of what I got from the course. There needs to be a supplemental course that goes further, or a revision that goes more in depth. Upon reflection, it strikes me that the nature of law itself is less a science than it is an art. There are many conflicting interpretations of the language of law and, consequently, finding certainty, or truth, is elusive. Maybe that's why I'm at a loss as to what I may have learned. The subject's very nature is ambiguous. One thing that I did learn was to realize that nearly everything we do is a contract--all discourse has an element of a contract. If I knew more, maybe it wouldn't be so spooky, As it is, I may be able to glean more by repeating the course and rereading the guidebook. Still, I think the course was worth the money and worth my time. And I might add, in reviewing the available law courses, the current crop of Law School for Everyone courses strikes me as being a coherent whole. This course fits in nicely with the other courses I have.
Date published: 2020-03-25
Rated

3

out of

5
by
EngineerinVA
from
Not Quite What I Hoped
This is a very high level overview of contract law for those who manage or execute projects that are defined by contracts. I doubt that this would be beneficial for lawyers or contracting officers themselves. Rather, it is good for those laypersons who interact with the lawyers and contracting officers, giving insight into the issues that concern the specialists. It is a short source consisting of only 12 lectures. Dr. Horton identifies and addresses several major topics within the general context of contracts, topics such as offer and acceptance, consideration, breaches, etc. He presents significant court cases relating to those topics and he discusses the reasoning behind them and the evolution of the law over time. He also discusses the Restatement of Contracts guidance and the Uniform Commercial Code (UCC) or the sale of goods. This is somewhat of a remake of an earlier The Great Courses course on contract law. I was surprised and somewhat disappointed that Dr. Horton did not follow the approach in the earlier class of defining "contract" up front and then devoting lectures to each major element in that definition. Interestingly, Dr. Horton does define "contact" in the last lecture and the definition is nothing like the definition in the earlier class. Dr. Horton is a good lecturer who can keep the discussion moving. He is easy to identify with and easy to follow. I used the video version of this course. I don't think that the Audiobook version would have been missing much.
Date published: 2019-11-08
Rated

5

out of

5
by
EddyG
from
Enlightening
I believe that understanding is fundamental to learning. Whether it is taking up a hobby such as gardening, or guitar. Or even gazing at the stars, knowledge of underlying concepts are key. Professor David Horton's mastery of contracts is surprisingly enlightening. He begins with the concepts, and swiftly moves ahead, weaving the fabric of contract law with the embroidery of the internet age.Apps with pages of fine print hidden within, that no one has time to read, are discussed. The tentacles of recent court decisions nefariously make them binding. Trust me, you will not fall asleep in this precocious professor's class.
Date published: 2019-11-03
Rated

4

out of

5
by
Cousindrew
from
Good Overview
Prof. Horton does an admirable job in introducing and examining the law of contracts in this surprisingly comprehensive course. His enthusiasm for this subject matter is palpable, his lecture style is pleasant but fast-paced, and his energy and eagerness is motivating. That said, Prof. Horton sometimes gets bogged down in minutiae and fails to present the material as clearly as he might. Unlike with the other courses on "Everyday Law" currently on offer by the Great Courses, I also found this course dragged from time to time and could be a bit of a slog in spots. I listened to the audio version of this course, which was entirely satisfactory. I have extensive experience in this subject matter, but I think the course would appeal to the novice and expert alike.
Date published: 2019-10-29
Rated

4

out of

5
by
JWDB
from
Contracts
This course provides an overview of an important field of the law; it also compliments the other law courses that are offered. I find it will be necessary to watch these courses many times. Thanks to these courses, I shall be able to do this!
Date published: 2019-10-26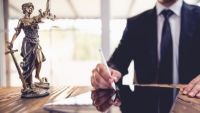 1: Contract Formation in the Internet Age
In today's age of electronic contracts like browsewraps and clickwraps, contract law can entangle you without ever knowing it. Use internet-era contracts as a jumping-off point for exploring the objective theory of contracts and the critical role that the manifestation of assent plays in the formation of a binding contract.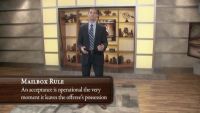 2: Understanding Offer and Acceptance
How can you tell when parties have forged a contract? In this lecture, use two famous court cases to examine why agreements often are the product of a process known as offer and acceptance. Also, learn about the two bodies of law that make up contracts: the common law and the Uniform Commercial Code.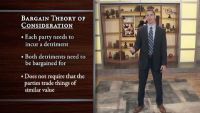 3: The Mysterious Consideration Doctrine
Use the classic case of Hamer v. Sidway as an introduction to one of contract law's great mysteries: the doctrine known as consideration. First, define this elusive rule. Then, discuss its history and the lively debate over its policy purposes. Finally, take a brief look at the consideration doctrine's contemporary relevance.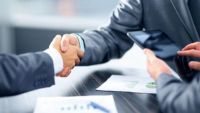 4: Contract Offers You Can't Revoke
Refine your understanding of contract formation by examining some situations that buck this niche's general rules. Here, you'll explore the slippery distinction between bilateral contracts and unilateral contracts. You'll also study the special nature of (and limits on) firm offers.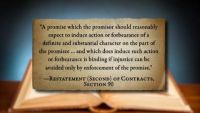 5: Liability without a Binding Contract
Promissory estoppel and restitution are two contract-like doctrines developed by the courts that sometimes allow a plaintiff to collect—even when elements of a contract are missing. In this lecture, unpack these liability theories and some of the reasons their issues remain unsettled to this day.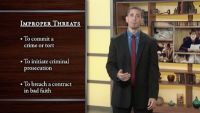 6: Defenses to Contract: Fraud and Duress
Just because a party agreed to something doesn't necessarily mean a court should treat that agreement as legitimate. Join Professor Horton for a closer look at several defenses to enforcement recognized by contract law, including duress (such as physical compulsion and improper threats) and fraud (including misrepresentation and "fraud in the execution").
7: Mistake and Other Contract Defenses
Some contractual agreements can be marred by mistakes: beliefs not in accord with the facts. Discover how the law struggles mightily with situations in which one or both parties are wrong about some basic assumption that animates their exchange. Also, learn about other rules that can make deals voidable, including mental incapacity and infancy.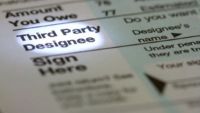 8: Third Parties in Contract Law
Contracts can affect dozens—even thousands—of third parties to whom you or your client will be obligated. Using court cases from 1859 and 1918, trace the history of third-party beneficiaries and examine the related issue of assignment and delegation: when a party to a contract can transfer their rights or duties to someone else.
9: When a Contract Needs to Be in Writing
The relationship between contract and writing is much more complex than you might think. First, look at the statute of frauds: a 1677 rule nullifying certain kinds of agreements if they're not in writing. Then, examine the powerful doctrine of the parol evidence rule, which privileges the contractual text over what the parties might have intended.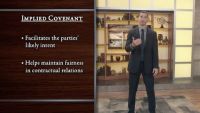 10: Contract Interpretation and Implied Terms
What should courts do when parties disagree about what their agreement means? What can we learn about this from the great case Raffles v. Wichelhaus? What is so controversial about how judges read and interpret insurance policies? How do implied terms prohibit parties from abusing their power under a contract?
11: Building Contracts and Breaching Them
Survey the basic building blocks of contracts and the rules for assessing when a contract is breached. These include express conditions (such as force majeure), which say that parties don't have to perform if certain events occur or don't occur, and anticipatory repudiation, or performing terribly and not correcting the problem.
12: Remedies for Breach of Contract
The default remedy for a breach of contract is money damages—but sometimes calculating expectation damages can be complicated. And sometimes, plaintiffs fall back on alternative paths to recovery, known as reliance damages (which reimburse plaintiffs for expenses the defendant's breach renders worthless). Explore these and other remedies in this final lecture.
David Horton
Today, contracts are everywhere. So learning how they work and how courts interpret them can be valuable no matter who you are or what you do.
ALMA MATER
University of California, Los Angeles, School of Law
INSTITUTION
University of California, Davis, School of Law
About David Horton
David Horton is a Professor of Law at the University of California, Davis, School of Law. He earned his BA cum laude from Carleton College and his J.D. from the University of California, Los Angeles, School of Law, where he was elected to the Order of the Coif and served as Chief Articles Editor of the UCLA Law Review. After graduating, Professor Horton clerked for the Honorable Ronald M. Whyte of the United States District Court for the Northern District of California. 
Professor Horton is the coauthor of three casebooks: Beasties v. Monster: A Primer of Law School and American Legal System; the eighth edition of Cases, Problems, and Materials on Contracts (with Douglas Whaley); and Wills, Trusts, and Estates: The Essentials (with Reid Weisbord and Stephen Urice). He has also published more than 30 law review articles in publications such as The Yale Law Journal, Stanford Law Review, New York University Law Review, University of Pennsylvania Law Review, California Law Review, Duke Law Journal, Northwestern University Law Review, and The Georgetown Law Journal.  
Professor Horton's academic writing has won The Association of American Law Schools' Scholarly Papers Competition and the Mangano Dispute Resolution Advancement Award. In 2017, he was selected as a UC Davis Chancellor's Fellow.  
Professor Horton teaches Contracts; Introduction to Law; and Trusts, Wills, and Estates.  Additionally, he teaches a seminar on the Federal Arbitration Act. In 2015, he won the UC Davis School of Law's Distinguished Teaching Award.