Rated

5

out of

5
by
myst11
from
Great overview course
This course is excellent. It covers key topics in corporate law in a concise, understandable manner. Highly recommend it.
Date published: 2020-12-19
Rated

5

out of

5
by
tfelice
from
Loved it... hope there are more law school courses coming.
Date published: 2020-06-24
Rated

5

out of

5
by
MeNowKnowLaw
from
Great overview
For someone that is curious about corporate law and wants to get a broad and in-depth overview of the field -- I found this course extremely rewarding.
Date published: 2020-05-10
Rated

4

out of

5
by
EngineerinVA
from
OK
This short course (12 lectures vice the more common 24) is aimed primarily at directors and executives. It is good, but only within that narrow focus. Topics include who can represent a corporation, responsibilities and liabilities of executives, securities, and acquisitions and takeovers. Obviously, these topics are fun but of limited use to most potential students. I used the video version but I think that the audio would have been just fine.
Date published: 2020-04-02
Rated

4

out of

5
by
Ray 82
from
Great value for the price
I bought this for future reading because it had an unbeatable price.
Date published: 2019-12-31
Rated

5

out of

5
by
Cousindrew
from
Fantastic course!
Prof. Geis is a very engaging lecturer who does a terrific job in this course of explaining the important concepts in corporate law in an entertaining and readily comprehensible way. I have extensive experience in this subject matter but found Prof. Geis's lectures enlightening and useful. He is easy to listen to, has a nice sense of humor, and has the ability to break down complicated concepts in ways that will make the course accessible to, and enjoyable for, the novice and expert alike. I listened to the audio version of this course, which I found entirely satisfactory. Highly recommended!
Date published: 2019-10-17
1: Questions and Conflicts in Corporate Law
Begin the course by familiarizing yourself with the key players in a corporation, including stockholders, creditors, boards of directors, officers (such as CEOs and CFOs), and employees. Then, consider some of the fundamental questions involved in corporate law, exemplified by the 1919 decision in Dodge v. Ford Motor Company.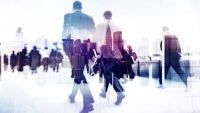 2: Corporations and Their Agents
The law of agency, which governs agents (such as Hollywood agents and sports agents) is one of the most important areas of law which most people have never heard of. Here, explore key topics in agency law, including how an agency relationship is formed and the details of fiduciary duties (special legal obligations agents owe to their principals).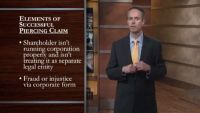 3: Things Corporations Can and Cannot Do
Take a closer look at the history and nature of corporations and how they behave. How did corporations begin in the United States? What do you need to create a corporation today? What can a corporation legally do after it has been established? Professor Geis answers these and other eye-opening questions.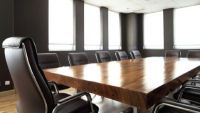 4: Boards of Directors and the Duty of Care
There are a number of different obligations in corporate law for boards of directors. In this lecture, focus on the first fiduciary requirement: the duty of care. Generally speaking, the duty of care requires directors to behave carefully when they make decisions about what their corporation will do.
5: Business Opportunities and the Duty of Loyalty
According to the duty of loyalty, directors and senior executives must put their corporation's interests ahead of their own. What happens when the law should worry about an executive's loyalty? How do the duty of loyalty and the business judgment rule interact? What can we learn from a 2004 court case involving eBay shareholders?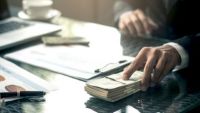 6: Executive Pay and the Duty of Good Faith
Explore two of the most important contexts for the duty of good faith in corporate law: executive compensation and the obligation of a board to monitor its firm's activities. Learn how courts evaluate how much executive pay is too much, and how the "Caremark standard" requires corporate directors to ensure their firm doesn't engage in illegal activities.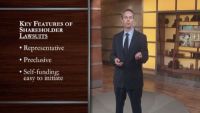 7: Shareholder Lawsuits: Goals and Limitations
Why—and how—do shareholder lawsuits come about? Who gets to control the litigation of them? What can corporations do to get rid of pesky cases that aren't in the best interest of most shareholders? More generally, how do boards of directors delegate governance? Tackle these and other questions in this lecture.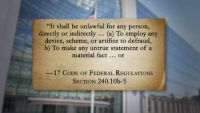 8: Securities Regulation and Fraud
Some shareholder lawsuits are managed by an entirely different set of laws, known as federal securities laws. Discover how federal law has stepped in to regulate corporate fundraising and trading activity (including the creation of the U.S. Securities and Exchange Commission in the 1930s) and has put a stop to fraudulent statements.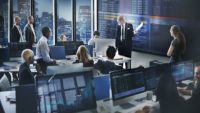 9: Insider Trading Laws and Their Complexities
Using two landmark court cases (SEC v. Texas Gulf Sulphur and Chiarella v. United States) and our country's strong tradition of buyer/seller beware, examine the legal complexities of insider trading laws. Thanks to an ambiguous patchwork of laws, some trades are allowed while others are prohibited.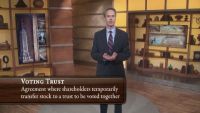 10: Corporate Control Battles and the Law
Take a deep dive into the world of internal shareholder fights for control: how they work and what rules can tip the balance of power. You'll explore ways to influence managerial decision-making, including proxy fights (which can get very expensive) and shareholder proposals (which act like voter propositions for a popular referendum).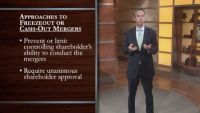 11: Corporate Law of Mergers and Acquisitions
Mergers and acquisitions are extreme events in the life of a corporation. They can catapult a new corporation to success—or sink CEOs. Professor Geis explains the reasons companies merge, the business synergies that two firms hope to attain by merging, what merger lawyers do, and a special type of merger knowing as a "cash-out" merger.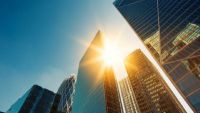 12: Hostile Takeovers, Defenses, and the Future
First, explore the inner workings of hostile takeovers of all kinds, where individuals (or entire companies) try to take over another company against its will. Then, Professor Geis offers some bold predictions about five topics in corporate law everyone should keep their eyes on in the years to come.
George S. Geis
Corporations have a tremendous influence on our lives. Corporate law is societies means of facilitating the good that corporations do while reining in bad behavior. Setting the boundaries of fair play so that different players can focus their energy and resources on productive efforts.
ALMA MATER
University of Chicago
INSTITUTION
University of Virginia School of Law
About George S. Geis
George S. Geis is the William S. Potter Professor of Law at the University of Virginia (UVA) School of Law. He is also the faculty director of the John W. Glynn, Jr. Law & Business Program, and he previously served as the UVA School of Law's vice dean. Professor Geis received a B.S. in finance from the University of California, Berkeley, and he earned a J.D. with honors and an M.B.A. with honors from The University of Chicago. Before his appointment to the UVA School of Law faculty, Professor Geis taught at The University of Alabama School of Law. He also spent five years as a management consultant with McKinsey & Company, where he served clients on corporate strategy, merger planning, and many other issues. 
Professor Geis teaches courses on contracts, corporations, agency and partnership, accounting, and corporate finance. He has won numerous teaching awards, including the 2019 All-University Teaching Award at UVA. He has also taught courses as a visiting professor at The University of Chicago; Georgetown University Law Center; the Indian School of Business in Hyderabad, India; the University of Auckland in New Zealand; and the University of Trento in Italy.
Professor Geis is the coauthor of Digital Deals: Strategies for Selecting and Structuring Partnerships, a book on business partnership and alliance strategies. His articles include "Traceable Shares and Corporate Law," published in the Northwestern University Law Review; "Internal Poison Pills," published in the New York University Law Review; and "Ex-Ante Corporate Governance," published in The Journal of Corporation Law. His work has also appeared in many other leading academic journals. 
Professor Geis's research focuses on problems related to business alliances, merger transactions, shareholder litigation, and other topics involving the intersection of law and business.